I bought quite a few packs of those cute Heart Treat Cups last month and used them to make some cute Valentine treats…but this morning I realised that I have alot left over…hmmm…what to do with them?
Those hearts kind of look like flower petals too…that got me to thinking…instead of putting them away in the closet, with St Patricks Day just around the corner (March 17th) I decided to see if I could use them to make a sweet little something perfect for the occasion…so I dug out some green M&M's and got to work on making a little shamrock treat…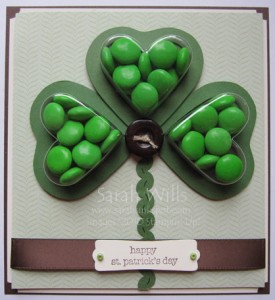 What do you think?  It was fun to make – I used the Full Heart Punch (pg 186) to punch out heart shapes from Garden Green cardstock – I used a Heart Treat cup as a template and placed it into the punched out shape and drew around the edge of it – I then cut it out to create a border to stick on the top rim of each cup.  I then used a cup again as a template to draw around, to create a back piece for each: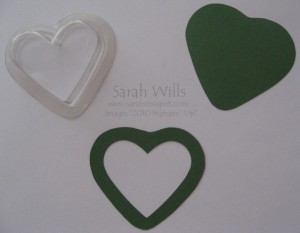 I assembled each – attached the border to the top rim using Mini Glue Dots, filling each cup with green M&M's and then attached the back piece – I took a piece of Designer Series Paper from the pack Flock Together (pg 162) – and adhered them onto it – for easy removal, I attached them using a piece of removable double sided tape…this way, the recipient can take them off to access the candy without causing damage to the card base – and they can then replace them back onto the card if wished.
The stem?  I wanted to use a piece of green ric rac ribbon but since I had none to hand, I got a similar effect by using a piece of Garden Green cardstock and the Scallop Edge punch – simply cut a piece of cardstock to 1″ wide – punch along one edge and then punch along the other edge, but on the second edge start offset, half way down a scallop to achieve a ric rac effect:
I attached the stem to the card using Mini Glue Dots and adhered a button in the center of the shamrock, threading through some Linen Thread for a finishing touch.  I attached a piece of Chocolate Chip Satin Ribbon from the Occasions Mini and stamped my sentiment from the set Teeny Tiny Wishes (pg 145) and punched it out using the Modern Label Punch (pg 186) – I added a little Green Micro Bead (pg 180) to each end and attached the tag using Dimensionals.
Finally I layered this top layer onto a piece of Very Vanilla using Dimensionals – I used my Ticket Corner Punch to trim the edges of that piece for a neat effect – and then I layered this onto the card base of Chocolate Chip.  And there is a yummy treat perfect for St Patricks Day – I'm making some more for my girls and their teachers…I hope they like 'em!
Shamrock using Heart Treat Cups…