I absolutely love the Top Note die because of it's versatility and it's value for money and it is perfect for both cardmakers and scrapbookers alike…you can cut a piece of cardstock using this Die and there is no waste because you can use both shapes that this Die cuts – the beautiful inner shape and the outer piece that makes a fab frame for showcasing stamping and photos…
You can use the Top Note Die in sooo many ways and today I am showing you how you can use it to make a very cute gift card holder that you can adapt to use for any occasion…and please read on for details about my special offer where you can get the Top Note Die for free…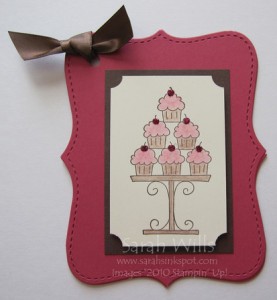 I got the idea from a swap I received – you simply choose your cardstock and using your Big Shot and Top Note Die cut three shapes – I used Regal Rose for my base color.  Take one of the die cut pieces and cut it in half – this will become the pocket that holds your gift card: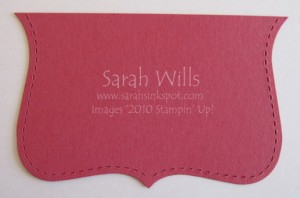 Stamp a sentiment onto this piece – I stamped mine using a stamp from the limited edition set Whimsical Words that right now you can get for free and you can it find on pg 8 of the Sale-a-bration catalog.
Using a strong narrow adhesive tape such as Sticky Strip, tape along the bottom edge and the two sides and adhere to one of the larger Top Note pieces.  Punch a circle in one corner of each of the large pieces and thread a piece of ribbon through and tie it loosely to be sure that the top piece can slide to one side so that the recipient can easily get to the gift card…I used a piece of Chocolate Chip Satin Ribbon from the Occasions Mini for a real luxurious touch.  If you prefer, you could use a Jumbo Brad instead of the ribbon.
Stamp your image for the card front – my stamp is from the set Crazy for Cupcakes (pg 68) – layer it and add other embellishments or bling – I used the Ticket Corner Punch (pg 186) and sprinkled some fine Glitter (pg 180) onto the cherries to give a sparkle…add your gift card, and there you have a very cute way to give a gift.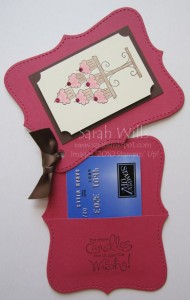 Have you ever placed an order through me?  If so then this week you will be receiving a  kit containing everything you need to make this card!  Watch your mailbox as they were sent out yesterday so you will receive it very soon…  And any new customers who place an order with me during February will also receive a kit in the mail…
Want a printable copy of this tutorial?  Click HERE to get yours!
Do you have a Big Shot?  If not, this is a fab time to get one…

When you buy a Big Shot during Sale-a-bration I will give you a FREE Top Note Die or another die of your choice from the Catalog valued up to $21.95!   Sale-a-bration is a fabulous time to get one – buy your Big Shot now and get my free die PLUS you also get to choose 2 FREE items from the Sale-a-bration catalog – so when you spend $99.95 on your Big Shot, you get 3 FREE products valued at $53.85 – what a fab deal!!!  And it gets even better…please click here for details…

Top Note Birthday Gift Card…