This is a fun card to make using the set Tart & Tangy which is just perfect for spring and summer that is just around the corner…it would be fab to make for warm weather event invites and 'saying hello' cards and a twist to it is that you can even make it a Scratch 'n Sniff card by using some orange scented powder…read on to find out how you can do this fun and very easy technique…
And the best bit?  Right now you can get the stamp set Tart & Tangy for FREE – simply spend $50 on any Stampin Up products and you are entitled to choose one item for FREE from the Sale-a-bration catalog – and this set is one of the choices available!   Click here for futher details about this amazing promotion…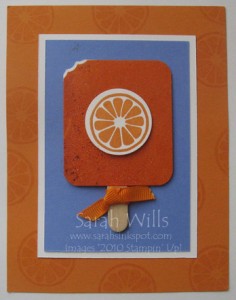 I received this card in a swap one day and have been case'ing it like crazy ever since – apologies to the lady who made it because I really can't remember who it was…if you happen to read this, please email me and I will give you credit…ok the card base is Pumpkin Pie cardstock onto which I stamped the orange slices using Versamark (pg 190).  Onto this is layered pieces of Whisper White and Ballet Blue cardstocks.  Now for the really fun bit…
In a bowl mix together 1 teaspoon of sugar-free drink mix – I used Orange Kool Aid – and 1 1/2 teaspoons of Clear Embossing Powder (pg 188) – stir to mix well.   Take a piece of  cardstock roughly trimmed to size – I used Pumpkin Pie – and ink it all over with your Versamark ink pad…sprinkle on your powdery mix and tap off the excess – use your Heat Tool to heat and Melt the powder – and that's it – how cool is that?  You can use stamps with these powders too to create scratch 'n stiff images on your cards…
Imagine the possibilities for the fruits in this stamp set – you could use a red drink mix for the cherries and strawberry, green or yellow to turn the orange slice into lime and lemon slices…green or red for the apple – and you can also use cocoa and espresso powders for those drink themed sets…I will have a printable tutorial for this technique here tomorrow and I will update this post with the link for it so be sure to check back.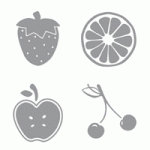 To make my popsicle I trimmed my cardstock to size and rounded the corners using my Corner Rounder Punch (pg 186) – I used a small hole punch to trim one corner to make it look like someone has nibbled the popsicle – to make this stand out from the base, I cut a small piece of Whisper White and made the same pattern, adhering it to the popsicle so that it just peeks out.  I attached a piece of popsicle stick at the bottom and tied around a piece of 1/4″ Pumpkin Pie Grosgrain ribbon – you could also use the Word Window Punch (pg 186) in place of a stick.
I attached the popsicle to the card base and then as a finishing touch stamped an orange slice and attached it using Dimensionals (pg 192) to the popsicle – scratch the popsicle gently with a finger nail and you will release the yummy orange scent – this technique and Tart & Tangy were just made for each other…enjoy making your own scented creations!
All pg numbers stated above refer to where you can find the items in the Idea Book & Catalog – you can view the online version of this catalog by clicking HERE.  *You can find the table of hostess benefits on pg 11.
Tart & Tangy Orange Popsicle Card…i