My girls LOVE looking at photographs of things we have done and I wanted a way to move away from giving each of them a traditional scrapbook and to create pages that they can choose from to display one at a time in their bedrooms…hmmm…how to do that…
On my travels the other day I ventured into a national craft store and came across something perfect for the job – it is a metal L shaped memo holder where the girls can store all the pages in the back part and choose one at a time to display on the front, using magnets to hold the page in place.
I covered the front of the memo holder with Textured Very Vanilla cardstock and used my corner rounder on the top two edges – the memo holder is a bold pink color and I decided to cover it with a neutral color so that regardless of their color, all pages would look good against this backdrop.
I created 20 pages in total and they are sized 6×6 – you can use page protectors to cover them if you wish to do so, and they store perfectly in the back section – I choose this route because my girls are 7 and by storing them this way, they can easily access and change them whenever they want to.  If you are making this for an older child or relative you could store them in a 6×6 scrapbook album and they can remove each page as wished.
The page is attached to the front using magnets that I picked up from a national big box store – I used my 1″ Circle Punch to punch out pieces of Designer Series Papers to decorate the magnets which is a great little finishing touch.  I also used an On Board Chipboard Letter and applied glitter and a piece of Linen Thread so that they can hang their initial from one of the magnets – my girls love shiny, sparkly bling!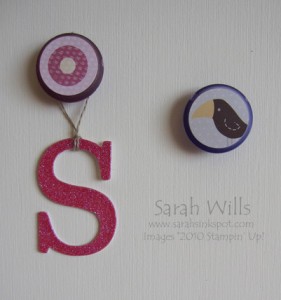 I made a bunch of pages of memories that they just love to look at…the page shown above & the magnets are made using papers from the Sweet Pea Stack that you can find on pg 33 of the Occasions Mini Catalog…the felt flower is from Sweet Pea Stitched Felt on pg 32…the scalloped border was made using the Scallop Trim Border Punch that you can get for FREE right now as it is featured in the Sale-a-bration catalog…and I used rub-ons for the wording…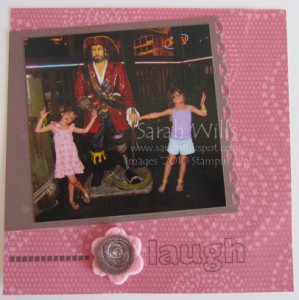 Working with a 6×6 size is fun – you get 4 pages out of each 12×12 sheet of Designer Series Paper making it a very economical way to produce scrapbook pages…you also get very fast results because they are small and the photo is the main focus of each page which gives you little room for lots of embellishments – your pages turn out simple and easy to look at which is perfect for kids.
Scrapbook pages for my girls…