Stampin' Up! added a bunch of stuff to the Clearance Rack a couple of days ago and there are some unbelievable bargains in there – you can get packs of retired Designer Series Papers for just $3.99, Simply Scrappin Kits for just $7.99, pots of Buttons for $2.97, packs of Rub-ons for $4.97, ribbons for $2.97 and lots of other fab products…
Here is an album that I made last year and most of the products I used on it are available right now in the Clearance Rack…the album is made of shaped acrylic sheets and co-ordinating chipboard sheets that I found in a scrapbook store – not shown on the photo below, but to the finished album I tied lots of 1/4″ Grosgrain ribbons onto the rings as a cute finishing touch…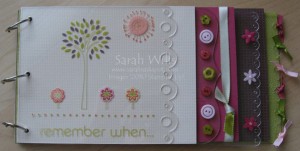 I used Designer Series Papers from two packs – Good Morning Sunshine and Raspberry Tart – and various ribbons including the beautiful Kiwi Kiss/Very Vanilla Satin Ribbon – they all co-ordinate so beautifully together.  The front of the album uses Rub-ons from the pack Bright Delights which I just my favorite- by using a sheet of DSP on the page below my acrylic cover, the rub-ons are highlighted beautifully.  ALL OF THESE PAPERS, RIBBONS AND RUB-ONS ARE AVAILABLE IN THE CLEARANCE RACK RIGHT NOW UNTIL STOCK RUNS OUT!
Other embellies that I used on my album are 1/4″ Grosgrain Ribbons in the colors Pretty in Pink, Regal Rose and Old Olive (pg 183) – buttons from Playground and Sherbet (pg 181) – and felt flowers from Flower Fusion (pg 180) along with various colored brads (pg 179) and beads from Bead Duos (pg 180) – I love how you can tie ribbons thru the holes and onto the edges of these acrylic sheets and that the album is layered so that you can feature embellies down the edges…I use Mini Glue Dots to attach buttons etc as they hardly show thru the acrylic the other side…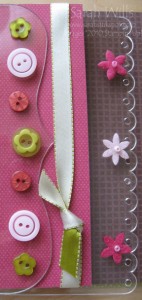 And to show you some more rub-ons from that fab pack, here is a birthday card that I made for one of my little girls for her 7th birthday – it uses papers from Good Morning Sunshine and rub-ons from Bright Delights, both of which are in the Clearance Rack…I wanted to create a simple, bold but striking card and it worked out so well…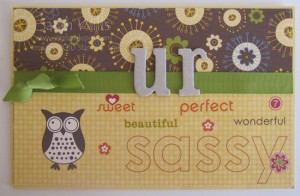 I had forgotten just how much I love these rub-ons as they are colorful and just fun to play with and such amazing quality which makes them very easy to use…I love the cute owl that is in there…I just had to order a few more packs for him alone and what a deal – you get two sheets of rub-ons in each pack for just $4.97!
Have a great Easter Saturday…if you have any questions please contact me and I will be very happy to help – and happy browsing the Clearance Rack!
Acrylic album made using Clearance Rack items…