Today is the last day of school before Easter – how did April come around so fast?!   And so last night I decided to make some treats for my girls' teachers…I had seen a few bunny treat holders and decided to make my own with the supplies that I had to hand…
Aren't they cute?  And oh so easy to make…please excuse the quality of the photo as I had to take it before they left for school this morning and it was very dark!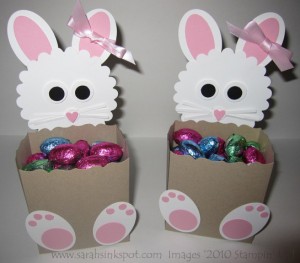 I made the box using my Big Shot and Fancy Favor Bigz XL Die with a piece of Kraft cardstock – you will need to use 12×12 papers with this size of die.   I used Sticky Strip to assemble the boxes as you want a really strong adhesive to hold it together.
The bunny face was made using my Scallop Circle #2 Die and for the eyes I used my 1″ and 1/2″ Circle Punches and attached them using Dimensionals.  For the whiskers I cut thin strips of cardstock and for the nose I punched out a 1/2″ Circle and attached a cute pink heart on a Dimensional – this heart I punched out of Pretty in Pink cardstock using my Heart to Heart Punch.
The ears and feet are made using the Wide Oval Punch – I used the Large Oval Punch to make the inner part of the ears and for the feet I used my 1″ and 1/4″ Circle Punches – Mini Glue Dots are the perfect thing to use to adhere all the little punched out pieces of cardstock and they make assembly very quick and easy.
Finally I added a cute Pretty in Pink Satin Ribbon Bow to the ears and filled the boxes with various delicious candies – Hershey's Bliss Hearts, Raspberry Kisses and of course Easter Eggs on the top…I hope the teachers like em…
The Dies that I used can be found on pgs 199-200 and the Punches can be found on pgs 186-187 of the Idea Book & Catalog.
Stampin' Up! have a brand new Sneak Peak promotion for April – it is the TWO-STEP INTO SPRING promotion where you get the chance to purchase the brand new stamp set Awash with Flowers that will appear in the new Catalog to be released in the summer AND you also get the chance to get this set for FREE with your qualifying order…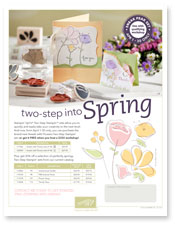 ADDITIONALLY you get 20% off of selected two-step Spring themed stamp sets during April…for more information please click HERE