A very warm welcome to Stop no. 1 on the Stampin' Addicts Retiring Stamp Sets Mega Blog Hop! I am one of a group of 28 Demonstrators who are going to be showing you what you can create with some of the retiring stamp sets – and believe me, you will be wowed…I have a link at the end of this post so that you can hop over to the next blog…keep hopping and eventually you will go full circle…if you arrive back here, you will have just arrived from stop no. 28 where Melissa showed you some very cool things you can do with the set Very Thankful.
The set I chose to use is Scary Skeleton which you can find on pg 24 of the Catalog – it is priced at just $14.95 and features 4 stamps – a skeleton, a bat, a cat and a sentiment…please read on to see what I did with it and to find out details of some summery blog candy…and when you come back Monday you will find out who won the blog candy plus get more close up photos, templates and how-tos for my items…
It is tough to come up with halloween ideas this time of year when here in Texas it is already close to 100 degrees but I put my thinking cap on and started to play with paper and came up with this…it's a Halloween party invitation…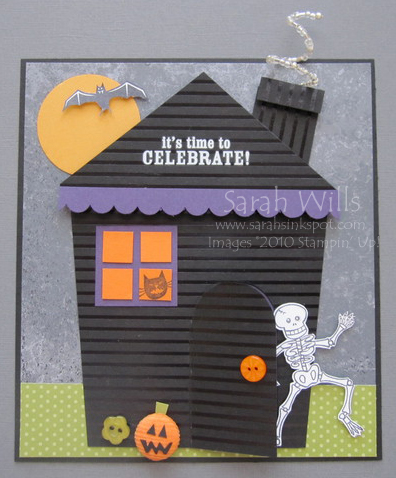 I used Designer Series Papers and Groom Specialty (ALL of which are retiring so if you want any, snap em up fast!) to create my scene and various embellies – I made the smoke from the chimney using wire and microbeads and that jack-o-lantern is a Corduroy Button…I love how the skeleton pops out of the opening door…and the template for the house?  Come back on Monday and it will be posted here for you to download…
And here is the reverse side of the invitation along with a party favor that I think kids of all ages would LOVE…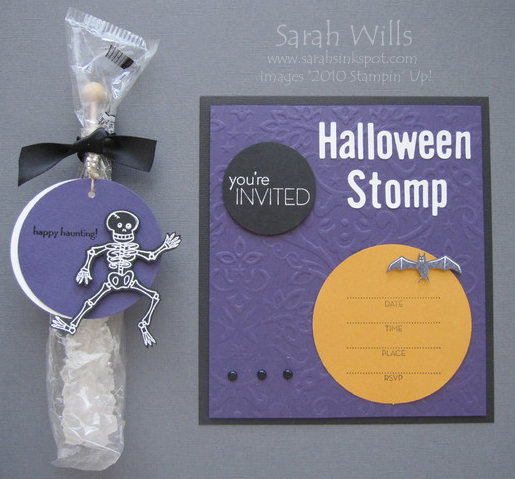 For the invite, I incorporated circles from the front to provide my features and used stamps from the retiring set 'Introducing' on pg 146… I got out my Big Shot and Bill Board Alpha Strip Die to create words and a Texturz plate to give a little luxurious touch…for the favor, I took an old fashioned Rock Candy on a stick and embossed my skeleton using Versamark Ink and White Embossing Powder – I cut him out and added him with Dimensionals so he pops out – there are even microbeads on the thread holding him to the top for a little extra touch…more deets on Monday…
Now that skeleton looks like he is dancing so I figured I would use this in my next item…here I have featured him and two of his friends in a filmstrip setting…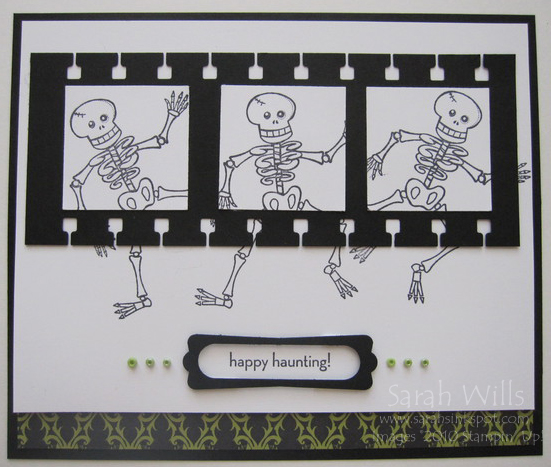 I used my Spiral Punch to create the filmstrip effect and my skeleton stamp, Black Ink and a Stamp-a-majig to create the scenes that make them look like they are dancing – on Monday I will have posted a printable tutorial to show you how to create this effect.   I used a strip of DSP from the retiring Cast-a-Spell pack on pg 161 and again featured Green Microbeads to tie the paper in and the fabulous Modern Label Punch to create a frame…
Now this skeleton would also be fabulous to create cards and projects for that Mexican holiday Día de los Muertos (Day of the Dead) as well…imagine the possibilities…
My final item is very clean and simple but I love how it turned out…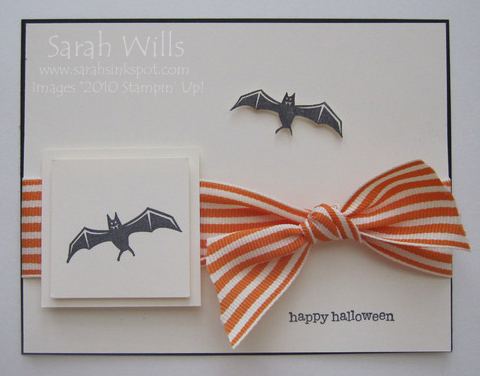 It features layers of Very Vanilla cardstock, a tiny smidge of Basic Black and that cute bat…the sentiment is from Teeny Tiny Wishes (pg 145) and that GORGEOUS Pumpkin Pie Striped Ribbon creates a fun splash of color…I love that and you can find it on pg 183…you can see that by using Dimensionals you can give some drama when you use the same color cardstock in layers…it gives a very clean and elegant finish…
Come back on Monday to see printable tutorials and templates and to find out who won my blog candy…speaking of Blog Candy…leave me a comment to let me know which project you like the most and you will be entered into a drawing to win a pair of Flip Flops that I have embellished using a Bigz Die – photo of this is in my sidebar – PLUS the item that you like the most ALONG WITH some yummy candies…
I hope you enjoyed your visit – you are now leaving to visit Holly and see what she has come up with using the stunning set Holy Triptych on her blog at Ink Paper Stamps by clicking HERE – enjoy!
Welcome to the Stampin' Addicts Retiring Sets Mega Hop!