I was inspired by Linda Aarhus when I saw the flip flops that she had embellished using a Bigz Die and decided to make some of my own using a different, and my most favorite die, Flower Daisies #2…didn't they turn out cute?  And they are OH SO EASY to make…instructions follow along with a printable version so that you can have them to hand…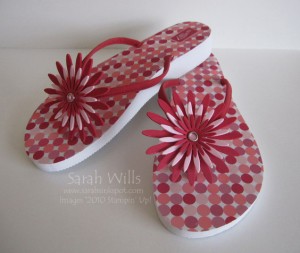 I used some of my favorite Flip Flops – they were available to Demonstrators for a very limited time earlier this year and do you recognize the pattern?   It's from the Pink Flamingo pack of Designer Series Papers which is so summery – Stampin Up has merchandise for us to purchase a few times a year and this always features patterns from some papers which is neat…Being a demo is sooo cool and has sooo many perks and right now you can become one during June for JUST $99!!!  That's right, JUST $99!!! You can find out lots more information by clicking HERE – sign up before midnight on Sunday and I will give you a pair of embellished Flip Flops AND a stamp set of your choice valued up to $40 FOR FREE!!!
So how do you embellish your own flip flops?  Easily and as follows…simply take a pair of Flip Flops, purchase some foam sheets* from any craft or big box store, get out your Big Shot and a Bigz Die, Brads or Buttons, Glue Dots and a Hot Glue Gun…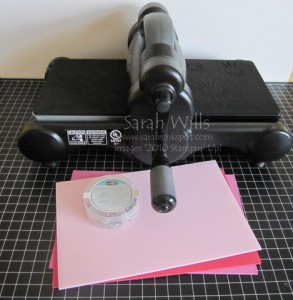 Run your foam through the Big Shot using the Bigz Die of your choice – I used Flower Daisies #2 on pg 199 of the Catalog – the Island Floral Bigz Die would work beautifully too that is featured on pg 27 of the Summer Mini and you can see an example I made using that Die at the end of my post…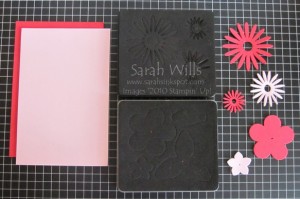 Assemble your flowers using Glue Dots and add a brad or button of your choice to the center – use a hot glue gun to adhere this to your flip flop and repeat…and there you have some very cute flip flops that are very unique and individual.
This would be a fun and very affordable project to make with kids during the summer vacation or as a craft activity for a girls birthday party or sleepover especially when you can find great quality flip flops so cheapily this time of year – for example, they are just $2.50 at Old Navy right now which is a great deal…  You could also make them for fun party favors for family events and birthdays this summer…how unique would that be?  Your guests would love them…
To give you a few different ideas, below are flip flops that I embellished using the Island Floral Bigz Die…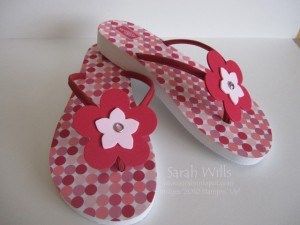 And here are the daisies again, except in a different color configuration which gives a different look…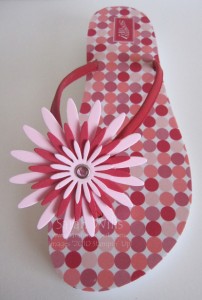 And finally here are some that I created for July 4th…and I am giving these away for FREE to the lucky winner of my Blog Hop Candy…yep, I'm hopping again from tomorrow through Sunday in a blog hop that showcases Last Chance Stamp Sets – come back tomorrow and leave me a comment for your chance to win some Blog Candy that includes these cool flip flops…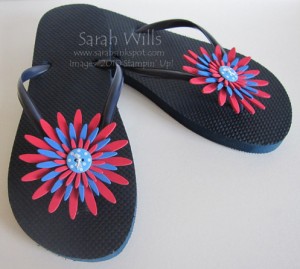 * I found a stack of 50 foam sheets in a rainbow of colors at Walmart for just $5 – this stack gave me sheets of foam to use for months to come and is a great deal…
WANT TO PRINT OUT THIS TUTORIAL?  PLEASE CLICK HERE FOR A PRINTABLE VERSION WHICH WILL OPEN IN A NEW BROWSER WINDOW
Daisy and Island Floral Bigz Die Flip Flops…