Have you seen that brand new cute Two-Step Owl Punch that is available on pg 201 in the new Catalog?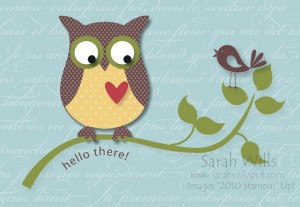 He is ADORABLE!   And whilst impatiently waiting for my Owl Punch to arrive in my order that is in the UPS delivery system, I was delighted this morning when I logged into the Stampin' Up! demo website to find that they have just released some My Digital Studio downloads and this Owl Punch is one of them – you can download him for the very cool price of JUST 95c!
So of course I had to download and play with him immediately and came up with the little image above that I am going to incorporate into a card later today…along with him you can find FOUR MORE newly released punches also priced at just 95c each – the new Bitty Bat & Dotted Scallop Border punches and the beautiful Ornament and Eyelet Border punches.
That is the beauty of My Digital Studio (MDS) – you can download the NEW stuff immediately which is perfect if like me you tend to be impatient!  It is also fab value for money – once you have purchased the initial software for $79.95 – which comes preloaded with a bunch of papers, punches, inks and also includes 61 stamp sets – you can download anything anytime and you get it immediately – and 95c for a punch?  What a great deal…
You can find a list with images and prices of all the downloads that have been released to date by clicking HERE
If you would like to know more about My Digital Studio you can find more information about it and a full list of what is included in the software package by clicking HERE – it is available for both MAC and PC and comes preloaded with 60+ stamp sets along with many Designer Series Papers, Simply Scrappin' items, Cardstocks, Punches, Ribbons, Embellishments and much more…
You can also download the newly released images to any other software design program that you already use…cool, eh?
NEW My Digital Studio Downloads with that CUTE OWL PUNCH!