Friday came around SO quickly – wow – can you believe that it is only 15 weeks until Christmas?!  Time is flying by!  For Festive Friday this week I am going to show you a very cool flip top box – the Top Note Die Box – that you can make using the fabulously versatile Top Note Bigz Die.

The Top Note Die is a great investment for your tool collection – it is exclusive to and only available from Stampin' Up! and you can find it on pg 207 of the catalog – it is one of my favorites because it is incredibly versatile…as well as using the beautiful die cut shape, you can also use the outer part of the die cut as a frame for images and photographs – you can see more ways to use this die by inputting the search term top note in my search box on the left…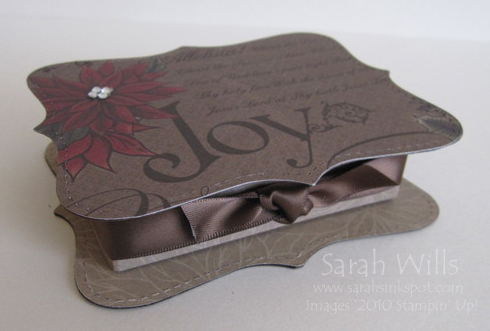 All you need to make this beautiful flip top box is a piece of cardstock, some strong adhesive such as Sticky Strip and the Top Note Die – and then whatever you choose to decorate it with…I decided to keep mine simple and used Designer Series Papers and a piece of Satin Ribbon t0 show you that you can get stunning results even when on a budget and using limited supplies…
For my box above I used Early Espresso cardstock and decorated it using Designer Series Papers from the Deck the Halls pack that you can find on pg 18 of the Holiday Mini Catalog and this is a beautiful collection of papers – when you use these papers you really can keep it simple and get a very stylish look very easily…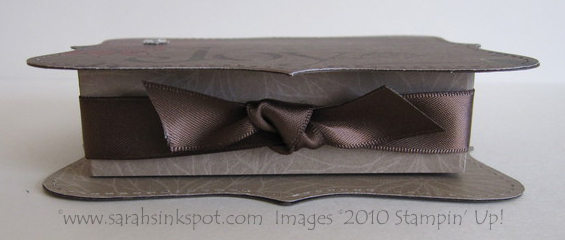 I used a piece of Early Espresso Satin Ribbon (pg 191) for a finishing touch and added some Rhinestones (pg 188) in the flower centers…didn't it turn out cute?  It opens up and you can put in the gift or treats of your choice…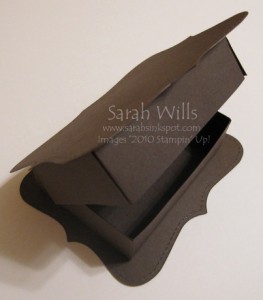 WANT THE TUTORIAL SO YOU CAN MAKE YOUR OWN?  Click HERE to find it where of course you will also find a printable version and the template too!
Supplies used:
113463  Top Note Bigz Die  $21.95
120810  Deck the Halls Designer Series Paper $9.95
119686  Early Espresso Cardstock  $6.95
119753  Early Espresso Satin Ribbon  $8.95
119246  Basic Rhinestones  $4.95
104294  Sticky Strip Tape  $6.95
Check out my FREE Make n Take – click HERE for details – place an order with me during September and I will mail this make n take card plus some samples out to you too!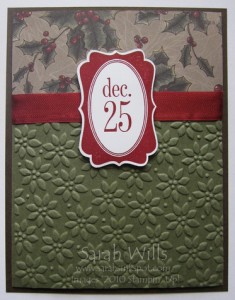 Would you like to order anything? You an order directly online by clicking HERE – and then click on 'shop now' on the page that link takes you to – you can shop, securely checkout and have your new goodies delivered to your door in a few easy steps!