Cute Tags!  Yesterday got me thinking alot about tags and so I decided to put together a cute box full of tags with a festive twist…and with just 11 weeks until Christmas Eve, it is not too early to get a good start on making these!
I saw this divided box in the catalog last year and instantly loved it and figured it would be a great project to show you for Festive Friday – it is divided and has four compartments and whilst mine is filled with tags which would be a great co-worker or teacher gift, you could fill it with all sorts of goodies because you can easily make an acetate lid for the top…find out all the deets  plus a link to the printable tutorial showing you how to make your own cute box below…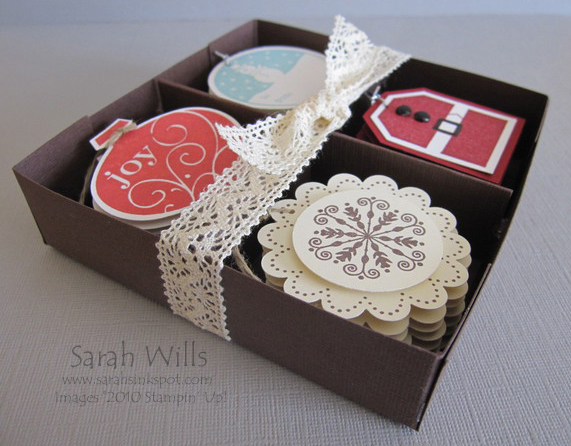 For my box I used just one sheet of 12×12 Chocolate Chip Textured Cardstock – other than a strong adhesive such as Sticky Strip, that's all you need to make it – can you believe that?  To add a lid you simply need a Window Sheet that you can find on pg 205 and cut it to size – you can find out how to do that in my tutorial…
I stamped my tags using stamps from a variety of sets including Tags til Christmas that you can find on pg 24 of the Holiday Mini Catalog – the cute snowman and santa suit tags are both from that set and I just LOVE it…  I also used stamps from Delightful Decorations (pg 35) and Sweet Season (pg 34).
There are many other sets with stamps just perfect for this project both in the main and Holiday Mini Catalogs…we are spoiled for choice!  And you know what?  Rub-ons would work fabulously well for making tags too – you can find Holly Jolly on pg 184 and Candy Cane on pg 36 of the Mini and they are both very cute…
And what makes this such an easy thing to make is that many stamps are designed to work with punches that you can find on pgs 200-203 – punches I used include the Big & Small Tag Punches, the Ornament Punch, Circle Punches and the Scallop Circle Punch…in the Catalogs where you see a thin red or blue line outlining a stamped image then there is a co-ordinating punch for cutting it out – almost all the stamps in Tags til Christmas have a punch making it very quick and easy to make something like this.
To finish up, I tied around a piece of Victoria Crochet Trim with a knot in front and added Linen Thread or Silver Cord to my tags…I put Black Brads on my santa tag and there you have one fun-to-make set of tags.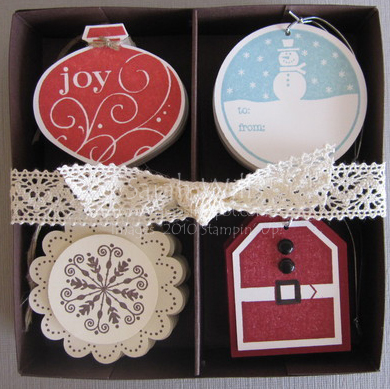 WANT THE TUTORIAL SO YOU CAN MAKE ONE OF THESE DIVIDED BOXES?  Click HERE to find my Project Tutorials where it is at the top of the list – in that tutorial you will also find a printable version too!
And lastly…announcing the winner of my Blog Candy from this week's Tutorial Tuesday…the lucky winner will be receiving the wonderful Spooky Spider Decor Element…and the lucky winner is…
Misti who said…
"I love this project! my daughter wants to make it for her teacher (3rd grade)" – congrats Misti – please email me your mailing address and I will get your Spooky Spider on it's way to you…
Don't forget to come back and visit me for Tutorial Tuesday where I will have more blog candy up for grabs – have a wonderful weekend!
Festive Friday brings a package of…