Have you seen the new fabric in the Holiday Mini Catalog?  It is gorgeous and co-ordinates beautifully with Stampin' Up!'s colors and holiday Designer Series Papers…
You can find it on pg 16 and there are two packages available – Deck the Halls and Candy Cane Christmas – I just had to have both packs of fabric in the hopes that I would dig out my dusty sewing machine and get to work…the only problem is that sewing and me…well, we really don't get along too well and despite my best intentions, my fabric still had not made it out of the packaging!
So I decided to try to use my fabric in a hybrid way with cardstock – please read on to find out how I did this plus this week's blog candy winner…
Do you see where the fabric is? Cute, eh?  It gives real dimension and a very different look…I've not used fabric in cardmaking before but I'm going to be using it alot from now on.
My card base is Crumb Cake (formerly known as Kraft) and I layered with Always Artichoke and Very Vanilla…I used the Ornament Punch to punch out my shape through which I inserted my fabric and also used it to punch out my stamped ornament images…this punch makes it very easy to create great cards very easily…
I stamped the green ornaments using a stamp from Tags til Christmas which is featured in the Holiday Mini and I stamped my Joy ornament using a stamp from Delightful Decorations – stamps in both of these sets can be punched out using the Ornament Punch.
Right now the Ornament Punch & Tags til Christmas set have been bundled together as part of the Handmade Holidays promotion –  buy them together as a bundle and get 20% off …check out this bundle and others by clicking HERE
My fabric ornament?  I used fabric from the Deck the Halls pack – it only takes a very small amount of fabric to make this and I love how it turned out – again I used my Ornament Punch to make my shape in the vanilla layer and formed my fabric and stuffing into this shape from beneath…I added Linen Thread as a finishing touch…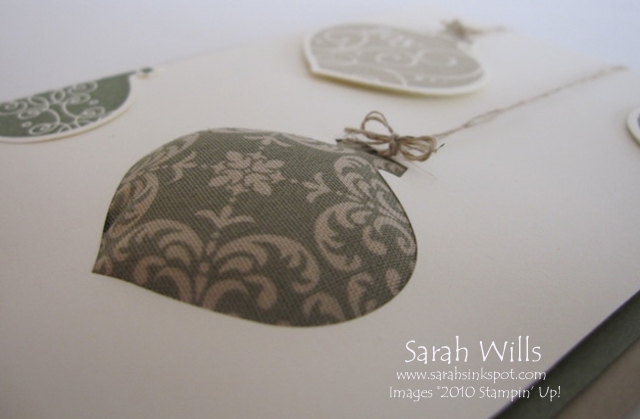 It's just 9 weeks until Christmas Eve and now is the time to design your cards, calculate supplies that you need to make them and get them ordered…once you have those supplies to hand you can dip in and out as time allows and get your cards done in a fun & relaxing way – taking your time and enjoying your hobby rather than a last minute dash to get them done!
Want the tutorial so that you can make your own fabric punch cards?  Click HERE to find it in my Project Tutorials section plus in that tutorial you will find a printable version too!
And lastly announcing the winner of my Blog Candy from this week's Tutorial Tuesday…the lucky winner will be receiving  my Mini Album plus some Clear Envelopes of their own…and the lucky winner is comment no. 9 – Sheila H – who said…
"What a beautiful and elegant card. This would make a beautiful wedding card. Sarah Thanks for sharing!" – congrats Sheila – your goodies will be on their way to you soon…
Have a wonderful and spooky weekend – I hope you get lots of treats!
TO ORDER STAMPIN' UP! SUPPLIES ONLINE CLICK HERE!
Supplies I used:
Tags til Christmas Bundle
Featuring the Ornament Punch & Tags til Christmas stamp set
124478 – Wood Mount – $38.32
124477 – Clear Mount – $31.92
Fabric – 121716 Deck the Halls pg 16 Holiday Mini
Stamp sets – 116517 Delightful Decorations pg 35
Cardstocks – 101650 Very Vanilla, 120953 Crumb Cake & 105119 Always Artichoke pgs 168-9
Ink – 105219 Always Artichoke & 121030 Crumb Cake pgs 168-9
Punches – Ornament pg 203
Accessories – 104199 Linen Thread pg 190, 104430 Dimensionals pg 197
Festive Friday meets Fabric…