Stampin' Up! have announced a cool Contest for customers & demonstrators AND announced the debut of a new My Digital Studio community website…


Stampin' Up! invites YOU to participate in their first ever digital design contest using My Digital Studio and digital downloads – the contest is open to all demonstrators and customers who have access to My Digital Studio and 5 demonstrators and 5  customers will be selected to win!
Winners will receive FREE My Digital Studio digital downloads from Stampin' Up valued at approximately $400! What a fabulous prize!  Plus you'll also receive a digital pin for your personal blog if you have one.
To enter the contest you will need to design one digital card and two single-page layouts using ONLY My Digital Studio products. Submit all samples along with an official entry form and photo release form (if applicable) to MDSContest@stampinup.com by November 15th…
You can find the Official Rules by clicking HERE
You can find the Contest FAQs by clicking HERE
You can download an official entry form HERE and photo release (if applicable) HERE
I have a page dedicated to the details of this contest so that you can come back and easily find out about everything – you can find it in my sidebar to the right…
Here is a halloween card that I created using MDS this morning using that cute owl…MDS is SO much fun to play with and gives you access to many more stamps, punches, papers and embellishments than you probably have in your crafting space for a fraction of the cost that purchasing those items would cost you from the catalog – and anything you have available in MDS cannot retire and you never deplete your stock of cardstocks & DSPs by using them – you will always have them to use…forever!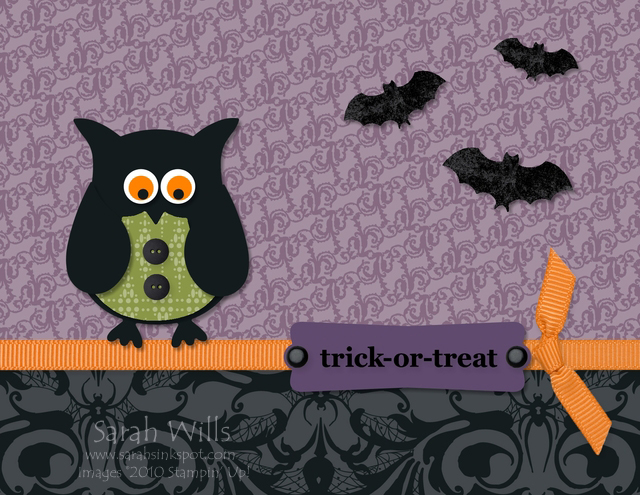 Want to know more about My Digital Studio? You can find more about what is included in this wonderful software package that is available for both PC and MAC by clicking HERE…and you can find a list of all the extra add-on's to purchase that SU have released to date by clicking HERE…

I am a certified My Digital Studio Demonstrator and so if you have any questions about it, please email me and I will be very happy to help. 
Want to purchase your very own copy of My Digital Studio? Click HERE and then click on Shop Now in the top right corner and you will find it in the Digital Crafting section…
When you purchase it through me via that link I will email you a detailed but easy to follow tutorial enabling you to learn the software easily & quickly so that you can start creating amazing things fast!  You will also be subscribed to my new MDS monthly newsletter of tutorials, tips & updates and being an MDS certified demonstrator I can offer you help and support as you need it…
My Digital Studio Community – Stampin' Up! has just announced the creation of an exciting new website dedicated to MDS – you can find it at www.MyDigitalStudio.net and it is a great place to go for inspiration, product training, and up-to-date information, upgrades and downloads.
You can go to this website to view & share your projects, experiences, and knowledge – there are open forums for discussion on MDS topics plus resources…to join, go to the link above and get started on your profile…see you there!
And announcing the winner of my Blog Candy from Friday…the lucky winner will be receiving both of my Festive Mugs…and the lucky winner chosen by random number generator is…
Comment no. 7 by Susan who said…
"I really like both,but if I had to pick one, I would like Deck the Halls. Also THANKS for sharing the tutorial with us, and for the chance to WIN one! LOVE IT !!"
A BIG congrats Susan– please email me with your mailing address and I will get the item of your choice on it's way to you…enjoy!
Ggood luck with your MDS contest entries!

My Digital Studio Contest!