A very cute couple who can hold lots of treats and who appear sooo sweet…may I introduce you please to Mr & Miss Monster!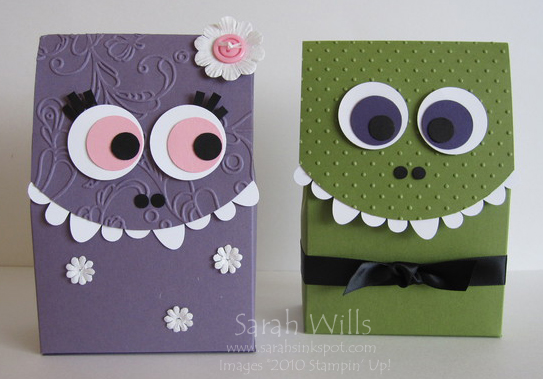 Aren't they fabulously cute?!   They are goody bags and just perfect for Halloween or a monster themed party…open the flap and inside is a bag with plenty of room to house treats!
I plan to make a bunch for my girls' classmates for this year's Halloween treats – they are fun and easy and I think the kids are just going to LOVE them!  And sooo economical too – they use just 1 sheet of 12×12 cardstock and whatever you want to decorate them with…
I came across this idea when I visited an Australian demonstrator's blog by the name of Carol Dunstan and I just had to make my own version – I resized them and have written a tutorial on how I made them, to make it easy for you to make them too…you can find the link to this at the end of my blog post.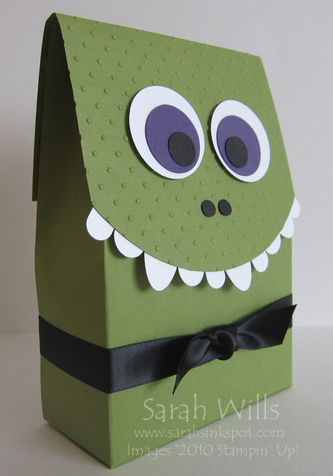 Now Mr Monster is made from Old Olive cardstock – I textured his head by using the Perfect Polka Dots Embossing Folder (pg 214) and gave him a dashing look by adding Black Satin Ribbon (pg 191).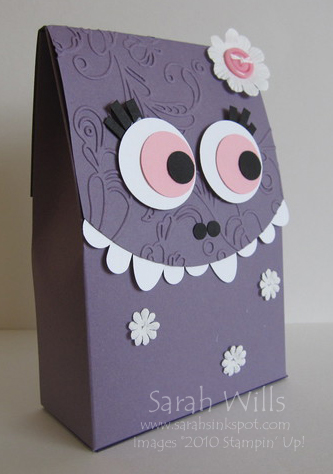 Miss Monster is made from Perfect Plum cardstock – I textured her head using the Elegant Lines Embossing Folder (pg 214) and gave her a girly look by using Paper Daisies (pg 188) and a pink Designer Button (pg 186) – I added eyelashes to make her look extra cute…
I use magnetic closures to close my bags – you can find these at craft & scrapbook stores or you could use little velcro circles that you can find in big box stores…the beauty of both of these types of fasteners is that they can be opened & closed many times…
How do you make the teeth?  By using 3 different punches – Word Window, 1 3/8 x 5/8″ Oval and 1/2″ Circle Punches – all of which you can find on pg 202.
The eyes?  I used these Circle Punches – 1 3/8″, 1″ and 1/2″ – again on pg 202 and I added them using Dimensionals to make them 'pop'…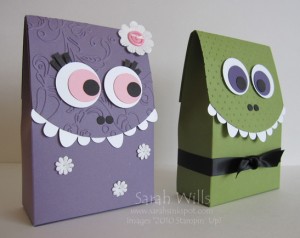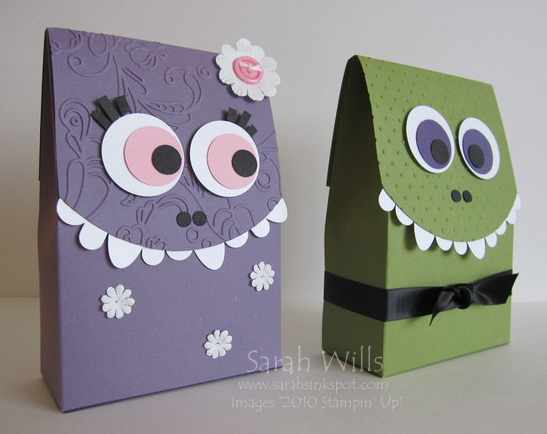 Come back and visit Friday to check out my Festive Friday item for this week!
WANT THIS TUTORIAL SO YOU CAN MAKE THESE CUTE MONSTERS?  Click HERE to find my Project Tutorials where it is at the top of the list – in that tutorial you will also find a printable version too!
Tutorial Tuesday invites you to meet…