Well, not quite literally LOL but today I am going to show you how to make a box with a hidden secret…it is called an Explosion Box and it is a whole lot of fun to make!
You can find the simple tutorial on how to make this amazing Explosion Box by clicking on the Free Tutorials tab at the very top of my blog – you will find it in my Project Tutorials section at the top and you will also find the link to it at the end of my blog post here PLUS  I am offering the chance to win some Blog Candy…please read on for details…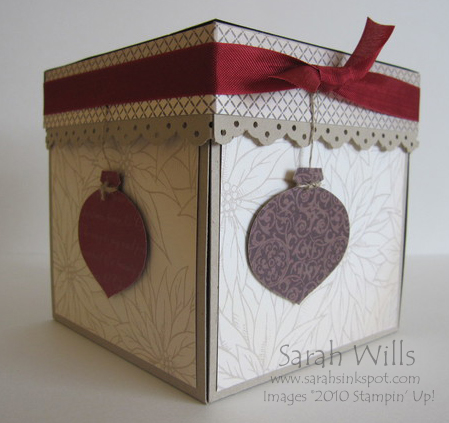 What's so special about this innocent looking box?  Well, once the lid is pulled off the sides of the box fall away revealing…20 mini pages to add patterned papers, photos and embellishments to!  You can even put a 3-D object in the center square if you choose – this makes a cool and unusual scrapbook gift for a special someone and is just perfect for the upcoming Holidays…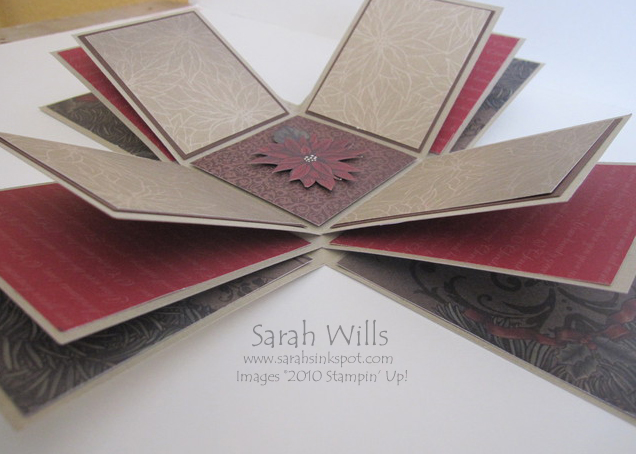 It is the perfect project to make several of for family members (it would be fab for Thanksgiving gifts) because it is so affordable – it uses just 3 sheets of 12×12 cardstock plus half a sheet more for the lid & patterned papers – mine has a bit of a festive theme due to my holiday season prep and so I have used papers from the Deck the Halls pack that you can find on pg 18 of the Holiday Mini Catalog and covered both sides of all the little pages – using a pack of co-ordinating papers makes it so quick & easy to make something like this because the hard work of matching colors is already done for you…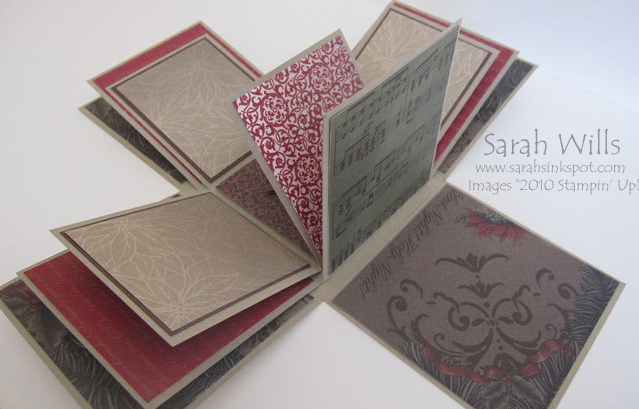 I used Crumb Cake for my base, edged my lid using my Eyelet Border Punch (pg 200) and wrapped around a piece of Cherry Cobbler Seam Binding (pg 21 of the Holiday Mini)…my ornaments were so simple to make using the Ornament Punch (pg 202) and a piece of Linen Thread to hang them with.
You can also keep this box more simple to make a very cool card by simply having one layer that falls open to reveal 5 surfaces to decorate…
I've been wanting to make one of these boxes for ages but was deterred because I could only find complicated instructions, so for today I decided to get down to make one and produce simple instructions…WANT THIS TUTORIAL SO YOU CAN MAKE ONE OF THESE AMAZING EXPLOSION BOXES?  Click HERE to find my Project Tutorials where it is at the top of the list – in that tutorial you will also find a printable version too!
And you know what would be perfect for making these boxes? Some of the fabulous packs of 12×12 cardstocks that you can find in the Clearance Rack right now – in these packs you get 24 sheets for JUST $3.99 – making each sheet ONLY 17 cents!!!  Decorate your box with some Designer Series Papers also available there for JUST $3.49 – and wrap your box up with a piece of ribbon also there starting at JUST $1.99!!!
By using Clearance Rack bargains you could make 24 simple or 8 three level boxes for less than $10 – what a sweet deal!  Make them as holiday gifts for your family and everyone will be thrilled!
Need to visit the Clearance Rack to order supplies?  Simply click HERE and then click on Shop Now in the top right corner…you will find it on the left side of the store…if you have any questions email me by clicking here and I will be very happy to help.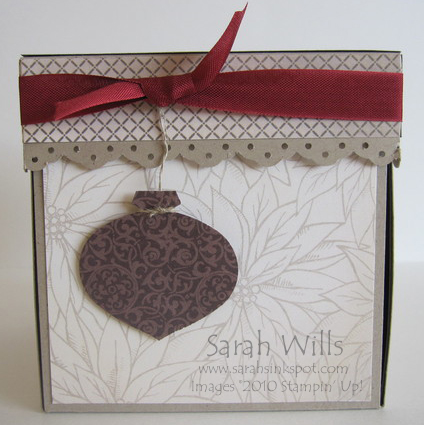 Now onto the Tutorial Tuesday Blog Candy…leave me a comment to let me know what you would use this box for and you will be entered into a drawing where one lucky winner will be drawn this  Friday morning – that lucky winner will win a kit containing pre-cut cardstocks, Designer Series Papers and Ribbon – everything needed to make an Explosion Box!
And you can get more chances to win – place an order with me before 9 am on Friday and you will get an extra ticket in the hat too!
Come back and visit Friday to see if you won and to check out my Festive Friday item for this week…it's a frosty one!
Tutorial Tuesday is here with a bang!