I just can't stop using the set Day of Gratitude – the images are beautiful and incredibly versatile and you can create beautiful cards with this set very quickly and easily…
Today I wanted to make a thank you card featuring fall colors and again reached for these fabulous stamps – I decided to feature the large medallion image as my focal point and used two colors of inks on it…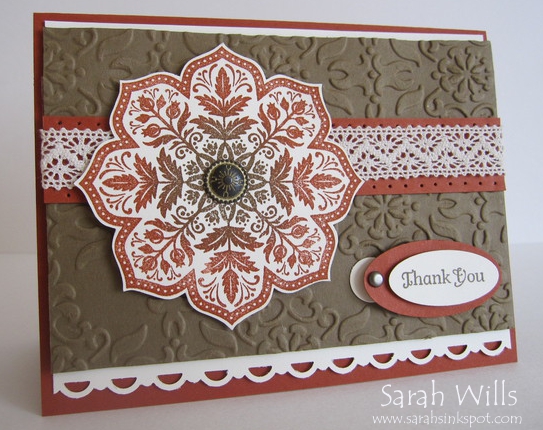 I used Soft Suede ink in the center to match in with my Antique Brad that I placed in the center, and Cajun Craze ink on the outer part – this effect is so easy to create – you simply choose the inks you wish to use and grab some Sponge Daubers…
Dab a dauber onto your ink pad and then use it to dab ink onto your stamp – and take another dauber for your second color and repeat – for a large stamp like this you will need to repeat several times and when finished, gently 'huff' onto your inked up stamp which moistens the ink and ensures an even stamped image.
I trimmed my medallion out with sharp Paper Snips and used Dimensionals to adhere it in place.  My card base is Cajun Craze with a mat of Very Vanilla that I edged using the Scallop Trim Edge Punch – on top of this is a mat of Soft Suede that I textured using my Vintage Wallpaper Embossing Folder to give a great backdrop.
For a finishing touch I added my sentiment that I punched out and matted using Oval Punches, added a Metallic Brad and a piece of the gorgeous Victoria Crochet Trim and there is one simple but eye-catching thank you card just perfect for this time of year…click on the photo for a larger image…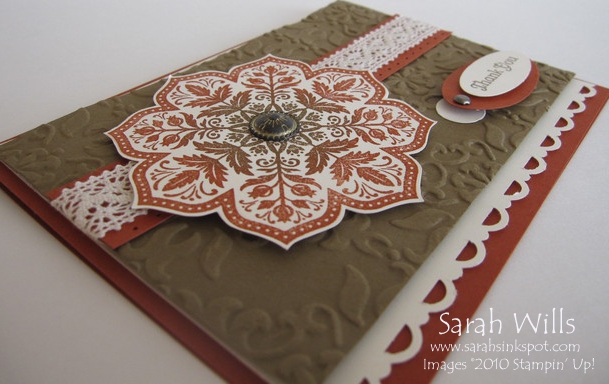 Don't forget to come back and visit me tomorrow to find out the winner of this week's blog candy – it's not too late to enter for your chance to win – scroll down to my Tutorial Tuesday post to enter!
CLICK HERE TO ORDER STAMPIN' UP! SUPPLIES ONLINE!
Supplies I used:
Stamps – 120835 Day of Gratitude pg 12 Holiday Mini
Embossing – 120175 Vintage Wallpaper Embossing Folder – pg 214
Punches –  119863 1 3/8″ x 5/8″ Oval, 119855 1 3/4″ x 7/8″ Oval, 118402 Scallop Trim Edge, 119869 1/2″ Circle – pg 200-2
Inks – 119671 Cajun Craze, 115657 Soft Suede – pgs 168-9
Cardstocks – 101650 Very Vanilla, 119684 Cajun Craze, 115318 Soft Suede – pgs 168-9
Brads – 117273 Antique, 119741 Metallic – pg 187
Accessories – 102892 Sponge Daubers pg 195, 104430 Dimensionals pg 197, 118481 Victoria Crochet Trim pg 190, 103579 Paper Snips pg 199, 116631 Paper Piercing Tool pg 198