And not just any chocolate…my most favorite kind of chocolate, the very delicious Ghirardelli that comes in lots of fabulous seasonal flavors right now…
This cute box holds 4 individually wrapped Ghirardelli squares and is the perfect treat sized gift…the lid simply slides out from behind the scallop square revealing the delightful goodies inside.
Please read on for details on how to make it along with a link to the printable tutorial plus find out who won Tuesday's blog candy…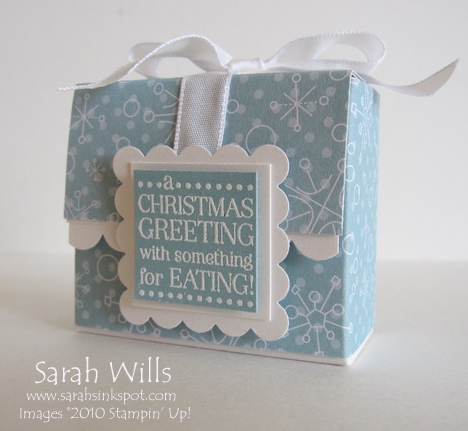 This box uses just half a sheet of cardstock and patterned papers plus embellishments to decorate it – it is a very fun and easy treat to make…for my box base I used a piece of Shimmery White cardstock and decorated it with papers from Candy Cane Christmas…
I used my Scallop Edge Border Punch to trim it and added a piece of Whisper White Taffeta Ribbon to my box lid – I love how that bow really makes it look like a little gift…Taffeta Ribbons give such a luxurious finish to your projects and they are lightweight too making them so easy to tie – if you haven't tried them, you really should…you will love em!
The lid closure is provided by that tag on the front and to open, you simply slide the lid up and it will pop out…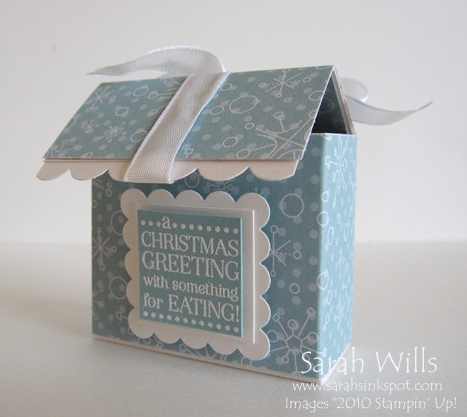 To make my tag on the front, I took a stamp from Tags til Christmas featured on pg 24 of the Holiday Mini Catalog and stamped it using Versamark ink onto a piece of Baha Breeze cardstock and sprinkled on White Embossing Powder and used my Heat Tool to set it…not sure how to use embossing powder?  Click HERE for my easy step-by-step tutorial.
I then cut it out and layered it onto piece of cardstock that I shaped using my Scallop Square Punch…I just love scallops.  And look what's inside…yummy chocolate squares…mmm…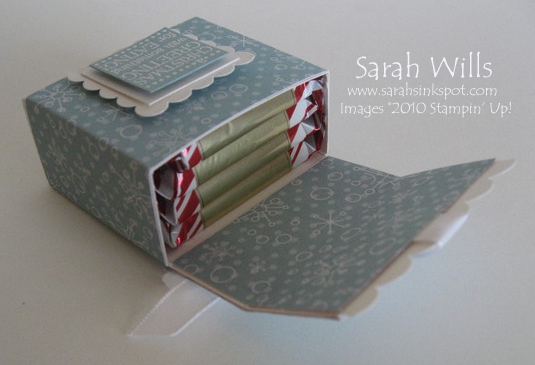 This time of year there are a variety of seasonal flavors that Ghirardelli makes…egg nog, pecan pie, peppermint bark…and you could use matching patterned papers to co-ordinate with the colors of the wrappings…but whatever you do, I'm sure it will be hugely appreciated by the lucky recipient!
Want the tutorial so that you can make your own cute box?  Click HERE to find it in my Project Tutorials section plus in that tutorial you will find a printable version too!
And announcing the winner of Tut0rial Tuesday's Blog Candy who will be receiving a Coupon Book Kit plus a $10 gift certificate from me…and the lucky winner is comment no. 4 – Diane M.  who said:
"That is such a darling idea and your execution of it is great!  Love your combination of colors and textures!  Thanks for all the great projects!"
A big congrats Diane – please email me with your mailing address and your goodies will be on their way to you soon!
Have a wonderful weekend and please come back to visit me on Monday when I will be announcing a BIG blog candy giveaway!

TO ORDER STAMPIN' UP! SUPPLIES ONLINE CLICK HERE!
Festive Friday adds Chocolate…