With a very sweet way to give the gift of a hot drink this cold winter season…a Fabric Sleeve to wrap around a cup of hot cocoa or coffee making it extra special for a friend or teacher one chilly morning…

And the best bit about these is that they feel so cozy to the touch and are re-usable too – they simply slide onto a coffee cup – it's a little gift that keeps on giving!  Please read on for details about how I made it plus a link to my printable tutorial so that you can make your own…
I AM OFFERING TWO BIG BLOG CANDIES THIS WEEK – you can read all about them in my post below – leave comments for your chance to win – PLUS EVERYONE who places an order with me from now through Dec 24th gets brand new FREE Ribbons!!!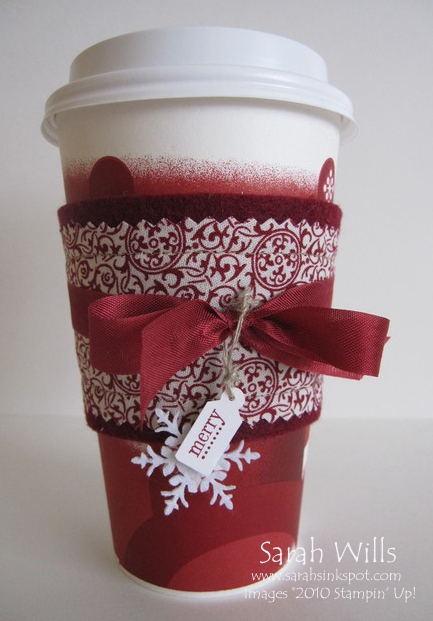 I just LOVE how my Fabric Coffee Sleeve turned out – the base is simply made from a piece of felt that I purchased for just 29c at Walmart – you can find felt sheets for similar prices at all large craft stores…
And then you layer on a piece of fabric of your choice – I used fabric from Deck the Halls which is on pg 16 of the Holiday Mini Catalog and I used my Pinking Shears to make a patterned edge.
It's not too late to order fabric to make these in time for the holidays –  you can place your order by clicking HERE – be sure to place your order VERY soon to get your fabric in time!
Then…get this…I used my sewing machine for the VERY FIRST TIME to stitch it on…yes, dear friends, I am no seamstress – I've had a sewing machine for around 3 years now gathering dust in my closet…I bought it during a clearance sale from Target and figured I would use it one day…everytime I think of using it I change my mind because, well, I can just about sew a button onto a shirt…
But TODAY was the day – out it came – it was still threaded up from whence my dear Mother in Law used it on her last visit here – so I plugged it in, sat down and got going – and was absolutely AMAZED at how well it went!!!
But if you don't have a sewing machine or chose not to sew, there is a fabulous product just for you – iron-on Fabric Adhesive Roll that you can find in the Holiday Mini on pg 17

I managed a couple of pretty straight lines (don't look too closely!) and was delighted with how it turned out…click on the photo for a closer look…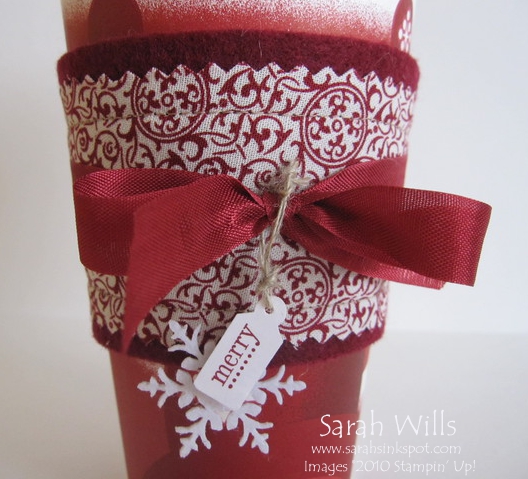 I trimmed my sleeve using Cherry Cobbler Seam Binding – find out how you can get 7 feet of this gorgeous ribbon in 7 different colors for FREE by clicking HERE
To make my sentiment I used a stamp from Tiny Tags and punched it out using the Medium Jewelry Punch – I layered this onto a beautiful white snowflake from Little Felt Flurries – these snowflakes are retired BUT you can purchase them right now in the Clearance Rack – but hurry before they are all gone for good…
I attached my tag to the ribbon using a piece of Linen Thread and there it is – all ready for giving!
WANT THE TUTORIAL SO THAT YOU CAN MAKE YOUR OWN FABRIC COFFEE SLEEVE?  Click HERE to find it in my Project Tutorials section plus in that tutorial you will find a printable version too!
Enjoy making your own Fabric Coffee Sleeves –  please enter for your chance to win one of my 4 items in this weeks Big Blog Candy…you can find details in my post below…
TO ORDER STAMPIN' UP! SUPPLIES ONLINE CLICK HERE!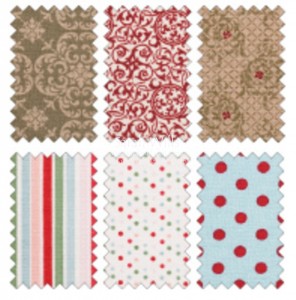 Tutorial Tuesday gets Cozy…