If you are lucky enough to have received your copy of the brand new, upcoming Occasions Mini Catalog in your hand then you might already have seen that cute Pin Cushion featured on pg 39 along with those two new beautiful packages of Designer Fabric…

As soon as I saw it, I decided to have a go at making one myself – it will make a beautiful little gift for fabric crafters, and I just love how it turned out…all you need is a preserving jar and some cute fabric – I used fabric from the beautiful new Springtime Vintage assortment…
Please read on for details about how I made it plus a link to my free printable tutorial so that you can try your hand at making your own.  Here is mine…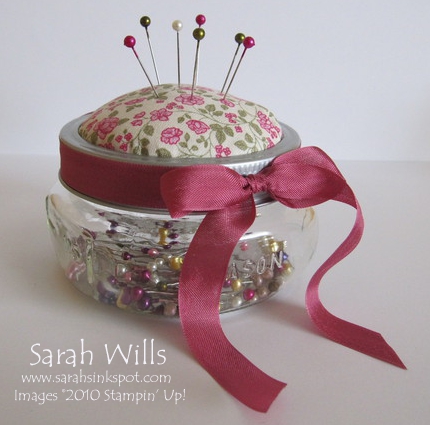 Isn't it cute?  Thinking months ahead, I think these are going to make fabulous gifts for Mothers Day and what quilter or stitcher wouldn't love to receive one of these at any time of the year?
And that fabric is just beautiful…you will be able to purchase it when the Occasions Mini Catalog goes live on January 4th and there are two Designer Fabric assortments available – Springtime Vintage and Sweet Stitches – each package contains 3 designs and I know you are going to love them…there are also co-ordinating Buttons and Seam Binding too, making it so easy to create co-ordinating gifts…
Here is a close-up of the top…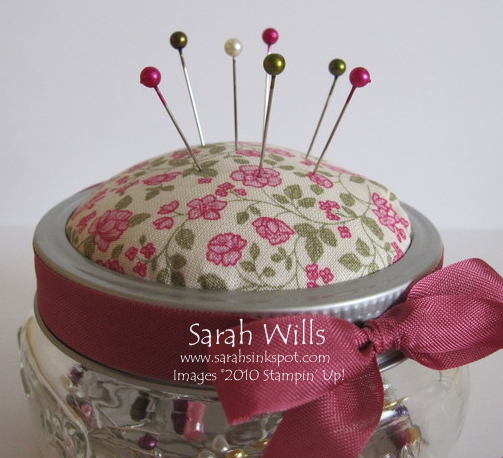 If you've followed me for a while, you'll know that sewing is not one of my talents…well, I am delighted to say that this is another project that uses fabric where no sewing is required – just the use of a hot glue gun – making it perfect for those of you who aren't great with the needle & thread like me!
So what did I use for my base? It is a Preserving Jar made by Ball and you can find it in their Collection Elite range – you need to use a preserving jar as you need the lid to be in two parts – you can find them online or in stores (I found mine in Target).
Notice that cute ribbon tied around the lid? I put that around to show you how cute this would like to give as a gift and also to show off one of the beautiful new colors of Seam Binding featured in the Occasions Mini Catalog – this ribbon is Rose Red Seam Binding and I just LOVE it – it is so easy to work with and gives a very elegant look to your projects.
You could fill the jar with new Designer Buttons or pins – I found pins with colored heads that even co-ordinate with the colors in my fabric – cute, eh?
WANT THE TUTORIAL SO THAT YOU CAN MAKE YOUR OWN FABRIC PIN CUSHION? Click HERE to find it in my Project Tutorials section where you will find a printable version too!
I can hardly wait for you to be able to order from the Occasions Mini Catalog on January 4th – if you don't have a copy of this fabulous new Mini but would like one and plan to place your orders with me, please contact me and I will drop one in the mail to you.
CLICK HERE TO ORDER YOUR STAMPIN' UP! SUPPLIES ONLINE!
Tutorial Tuesday goes prickly…