A very warm welcome to stop no. 1 on the Stampin' Addicts Occasions Mini Blog Hop!  If you've gone full circle you will just have arrived from Krystal's blog where she showed you amazing creations using the stamp set Mother of Mine.

I am using the stamp set XOXO that you will find on pg 6 of that Mini Catalog.  It is a set of 4 featuring a background stamp, a heart, a circle of love and hugs & kisses – I am not able to show you a picture of the stamps until the Mini goes live on January 4th but let me tell you, it is one cute and versatile set!  So please read on for my projects plus deets of my yummy blog candy…
As you might have guessed from it's name, the set XOXO is themed for Valentine's Day – and it's really not too early to start thinking about those projects since February 14th is just a little over 6 weeks away!
My first card is bold and fun and uses several goodies from the new Occasions Mini…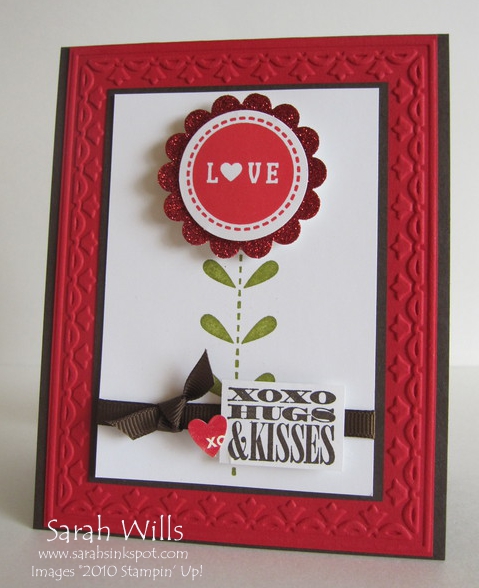 The textured background frame was made using the beautiful new Framed Tulips Embossing Folder – it is absolutely GORGEOUS – and the Scallop Flower was punched out using the new Red Glimmer Paper – oh my goodness – this is such a joy to work with as it gives you lots of glitter without any mess…that's right…no sparkles fall off even when cutting into it!
That flower face, the heart and the sentiment were all stamped using stamps from XOXO and the stem was stamped from another new fabulously versatile set called Bold Blossom which is also a steal of a deal.
My second card goes elegant…you might be familiar with the black and white combination which is everywhere right now…well I decided to create a similar look using the background stamp in XOXO…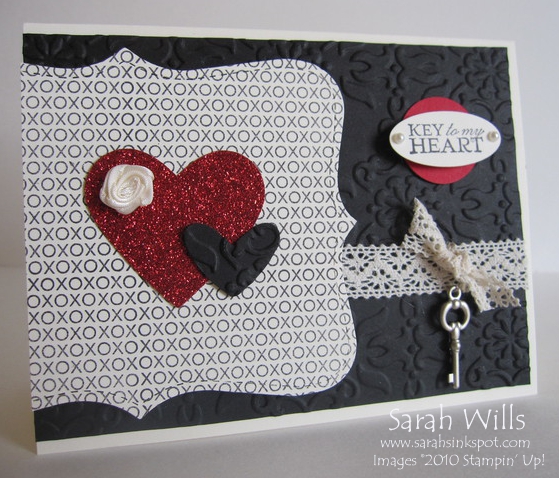 Like it?  I stamped my XOXO background stamp several times onto a piece of Vanilla cardstock and cut it out using my Big Shot and Top Note Die – I then trimmed down my die cut shape to get that beautiful mat covered with hugs and kisses…
The heart?  Again punched out of that sparkly Red Glimmer Paper and attached to it is a beautiful new product – a Vanilla Ribbon Rosette featured in the Occasions Mini….like the key?  Yup – yet another new item from this fabulous new Mini Catalog – let me tell you, you are going to LOVE it…
My third item…of course I always think of chocolate when working with Valentine's items and this was no exception – I decided to fill a jar with chocolate chip cookie mix and add a spoon to make a cute gift…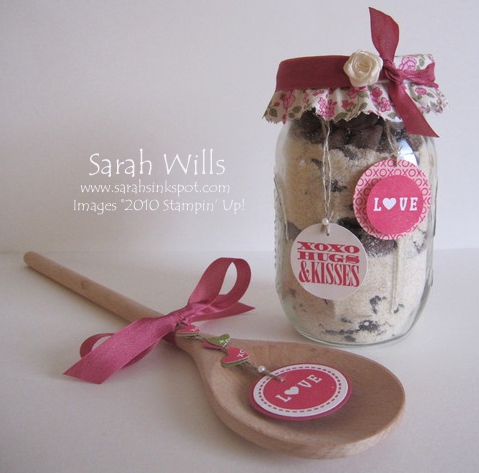 The tags are all stamped using stamps from XOXO and hung with Linen Thread…I made a background for my 'love' stamp hanging from the jar using the background stamp in XOXO and simply punched it out…on the back is a tag with directions printed on it for using the cookie mix.  Come back on Monday and I'll have the recipe here for you!
See the fabric covering the lid?  It's brand new and from the Springtime Vintage assortment – I added some beautiful Rose Red Seam Binding, a Ribbon Rosette and voila – one very cute and yummy gift.
And on to my last item which is a little bit different…I like to think outside the box and decided to create a treat for kids using this set that is candy free…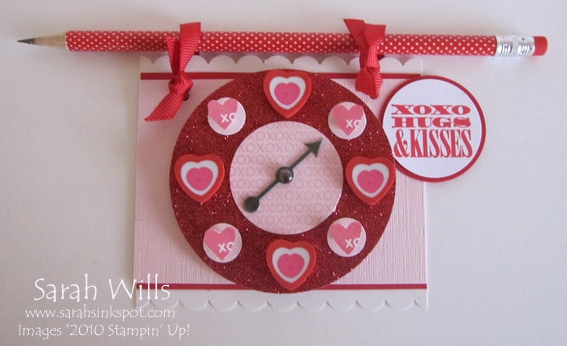 This treat simply uses a pencil and 4 heart shaped erasers that I found in packages in the dollar spot in Target – I know my girls love pencils and erasers and we get through tons of them so figured this would make a great little gift…
The card is tied onto the pencil with Grosgrain Ribbon and Mini Glue Dots to ensure it stays in place…see the spinner in the center on my card?  Yup – yet ANOTHER brand new product in the Occasions Mini!  This catalog is choc-full of fabulous new stuff and these spinners are no exception – I used my XOXO background stamp to make the center disc and that Red Glimmer Paper again provides a great backdrop…I stamped those hearts using a stamp from XOXO and attached them with dimensionals adding a heart shaped eraser between each…
And on to Monday…please come back and visit me to see some close-up photos and lots more details about how I made my projects…
Want the chance to win some Blog Candy…leave me a comment to let me know which project you like the most and you will be entered into a drawing to win a pack of 5 Handmade Cards made by yours truely, plus samples of Fabric, Papers and Ribbon from the Occasions Mini Catalog!
You are now leaving to visit the very talented Yapha and see what she has come up with using the fun set Take a Spin – visit her by clicking HERE – enjoy!
Stampin' Addicts Occasions Mini Blog Hop!