THE event of the year has just begun – and it means FREE Stamp Sets, Ribbons, Buttons, MDS downloads and Designer Series Papers!
Sale-a-bration is hands down THE best time to stock up on all your basic supplies such as papers, card stocks, ink pads, ribbons, refills & envelopes that you know you are going to use throughout the year AS WELL AS treating yourself to those new must haves – maybe that Big Shot you've had your eye on, a big box of Markers or the new goodies in the Occasions Mini Catalog – during this event  you get the most value for your money…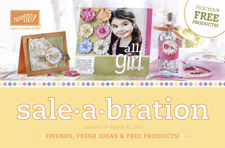 How does Sale-a-bration work?
During Sale-a-Bration you get to choose one FREE item from the special Sale-a-Bration Mini Catalog for EVERY $50 that you spend – to view the Sale-a-bration Catalog online click HERE
It doesn't matter what you buy & you can buy it from ANY current catalog including the Occasions Mini – paper, ink, markers, embellishments, stamp sets, décor elements, a Big Shot etc – EVERYTHING that you purchase from Stampin' Up! counts towards your freebies…
And it gets better – there are NO limits – if you spend $100 you get to choose 2 items, $150 you get to choose 3 items and so on…no limit to the freebies you get!
And it gets even better – when you spend $300+ then you qualify for a special benefit of an EXTRA FREE Sale-a-bration item – that would give you a total of 7 FREE ITEMS of your choice from the Sale-a-Bration catalog!  You MUST email your order to me to get this extra freebie.
AND UNBELIEVABLY IT GETS EVEN BETTER! On top of the Sale-a-Bration freebies, when you spend $150+ you ALSO qualify for regular HOSTESS BENEFITS TOO!!! This means that you qualify to choose from the Hostess sets and Free Merchandise of your choice as detailed in the table on page 9 of the main Catalog – you can also choose from the hostess sets featured in the Occasions Mini too – this is just an amazing deal…
Lets see the math – when you EMAIL your $300 order to me you will get to choose 7 SALE-A-BRATION ITEMS plus a LEVEL 1 OR LEVEL 2 HOSTESS SET plus Stampin' Up! gives you $35 in FREE MERCHANDISE of your choice – this adds up to $165 in FREEBIES – WOW – WHAT A DEAL!!!
AND I will give you even MORE for FREE when you email that $300+ order to me – please email me for details by clicking HERE…
What FREE Sale-a-bration items do you get to choose from?
In the Sale-a-bration Catalog there are 4 stamp sets, 1 Designer Series Paper & Quick Accents Pack, 1 Ribbon & Button Pack, 1 Décor Elements Decal and 1 Digital Content CD…ALL these items are EXCLUSIVE and ONLY available during Sale-a-bration – these items will never be available again.
Want more choice? Perhaps those items aren't really for you or your order qualifies for lots of freebies – just like last year, to give you LOTS more choice you can also choose from ANY stamp set from the main catalog that is listed on the back cover of the Sale-a-bration Catalog – and there are 69 listed there – how cool is that?  To view those free items you can choose from, click HERE!
FREE Sale-a-bration items + FREE Hostess Benefits = ONE HAPPY STAMPER!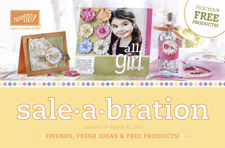 Would you like a FREE paper copy of the Sale-a-bration Catalog? Click HERE to email me your US mailing address and I will get one in the mail to you!
If you'd also like a copy of the Occasions Mini Catalog let me know and I will include that too!
CLICK HERE TO PLACE YOUR SALE-A-BRATION ORDER OF LESS THAN $300
CLICK HERE TO EMAIL ME YOUR SALE-A-BRATION ORDER OF $300+

SALE-A-BRATION IS HERE!!!