What is better than lots of chocolate and flowers?  And for paper crafters, even better than real flowers are pretty paper flowers because you can keep them forever…
Here are those two combined in a Chocolate Flower Filled Vase…there are three chocolate bars hidden in the vase bottom and a variety of pretty flowers coming out of the vase and these flowers are all shaped using various Punches and Dies…I love to make them for teacher gifts for Valentine's Day…everyone always loves them!
Please read on for details on how I made it plus a link to my free printable tutorial and this week's blog candy…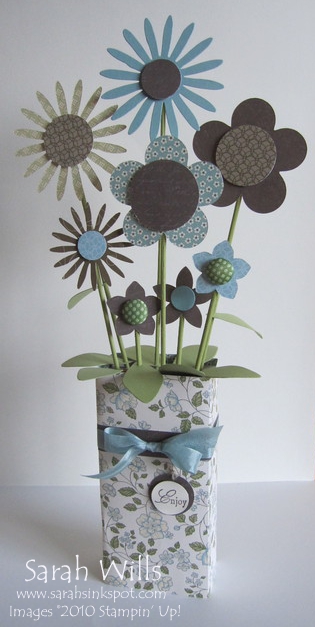 The Vase base is made of 3 Ghirardelli chocolate bars that I covered with a piece of pretty paper from Springtime Vintage that you can find on pg 15 of the Occasions Mini Catalog…around it I tied a piece of Baja Breeze Seam Binding and added a tag that I made simply using a stamp from You're a Gem, on pg 25 of that mini…
Those beautiful flowers? All made using various Punches & Dies – for punches I used the 5-Petal Flower Punch and a variety of Circle Punches for those flower centers…see the green polka dotted centers on two of the small flowers?  Those centers are made using Fabric Designer Brads that you can find on pg 36 of the Occasions Mini…
For Dies I used Island Floral and Flower Daisies #2 that are featured on pgs 206-7 of the main catalog – I also used Island Floral to create my leaves from Pear Pizzazz cardstock…
Papers and cardstocks? I used Baja Breeze & Chocolate Chip cardstocks and Designer Series Papers from Springtime Vintage, Botanical Gazette and Elegant Soiree…click on the photo below for a closer look…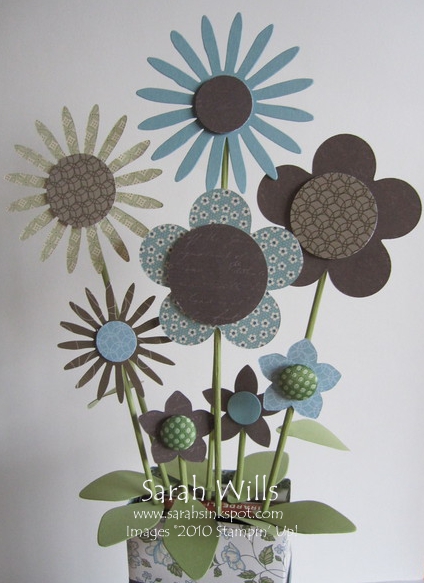 Now how do you get to that yummy chocolate without destroying the vase?  Easy!  If you use Ghirardelli chocolate bars then they come in a cardstock wrapper – simply turn your vase onto its back and gently open the end of the cardstock wrapper – and the foil wrapped chocolate bar slips out…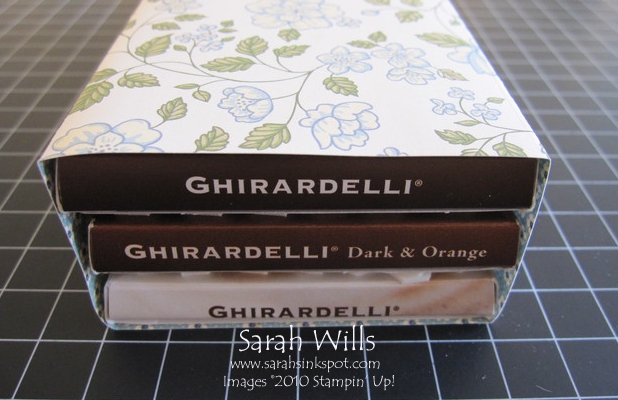 WANT MY FREE TUTORIAL SO THAT YOU CAN MAKE YOUR OWN CHOCOLATE FLOWER FILLED VASE? Click HERE to find it in my Project Tutorials section where you will find a printable version too!
Onto this week's Blog Candy…leave me a comment to let me know what you think of my vase and you will be entered into a drawing where one lucky winner will be drawn this Friday morning…
That lucky winner will receive a kit containing everything they need to make one of these beautiful vases – so be sure to come back Friday and see if you are the winner!
Want a FREE printed copy of the new Occasions Mini Catalog? Simply click here to email me your US mailing address and I will get one out to you FAST – PLUS I'll include a free Sale-a-bration Catalog too!
You can also view the Occasions Mini online by clicking HERE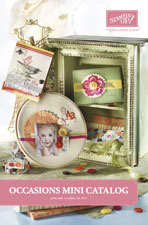 TO ORDER YOUR STAMPIN' UP! SUPPLIES ONLINE CLICK HERE!

Tutorial Tuesday brings Chocolate & Flowers…