Firstly, Happy Valentine's Day!  I hope your day is filled with fun, love and of course chocolate & candy…yum!
I was trying to think of some last minute candy wrappers to make that would be quick, easy and elegant…nothing sprang to mind…I think my brain is still on vacation!
And so I did a little bit of surfing and came across a cute idea that Lisa Freeman made – I loved it and decided to make some of my own using what I had to hand and adding my own spin on them too…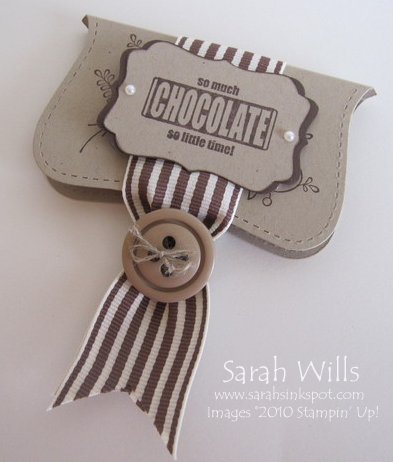 Isn't it cute?  Can you guess what's hidden inside?  Yup, one of my favorite of sweet things…a Ghirardelli Chocolate square.
How did I make it?  Very easily – I die cut a piece of Crumb Cake cardstock to shape using my Big Shot and Top Note Bigz Die – I then found the center and scored one line 2/16″ to the left of the center and another 2/16″ to the right of the center – the Ghirardelli Square fits perfectly in here.
I then stamped a pattern onto my die cut piece using a stamp from the set Sweet Summer and then folded along the two score lines…you can get Sweet Summer for FREE right now with a $50 purchase during Sale-a-bration…it's a fabulous set with lots of beautiful images that you can see at the end of this post…
To find out more about Sale-a-bration & to view the online catalog please click HERE – if you would like a free paper copy of the Sale-a-bration Catalog please click HERE to email me and I will drop one in the mail to you (US addresses only).
I then opened up my top note die cut piece and attached my chocolate square using a Mini Glue Dot to hold it securely in place – I added a sentiment from the set You're a Gem which is featured in the Occasions Mini Catalog and a couple of cute Pearls…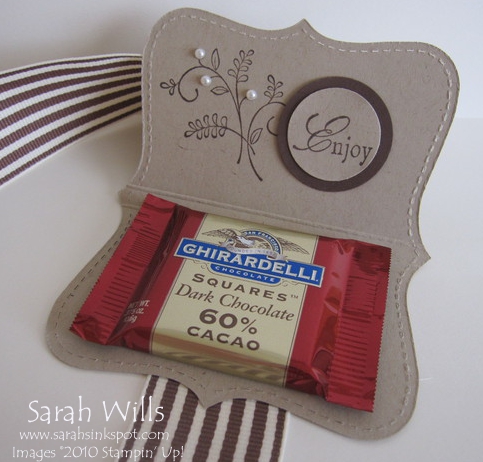 I then wrapped around a piece of 1 1/4″ Striped Grosgrain Ribbon – I cut a piece of Linen Thread to size and tied this around my ribbon, pulling tight to gather the ribbon together – I then added a Big Designer Button and tied the thread through finishing in a bow.
For a finishing touch I added a sentiment stamped from the fun set Eat Chocolate featured on pg 30 the Occasions Mini – what a perfect stamp to top this little treat – and punched it out using my Decorative Label Punch, adding more Pearls to the sides…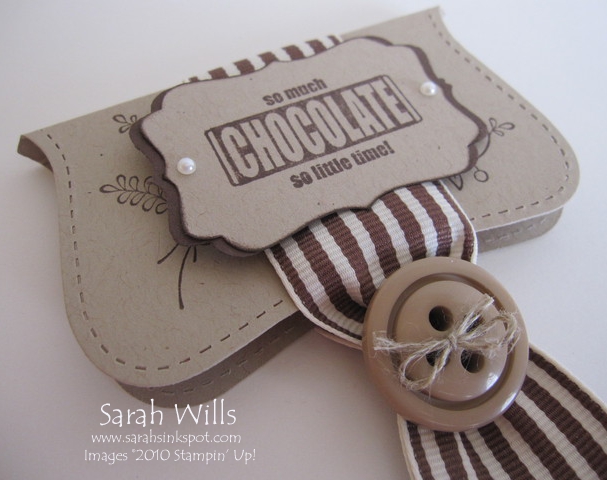 What do you think?  I love how it turned out – perfect for last minute treats to hand out today – it's so quick, easy and fun to make!
Here are the images in that cute set Sweet Summer that you can get for FREE right now – I love the swirly stem as it's sooo versatile…love it!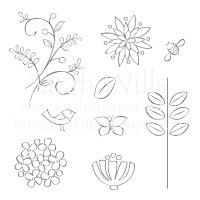 CLICK HERE TO ORDER YOUR STAMPIN' UP! SUPPLIES ONLINE!
Last Minute Chocolate Treat…