A warm welcome to stop no. 9 on the Stampin' Addicts Sale-a-bration Blog Hop!  You have just arrived from Kim at Stitchin n Stampin on Paper where she showed you beautiful items using the fun Faux Flocking technique.

Every stop on this hop is showcasing birthday ideas using a different technique and I am going to be showing you some fun things you can do with Paper Piecing…if your watercoloring skills are a little rusty, Paper Piecing is a great way to fill in those images – all you need are pretty patterned papers and a sharp pair of scissors!
Please read on to see my projects and for details of my yummy blog candy…
Sooo…what is Paper Piecing? Well, you stamp your image onto your base cardstock, usually a neutral color…you then choose a colored cardstock or patterned paper and stamp your image onto that and using very sharp little scissors cut it out…you then adhere it to your image on the base – I find Mini Glue Dots work the best for me…want to see some examples?  Walk this way…
My first item features a pretty elegant birthday card and one of my favorite stamps, the lovely Tess, who is just perfect for this technique…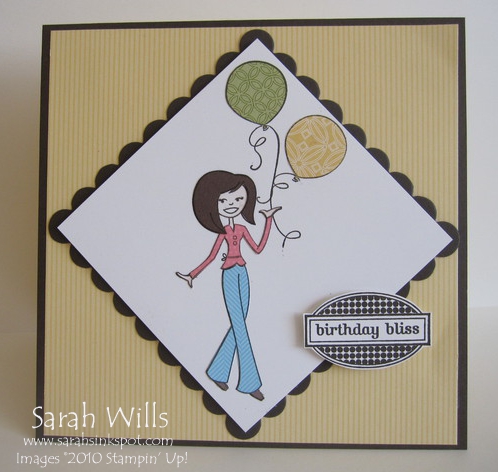 Doesn't she look gorgeous?  I choose muted colors for this card and love how it turned out…I stamped Tess onto Whisper White and kitted her out using various Designer Series Papers and cardstocks…Paper Piecing is such an easy way to give fabulous results but you MUST have scissors fit for the purpose – Stampin' Up!'s Paper Snips are perfect for this technique and you can find them on pg 199 of the Catalog – they are small with a very sharp sculpted tip – trust me, you need these scissors for easy Paper Piecing cutting!
I added two balloons using a stamp from Crazy for Cupcakes (pg 56) that I positioned and stamped using my Stamp-a-majig and Paper  Pieced them too…I added my sentiment and my Scallop Square background along with a bit more pretty paper for a background and there is one cute but elegant birthday card…
Want to see more details and see a close-up photo of my handywork?  Come back on Monday!
My next item is a CUTE birthday cupcake take-away box…take a peek through that window and see what yummy goodness is inside…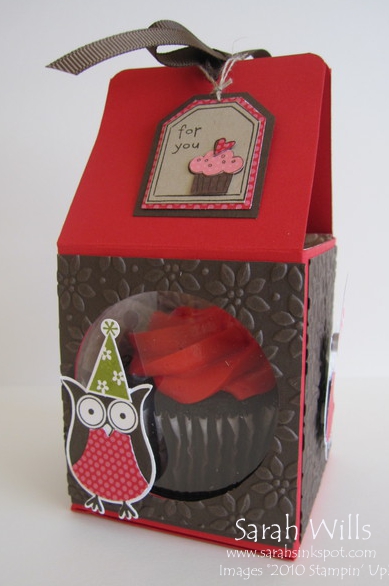 Don't you just love this box?  This would make a cute party take-away gift – a delicious cupcake in it's very own take- out container!
SO very easy to make from just one sheet of card stock – I decorated it using card stocks that I textured with an embossing folder…I made a circular window in the front and added a Window Sheet so that the yummy cake is visible…
I stamped my tag using a stamp from the Level 1 Hostess Set Birthday Bakery (pg 10) and paper pieced the cute cupcake on it…
Want to know how I made my Cupcake Take-away Container?  Come back on Monday when I will post my FREE printable tutorial and give you all the details of what I used to make it!

And just to go with it at the party, I thought my little owl pick would be a cute decoration to add to each cake – very quick and easy to make using the cute owl stamp from the Sale-a-bration FREE set Punch Bunch – I simply punched him out using the Two-step Owl Punch and  paper pieced his belly using some fun red polka dotted paper and added a party hat using a stamp from the set Party Hearty…add a cocktail stick and there is one CUTE cake decoration!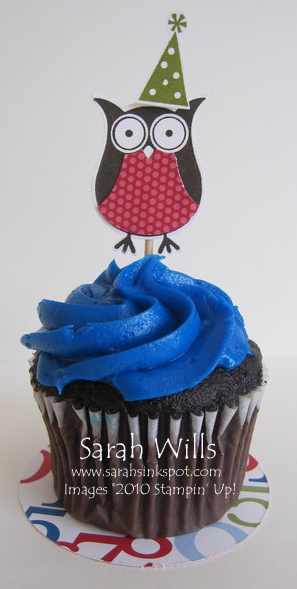 It would be quick and easy to make a bunch of these cute owl picks to decorate lots of cupcakes in no time at all!
My last item is a fun bright and fun card…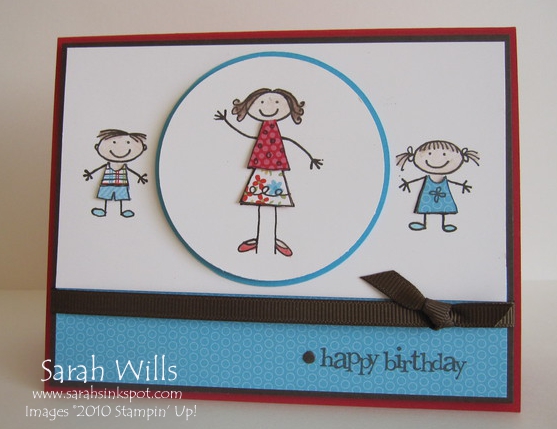 I used the stamp set All in the Family (pg 91) and paper pieced all the cute little clothes…I highlighted the center figure by stamping her on to a circle and adding her to the card using Dimensionals…
My sentiment?  From the set Party this Way (pg 53) – it is a fun and happy looking sentiment and one I have used sooo many times…I love how cheerful this card is…
Don't forget to come back and visit me on Monday for more details, photos and tutorials about my projects…and of course to find out the winner of my blog candy…speaking of which…

Leave me a comment to let me know which item is your favorite and you will be entered into a prize draw – the winner will be chosen by random.org on Monday and one lucky winner will win a roll of 1/4 Grosgrain Ribbon in the color of of their choice along with a pack of 5 handstamped cards by yours truely!

Thank you for visiting – now you're off to visit Twila at Stamp a Little Longer where she will show you some fabulous things that you can make using the Collage Stamping technique…enjoy!
Stampin' Addicts Birthday Blog Hop!