Did I call today's post "Limey Cheers to You" because today's card features limes or because I am an English gal sending congrats?
Both!  I decided to make a card featuring a cocktail and because we are in Texas, that just has to be a Margarita…and then I dug out my Tart & Tangy set and used the citrus stamp to create lime slices to go with that drink…
This card is to congratulate two fabulous friends who both made the cast of the Listen to Your Mother Show coming to Austin later this Spring – Diane LeBleu and Gigi Ross…more about them later…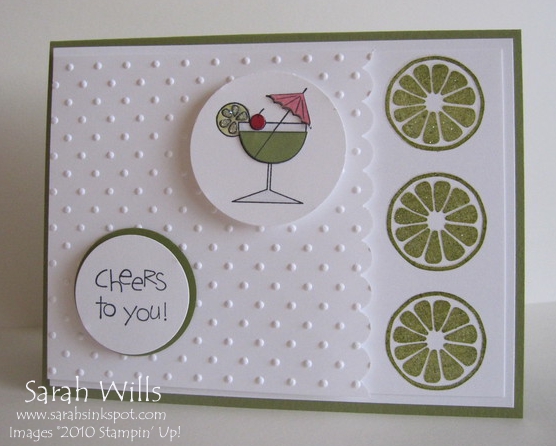 My card uses simply two main colors – Whisper White and Old Olive.  I double matted my white layer and textured my top layer using my Big Shot and Perfect Polka Dots Embossing Folder and then shaped the edge using my Scallop Edge Border Punch.
Like those lime slices? I stamped them using a stamp from Tart & Tangy (pg 136) which is a set that you can get for FREE right now during Sale-a-bration – and then used Iridescent Ice Embossing Powder to make them sparkle -you can see the sparkles a bit better here…click for a larger image…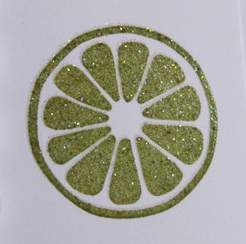 Not sure what Iridescent Ice is? It is a glittery embossing powder that allows your images beneath to show through.
Not used Iridescent Ice before?  You can find my free printable step-by-step tutorial by clicking HERE
I then stamped my sentiment and cocktail glass using stamps from Cheers to You (pg 56) and punched them out using my 1 3/8″ and 1 3/4″ Circle Punches.
I paper-pieced my cocktail components and colored my little slice of lime on the edge of that glass using ink and a blender pen…and I also added some sparkle with Dazzling Diamonds Glitter onto that little slice using my Glue Pen to adhere it in place…
Finally I decided to make the envelope a little extra special and stamped the beautiful Tess from the set Tote-ally Tess (pg 60) onto the front of it – I paper-pieced her hair and clothes and used markers to color the rest…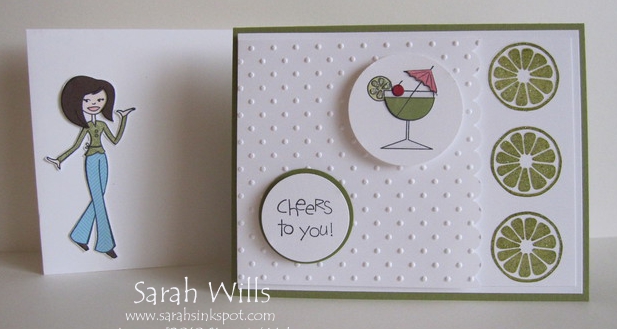 Sooo onto those two fabulous ladies – they both auditioned and won places on the cast for the Listen to Your Mother Show appearing in Austin later this year featuring ladies who write about motherhood…
Gigi Ross' little Boy Wonder is in class with one of my girls and you can find her blog – which is full of honest writings about life at www.Kludgymom.com – I love reading her posts – if you're a mom of young kids, you'll especially enjoy it…
Diane LeBleu lives in the house directly across the street and she is wonderful and inspiring – 4 kids, a dog, a breast cancer survivor, a writer and getting her business up and running at www.pink-pockets.com – I just don't know where her amazing energy comes from…
So CHEERS TO YOU both – and a BIG CONGRATS on your upcoming amazing adventures!
And finally onto the winner of Tutorial Tuesday's Blog Candy – a kit containing an empty Altoids tin and supplies to fill it to create your own album – drawn using random.org the winning comment is no. 4 – Patt who said…
Sarah, these are soooo cute! i really need to make one for my favorite niece. Her 12th b'day is next month so need to get busy. What a great idea!! She is going to love it!!
Congrats Patt – drop me an email with your mailing address and I'll get your goodies on their way to you!
CLICK HERE TO ORDER YOUR STAMPIN' UP! SUPPLIES ONLINE!