That was what I was pondering whilst designing today's item which involves a cute Easter treat featuring a chick and some eggs…
Cadbury's Mini Eggs to be exact…mmm…one of my favorite seasonal treats…and being an English gal, how can I resist them?!  I grew up munching on them and so dashed off this morning to get some…oh they are SO good!
So last week we hopped and this week we tweet…here is my little chick and look what he is holding in his wings…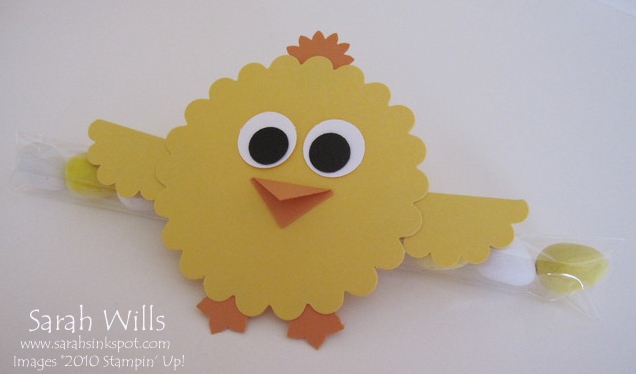 A Cello Tube filled with lots of yellow and white Mini Eggs!   Yes, they fit in there perfectly too, which is a great Easter themed alternative to Jelly Beans and M&Ms…
Please read on for details on how to make him plus a link to my free printable tutorial and as always, this week's blog candy.
So how did I make him? Just like my Bunny I made last week, he is made using punched and die cut shapes – I made his head using my Big Shot and the Scallop Circle #2 Die, his wings using the 1 3/4″ Scallop Circle Die and everything else using a selection of Stampin' Up!'s Punches, all of which are listed in my Easter Chick tutorial.
What colors did I use? I used Daffodil Delight, Peach Parfait, Whisper White and Basic Black to make him.
The Tube? It's a cello tube filled with Mini Eggs – it also holds M&Ms and Jelly Beans perfectly – there is a peel off sealing strip on one end that holds the goodies firmly inside and is almost invisible to see when sealed.
I simply attached it under his wings each side with some Mini Glue Dots and there is one CUTE treat!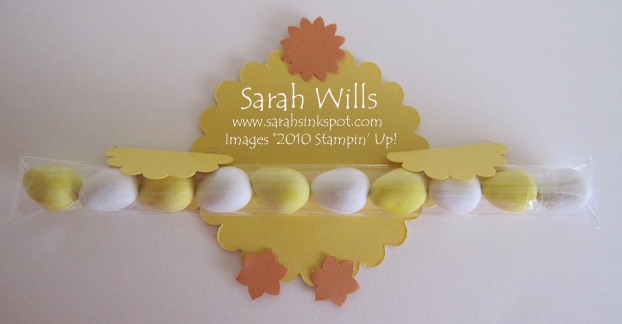 Want some of these Cello Tubes? I have them…read on for details!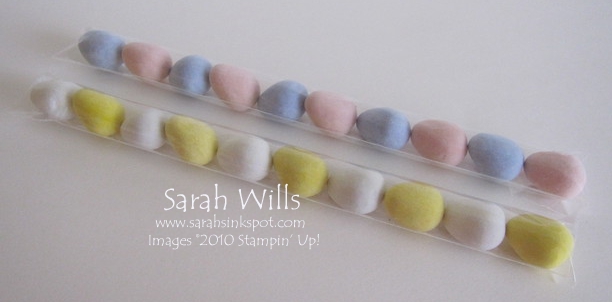 WANT MY FREE TUTORIAL SO THAT YOU CAN MAKE YOUR OWN CUTE CHICK? Click HERE to find it in my Project Tutorials section where you will find a printable version too.
I have listed all of the Dies & Punches along with how many shapes of each are needed to make him in that tutorial too.
Now to make it super simple for you to make your own bunch of Chicks…
HERE IS MY MAKE-A-CHICK KIT!
What is in a Kit?  ALL the consumables you need to make 10 Chicks including all the die cut, punched out and scored pieces of cardstock PLUS 10 Cello Tubes.
The Make-a-Chick Kit price includes shipping – please note that you will need to supply adhesives and the candies to put into your cello bags
How do you purchase my Make-a-Chick Kit?
By clicking on my Buy Now link below – I ship to US mailing addresses only.
Just want the Cello Tubes?
They are available in packages of 20 or 50…or email me if you want more!  Please note that shipping is to US mailing addresses only.
CLICK HERE TO ORDER YOUR STAMPIN' UP! SUPPLIES ONLINE!
What came first…the chick or the egg?