With Easter just around the corner I decided to show you a cute little treat holder that I made for each of my girls…
It features a cute Bunny made using punches sitting next to a yummy Lindt Chocolate Carrot surrounded by grass – that carrot is held securely in place using a hole made through the card stock and I'm not sure if that Bunny is guarding the carrot or is about to eat it…do you think they'll like it?
Please read on for details on how to make him plus a link to my free printable tutorial and as always, this week's blog candy…
So where do you find those Lindt Chocolate Carrots? I found mine at my local Target – they come in a pack of 4 and our local Walmart also carries them.
You could of course make more holes in this treat holder to hold more carrots but to keep it an economical treat I decided to add just one.
How did I make my Box? The inner part is made using Soft Suede cardstock because I wanted the carrot to look like it is sticking out of soil.
The outer parts is made of Wild Wasabi cardstock – I wanted to create a grass effect so I used my Paper Trimmer to make cuts 1/8″ wide and then I trimmed the tops using Paper Snips – you could cut the grass blades to be even but I wanted the random look of a wild patch of grass…
My Bunny? I punched the parts of my Bunny using various Punches and adhered them together using Mini Glue Dots which are sooo great for attaching little punched pieces together.
I popped him into the back of my box but you could put him wherever you like – behind the box or at the front – he looks just as cute wherever he is and it took me ages to decide where to finally put him!  Click on the photo below for a closer view…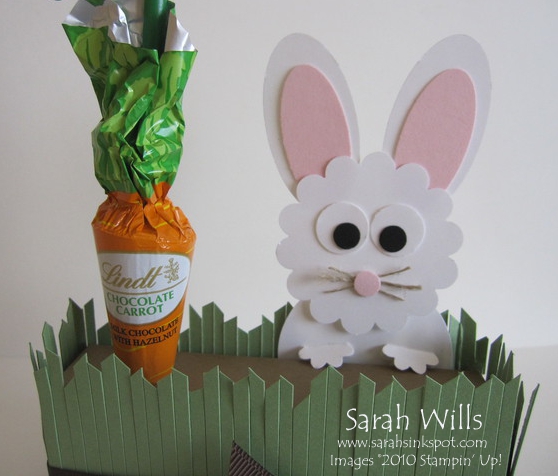 For a finishing touch I decided to add a piece of 5/8″ Grosgrain Ribbon around the bottom and finish with a knot – there is also room to add a 'Happy Easter' or 'Happy Spring' sentiment there too – I decided to keep it simple and not add one.
WANT MY FREE TUTORIAL SO THAT YOU CAN MAKE YOUR OWN BUNNY MEETS CARROT BOX? Click HERE to find it in my Project Tutorials section where you will find a printable version too.
I have listed all of the Punches along with how many shapes of each are needed to make him in that tutorial too.
Now to make it super simple for you to make your own…
HERE IS MY BUNNY MEETS CARROT KIT!
What is in a Kit? ALL the consumables you need to make 1 Box as shown above – included in your kit will be:
Punched out shapes and 3″ of Linen Thread to make the Bunny
15″ Brown 5/8″ Ribbon
A strip of Green cardstock cut to size to make the grass – already scored – you will cut the grass
A piece of Brown cardstock to form the Box – already scored and cut to shape with the hole punched
A Brown Scallop Oval & layering white oval punched piece for you to add a sentiment if desired
The Kit price includes shipping – please note that you will need to supply adhesives to assemble it and the carrot to put into your finished box.
How do you purchase my Kit?
By clicking on my Buy Now link below and select how many kits you would like – please note that I ship to US mailing addresses only.
YOUR KIT WILL SHIP FAST – WITHIN 12 HOURS OF YOUR PAYMENT – I am taking orders for these from now through Monday to ensure delivery before Easter!

That lucky winner will receive a kit containing all supplies to make one of these, including the chocolate carrot – so be sure to come back Friday and see if you are the winner!
CLICK HERE TO ORDER YOUR STAMPIN' UP! SUPPLIES ONLINE!