A very warm welcome to stop no. 5 on the Stampin' Addicts Summer Mini Blog Hop!  You have just arrived from Carmen at Stamping Addiction where she showed you things she made using the nautical set The Open Sea.

Every stop on this hop is showcasing a brand new product featured in the Summer Mini Catalog and I am going to be showing you my creations using the stamp set Pretty Postage that you can find on pg 11 – it is a set of 4 featuring stamps that co-ordinates with the brand new Postage Stamp Punch on pg 10 to create some cool effects…
And as I found out when I played with it, it is a very versatile set…I have made 4 items to show you all 4 stamps (but promise not to laugh at the last one which was a bit of an experiment!!!) so please read on to see my projects and for details of my pretty little blog candy…
My first item is a Card featuring a real Tea Bag…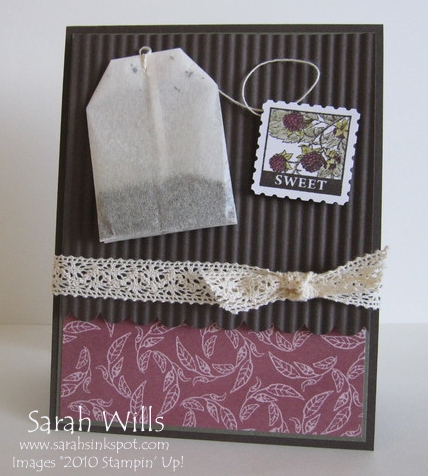 And this first item uses my favorite stamp in this set – the Sweet stamp featuring yummy looking berries…they remind me of the blackberries that freely grow in hedgerows back in England that I used to pick and munch on…mmm…
But I found some Raspberry Herbal Tea and decided to color them accordingly, punched the image out using that new Postage Stamp Punch and added it to the end of the tea bag string.  The tea bag is held in place by just a little tape so will be easy to remove and use…
Like that patterned paper?  Its from Paisley Petals DSP that it ONLY AVAILABLE TODAY AND TOMORROW – Sunday you can no longer order it – if you want it, get it quick!
Want all the details of how I made my card? Come back on Monday and I will tell you!
My second item is a 'scentsational' little gift…a set of Tubes containing Moisturising Bath Beads…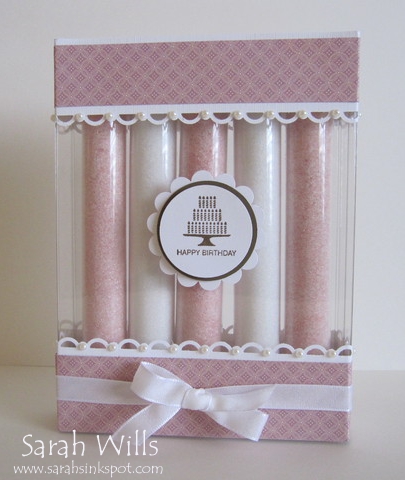 Isn't it sweet?  And how perfect for Mother's Day or Teacher Appreciation gifts…I used the Happy Birthday stamp from this set but you can change it to whatever you wish…
Inside those tubes are bath beads – the tubes have screw top caps making it easy to pour out some of the contents leaving the rest safely inside…and all packaged in a crystal clear box making a nice way to present your gift.
It is trimmed with beautiful papers from Springtime Vintage DSP featured in the Occasions Mini – DON'T FORGET that Mini Catalog retires on Saturday night – stock up on this beautiful pack of papers before it's gone for good!
Want to know how I made this gift set? Come back on Monday and you will find more photos along with my FREE tutorial!
My third item is a clean and simple thanks card…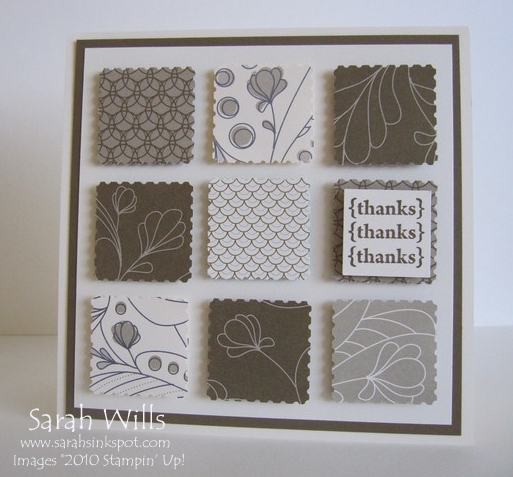 So simple to make but so very effective to look at…my card uses the Thanks stamp from the set and I think this is my favorite item.
The papers are from Elegant Soiree DSP and I just love the soft look that you get when you use Soft Suede and Very Vanilla.
I punched out the squares using that Postage Stamp Punch and added my sentiment to the top of one of them.
On Monday I will have more photos and details including dimensions of this card so be sure to pop back to find them…
Now on to the final and – ahem – experimental one…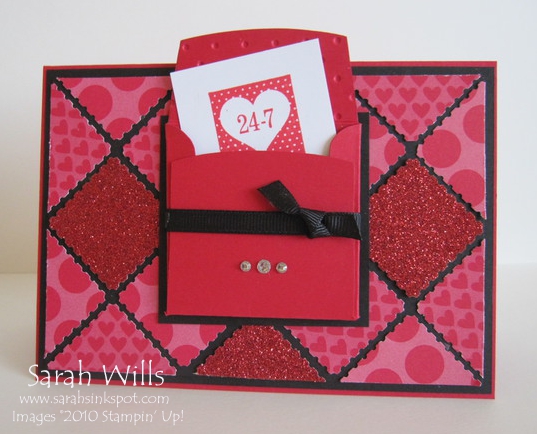 Mmm…what do you think?  I'm not sure what I think about this one and I almost left it out!

You see the Brights colors live in a drawer in my craft room and I have this arrangement with them…they only come out on certain occasions such as red at Christmas time and pink in the summer…
But out came the red to create a heart themed card to use my last stamp on and…well…I am just not a brights girl!
But the idea of postage kept making me want to use an envelope with this set and so this card incorporates that idea – the envelope was made using the Bitty Box & Envelope Die and I again used that Postage Stamp punch to make shapes out of DSP…mmm…jury's out for me!

Well, don't forget to come back and visit me on Monday for more details, photos and tutorials about my projects…and of course to find out the winner of my blog candy…speaking of which…

Leave me a comment to let me know which item is your favorite and you will be entered into a prize draw – the winner will be chosen by random.org on Monday and one lucky winner will win their very own Pretty Postage Stamp Set!

Thank you for visiting – now you're off to visit Jennifer at Sunflower Stamper where she will show you some fabulous things that you can make using the cool Sail Away stamp…enjoy!
Stampin' Addicts Summer Mini Blog Hop!