Here is a cute  card containing little treats in time for Mother's Day…it's easy to make and perfect for a last-minute special treat…
When you undo that bow on the side you can open this card and revealed are two pouches – one at each end – a perfect size for holding tea bags, Ghiradelli chocolate squares or even notes, photos or little scrapbook pages…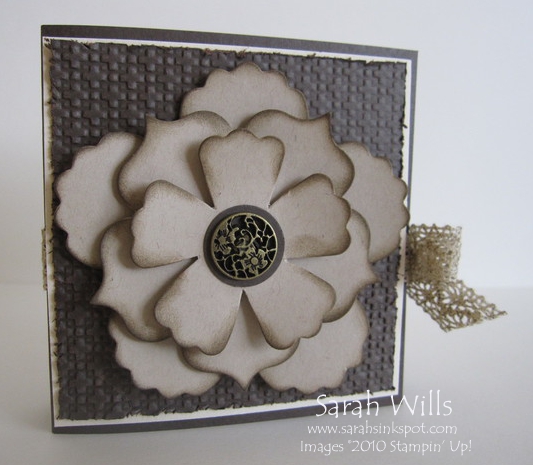 This is one of my May Creative Crew challenge items and I love how it turned out, especially that big beautiful flower on the front…I made this card using a my Tea Bag tutorial, a link to which you can find below.
How did I make that flower? Those flowers are from the Fun Flowers Bigz Die that was featured on pg 39 of the Occasions Mini Catalog – but guess what?  You can still order that die – it will be carried over into the new Catalog debuting in July it's ordering code is 121812.  In case you are wondering what color I used,  they are cut from Crumb Cake cardstock.
I used my Paper Piercing Tool (pg 198) to pull those petals outwards to make them curl up – you can also use a round pen or pencil to do this – and if you're not sure what I mean, click HERE for my tutorial showing you how to do this – so quick & easy and gives a great effect.
To get that aged look I simply used a Sponge Dauber (pg 195) and my Soft Suede ink pad and dabbed ink all around the edges of my flowers – I piled them on top of one another using Dimensionals to give space between each, added an Antique Brad (pg 187)  to the center and just love how they look…
Here is a side view…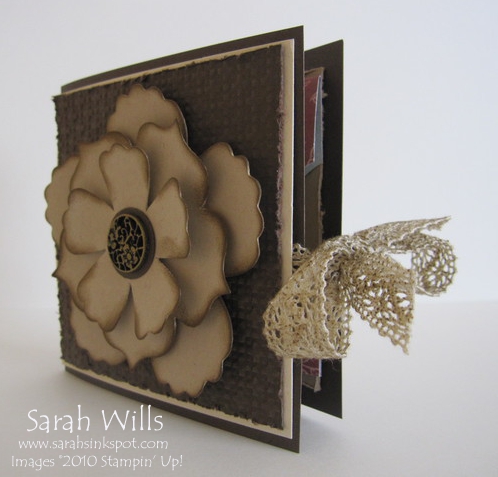 I textured a piece of Early Espresso cardstock using my Big Shot and Square Lattice Embossing Folder and distressed the edges using my Cutter Kit.
And that ribbon…I just LOVE it and can't stop using it!  Again it is the beautiful Victoria Crochet Trim (pg 190) and I aged it by dabbing on some Soft Suede ink.
So, what's inside? Undo the ribbon and…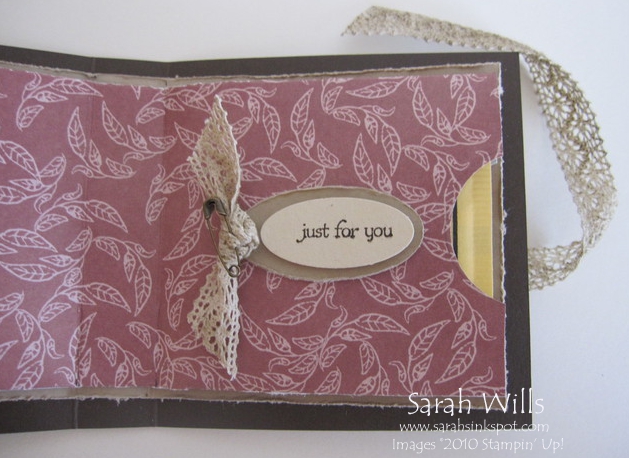 Here you will find a pouch at each end made using Paisley Petals DSP – you can see one of my tea bags poking out from the side.
I decided to add a tag made using a stamp from Teeny Tiny Wishes and punched it out & layered it using Oval Punches.  I added a piece of Crochet Trim and pinned a safety pin through it from Vintage Trinkets (pg 187) – and there is one sweet little card with treats.
WANT MY FREE TUTORIAL SO THAT YOU CAN MAKE YOUR OWN BEAUTIFUL TEA BAG HOLDER CARD? Click HERE to find it and you will find a printable version too!
CLICK HERE TO ORDER YOUR STAMPIN' UP! SUPPLIES ONLINE!
Distressed Flowers & Tea Bags…