I hope you enjoyed this weekend's Retiring Stamp Sets Blog Hop and that you came away with lots of must-haves before these sets retire for good – but HURRY – they are only available thru June 30th!
I used the BEAUTIFUL stamp set A Cardinal Christmas that you can find on pg 39 – it is a set of 4 featuring 2 sentiments and 2 images – here are the images of those stamps: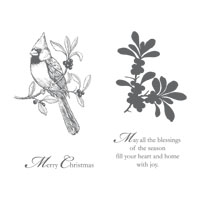 My original blog hop post is below this one so that you can refer to it and the main photos of my projects…
In it I promised to post more details, photos, tutorials and my blog candy winner today so please read on to find out more…you can click on any photo to get a larger view…
Using this set, I wanted to demonstrate that you can make fabulous cards without needing to color in the bird image – I know that quite a few of my customers find watercoloring intimidating but I hope that I have shown you ways to use a stamp such as this bird without needing to color it in – there are ways to make them look gorgeous minus the coloring!
Sooo the first item was my Black & White Elegant Holiday Card and here is a close-up of it…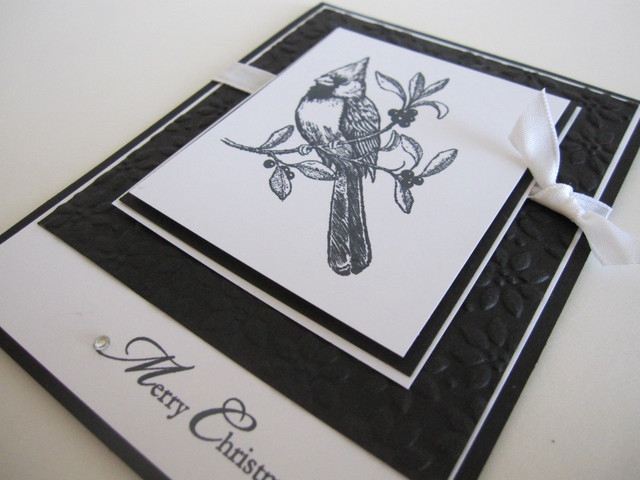 That image? I used just two colors that I layered for a striking look – Whisper White and Basic Black…and that Cardinal – SO simple – I stamped him using Stazon Black Ink (pg 195) for a very crisp and black image – and that is it!  No coloring, no embellishing – I just left him as is.
The texture on the black layer? Made using my Big Shot and Petals-a-Plenty Embossing Folder (pg 214) – I added a piece of Whisper White Taffeta Ribbon underneath my top layer and stamped my sentiment which is included in this stamp set…
Like the little touch of bling? A Clear Rhinestone Jewel just at the front of the 'M' on my sentiment…
This card is a PERFECT candidate for making a bunch of for your holiday cards this year – so easy because you are simply stamping the image and not doing a thing to it – and so cost effective because you are not using patterned papers to add a patterned/textured background…
Embossing folders are SO worth investing in because you use them hundreds & hundreds of times to create backgrounds – they never run out like your paper stash does, you choose the color of your background every time and once you have them, you have them for good!
My second item demonstrates how you can easily color this Cardinal image…believe me, my coloring skills are not amazing but because of the make up of this stamped image, it is an easy one to color…here is my Seed Packet Pouch…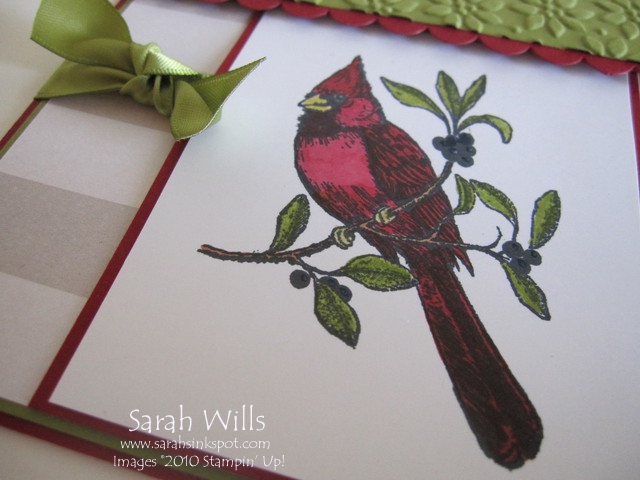 My Image? I simply stamped the image using Stazon Black Ink and then you can use your Markers or Ink Pad/Refill and a Blender Pen or Aquapainter to color it in – see how the crest, wing and tail look a little different from the red belly of my bird?  I used Crumb Cake to color those areas first and then colored over the top using Cherry Cobbler – I like the way those areas look a little different…
I colored the beak and feet using So Saffron and the leaves using Lucky Limeade – what is that color you say?  One of the FABULOUS new In Colors debuting on July 1st!!!
Here is my Seed Packet Pouch without the pack of seeds inserted…you can see that I used that Petals-a-Plenty Embossing Folder again and also a piece of GORGEOUS Old Olive Satin Ribbon to give a luxurious touch…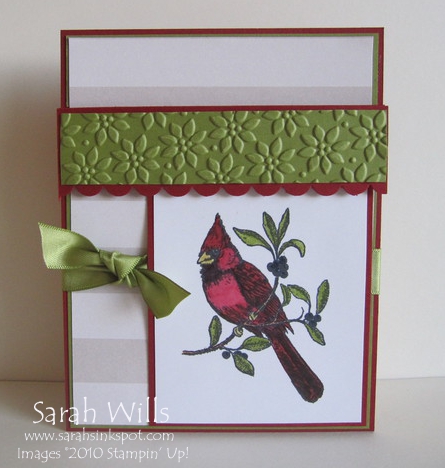 And that striped patterned paper?  Not seen that before?  That's because it's another SNEAK PEAK from a brand new pack of Designer Series Papers called POCKETFUL OF POSIES again debuting on July 1st – ad it has some beautiful papers in it – you are going to love it!
WANT MY FREE TUTORIAL SO THAT YOU CAN MAKE YOUR OWN SEED PACKET POUCH? Click HERE to find it in my Project Tutorials section where you will find a printable version too!
And onto my third Card – another where I didn't color the Cardinal but used a technique to make him stand out in another way…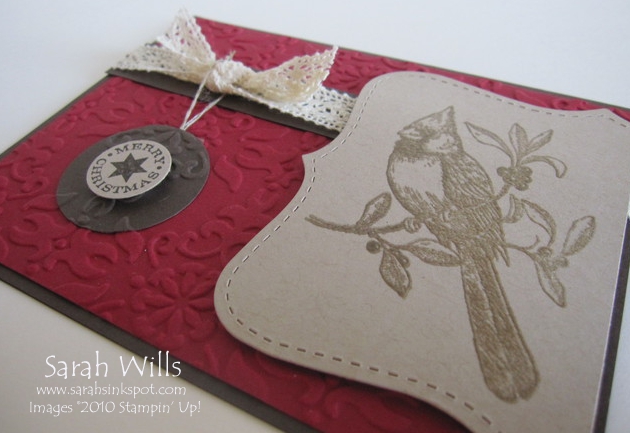 I used the colors Early Espresso, Cherry Cobbler and Crumb Cake for my card and again I added texture using my Big Shot and an Embossing Folder but this time used the Vintage Wallpaper one (pg 214).
I also added a textured disc of Espresso to layer my sentiment on to – I used a piece of Linen Thread to attach it to the ribbon to make it look like a bauble, in keeping with my holiday themed card.
That ribbon? The GORGEOUS Victoria Crochet Trim (pg 190) – I wouldnt be without it!
So, that image? I die cut a piece of Crumb Cake cardstock using my Big Shot & Top Note Bigz Die and then stamped my Cardinal image onto it, using Crumb Cake Ink…and to make him appear glossy and pop…
I embossed him using Clear Embossing Powder simply by using my fabulous Stamp-a-ma-jig Tool to stamp him again using Versamark Ink, sprinkling on Clear Embossing Powder and heating it using my Heat Tool – and this is the result: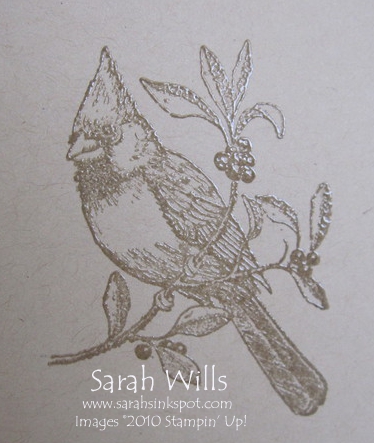 I love that when you use Clear Embossing Powder it lets the beauty and color of the ink below to come through – it gives it a shiny glazed look that is perfect for wintry holiday images – just a touch of an icey look…
Not used Clear Embossing Powder before?  I have a FREE printable tutorial showing you how to do this in an easy step by step way – you can find it by clicking HERE
A QUICK TIP FROM SARAH – if you are using embossing powders or glitters in warm climates (like here where its been around 105 for several days!!!)  and have a ceiling or desk fan going…
Be sure to turn the fan OFF when you sprinkle these powders – from experience I can tell you that if the fan is on, the powder flies absolutely everywhere…and a little goes a VERY LONG WAY!!!
And finally onto the winner of my Blog Candy who wins their choice of my own retiring stamp sets! Drawn using random.org the winning comment is no. 20:
Kathy Mc

June 17, 2011 at 11:18 pm
"Didn't realize how versatile this stamp set really is. Each creation here is so very different. Love the black & white for a different Christmas card, but your seed packet pocket card is so very clever and adorable. But for a Christmas card, my favorite is your last one with the crochet trim and tag dangling beside the cardinal. Great stop on the blog hop!"
Congrats Kathy – drop me an email with your mailing address and I'll give you a list of my retiring sets that you can choose from!
Thank you SO much for returning to visit me…you can subscribe to me so that you will be notified by email every time I post new ideas which is usually every day – you will find my subscription box at the top of my blog in the right side bar…
AND DON'T FORGET TO CHECK OUT THOSE RETIRING ITEMS BEFORE THEY ARE GONE FOR GOOD – YOU CAN FIND THEM ALL BY CLICKING HERE!

ORDER YOUR STAMPIN' UP SUPPLIES ONLINE BY CLICKING HERE!

Retiring Stamp Sets Blog Hop details…