A very warm welcome to Stop no. 2 on the Stampin' Addicts Retiring Sets Mega Hop – you just arrived from Tanya at Tinkerin in Ink where she showed you cool things she made using the halloween set From the Crypt.

Every stop on this hop is showcasing a stamp set that Stampin' Up! is retiring on June 30th – they will no longer be available after that date…today I am going to be showing you my creations using the stamp set A Cardinal Christmas that you can find on pg 39 – it is a set featuring a GORGEOUS cardinal that I will be very sorry to see go…
Please read on to see my projects and for details of my retiring blog candy…you can click on each photo for a closer view…
Now I choose A Cardinal Christmas because it can be a daunting set because it is one of those sets that appears to need good coloring skills in order to use it – but I am here to show you that is not the case…there are ways to use this set with fabulous results without needing to color it in.
For my first card I decided to go with a black and white theme…so here is my elegant Holiday Card…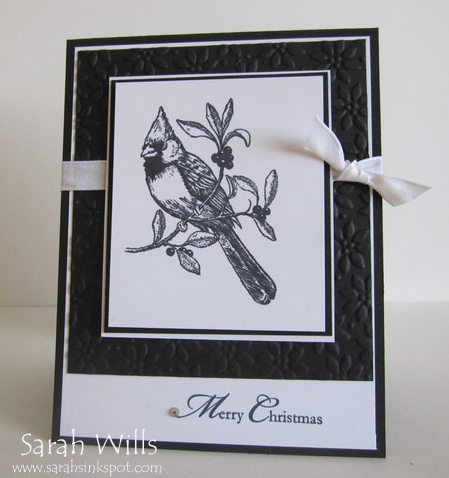 So very simple and yet very effective & eye-catching – simply black and white alternating layers with some texture and a piece of luxurious ribbon added…
I love this untraditional take on a holiday card and this beautiful cardinal is just the perfect image for it – it is large and provides a fabulous focal point plus you don't need to color it in!
And for a little holiday sparkle I added a Rhinestone at the beginning of the "M" on the Merry Christmas sentiment – I thought that this was very elegant bling to put on my black and white holiday card…
For my second item I decided to do some coloring…and created a Seed Packet Pouch…
I wanted to demonstrate that this gorgeous Cardinal is not just for the holidays – he can be used throughout the year and what gave me this idea was that for the last month or two we've had a family of cardinals nesting in our garden and the male is always hopping and chirping around…
Which got me to thinking about springtime…which in turn led to me thinking about seeds…and, well, here you go…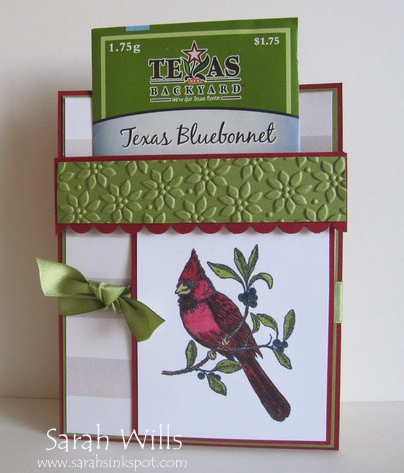 These would make perfect summer party, BBQ, wedding or shower favors and are so fun, quick and easy to make using just half a sheet of cardstock and whatever decorations you want to add.
I decided to pop in a packet of Texas Bluebonnet seeds to keep my springtime theme going…and added some texture, edging and a piece of luxurious Satin Ribbon…and then laughed at myself…
Want to know why?  Well check out my color scheme – look familiar?  Mmmm…somehow I have used classic holiday colors on my springtime item LOL!!!  Ah well…you can't go wrong with Cherry Cobbler & Old Olive at any time of the year, I decided…what do you think?
Want to know how I made this Seed Packet Pouch? Come back on Monday and you will find more photos along with my FREE tutorial!
For my third card we are going back to the holiday season and no coloring required…
When I realised that we are in the middle of June and my Festive Friday holiday card & project making begins in August , it really isn't too early to start planning your cards…and this stamp set really is a BEAUTIFUL one to use…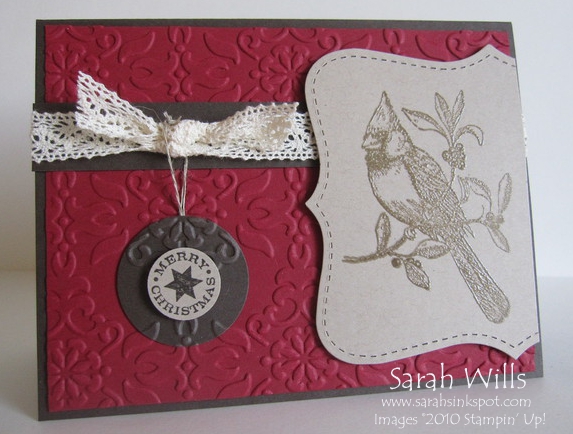 Now to really see what I did on this card you need to click on the photo above to get a larger view – and then you will see that glossy glazed sheen on my Cardinal…
See it?  Isn't it cool?  It really makes him pop out and look GORGEOUS!  I love the natural look of stamping him onto that Crumb Cake cardstock…
And using it with Early Espresso and Cherry Cobbler…well, this is just one of my most favorite color combos.  To add to my look I added texture, a piece of Crochet Trim and a sentiment…and I love how he turned out.
Want to know how I gave him his glassy sheen? Come back on Monday and you will find more photos along with all the deets!

Well, don't forget to come back and visit me on Monday for more details, photos and tutorials about my projects…and of course to find out the winner of my blog candy…speaking of which…

Leave me a comment to let me know which item is your favorite and you will be entered into a prize draw – the winner will be chosen by random.org on Monday and one lucky winner will win one retiring stamp set of their choice from my own stash – the winner will get to choose one set from the 20 or so retiring sets that I have here, so GOOD LUCK!
Thank you for visiting – now you're off to visit Betty at Kitty Stamp where she will show you some cute things that you can make using the sweet set Blowing Kisses…enjoy!
Here are the images in this beautiful set A Cardinal Christmas…do you need any more convincing that you need to get it before it's gone for good?!
If you want it HURRY – on June 30th it RETIRES for good!!!

Welcome to the Stampin' Addicts Retiring Sets Mega Hop!