THE BRAND NEW CATALOG IS HERE – and it has some GORGEOUS new goodies in it!!!
I am SO excited for this new Catalog and the day is finally here – want a copy for yourself?  Order NOW and your catalog will ship out TODAY via Priority Mail so you will get it SUPER FAST!!!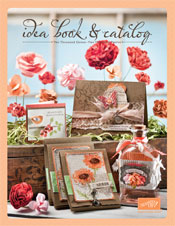 HOW DO YOU ORDER YOUR COPY?  Click on the Buy Now button below – as soon as payment is received your catalog will be on it's way to you along with the following FREEBIES:
SHEET OF 12 COUPONS – a different coupon for every month of the next Stampin' year – when you order with me!
a BOOKMARK made with brand new CARDSTOCK & new DESIGNER SERIES PAPER
SAMPLES of the brand new IN COLORS debuting in this new Catalog
a piece of 4 1/2″ x 5 1/2″ cardstock EMBOSSED using a new Embossing Folder
Ready to get your copy?  Click below…
Got Questions? Please email me by clicking HERE and I will be very happy to help.
*** Please note – I can mail the catalog to US addresses only  ***
WANT TO VIEW THE BRAND NEW CATALOG BEFORE YOUR COPY ARRIVES? Click HERE to do so online!
CLICK HERE TO PLACE YOUR ORDER DIRECTLY ONLINE!
Prefer to email your order to me?  Or have one of my coupons to redeem with me? Click HERE to email me and I will be very happy to process your order for you – you will then make payment via Paypal using any debit or credit card.
GET YOUR COPY OF THE NEW CATALOG NOW!