Well I can hardly believe that it's been so long since I last posted!!!  SO much has been going on and life in the summer with my family has taken over my stamping life completely!
Its been one HOT summer here in Texas and we've been spending hours in various pools to cool off, staying indoors having playdates, visiting the library and bounce houses and then we've just come back from a few days down on the beautiful Texas beaches which was fabulous…
And finally I got some time to play with papers and made a fold out scrapbook to show you today – details and a link to the tutorial are below…but first I must share some news…
Whilst I was away I had a phone call from Stampin' Up! to let me know that I had achieved…FOUNDERS CIRCLE!!!!!!  I nearly fell over and ran around giddy with excitement!

For those of you that don't know what Founders Circle is, it is a huge honor and achievers get to go on a retreat in St George Utah hosted by Shelli Gardner in September – I went in 2009 and it is a time of pampering and meeting lots of wonderful ladies…I am sooo excited I can hardly wait!!!
So onto my item I wanted to share with you today…it is a super cute fold out Flappy Scrapbook that is so much fun to put together and you can theme it for any occasion or event…
I've shown the Flappy Scrapbook on my blog before but have made an updated and much easier-to-follow free printable tutorial for it, the link to which you will find below.
It is a very economical scrapbook to make since it uses just 3 sheets of 12×12 cardstock and patterned papers to decorate it…I made mine using beautiful papers from the new Paisley Petals pack of Designer Series Papers – love those papers…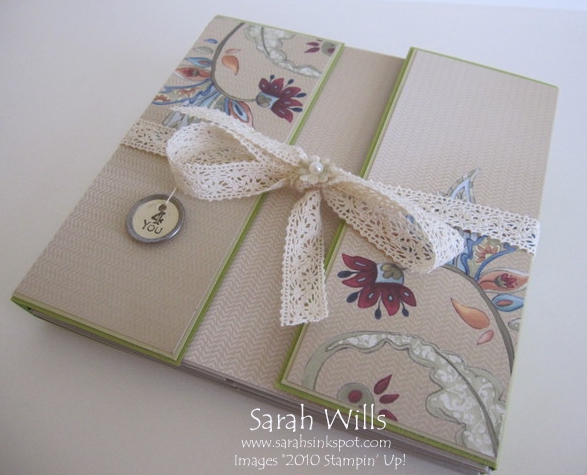 I used Lucky Limeade cardstock for the base of my cover and used those gorgeous papers from Paisley Petals to decorate it…
I used a piece of Victoria Crochet Trim to tie my cover in place and added a cute Paper Daisy that I 'aged' using a dauber and Soft Suede ink, adding a Pearl into the center of it to carry on my elegant feel…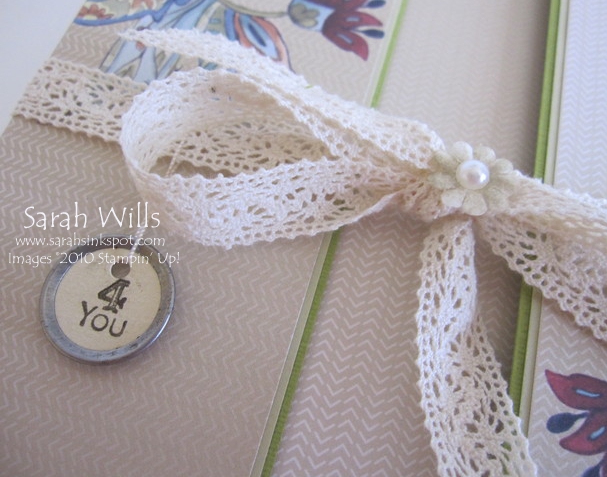 See that cute tag?  Simply a Mini Vintage Tag that I took and stamped a little sentiment on using a stamp from the set 'Tiny Tags' for a cute embellishment.
So what's inside the cover?
Pull open the ribbon and the book folds out to reveal LOTS of double sided panels and flaps to decorate with papers and add photographs, sentiments & journaling too…
And this scrapbook keeps going and going – it has so many surfaces to showcase photos and journaling – you really won't believe how much it can hold!
And what I love about Stampin' Up! is that the  cardstocks and patterned papers match perfectly making it easy to get beautifully co-ordinated scrapbooks.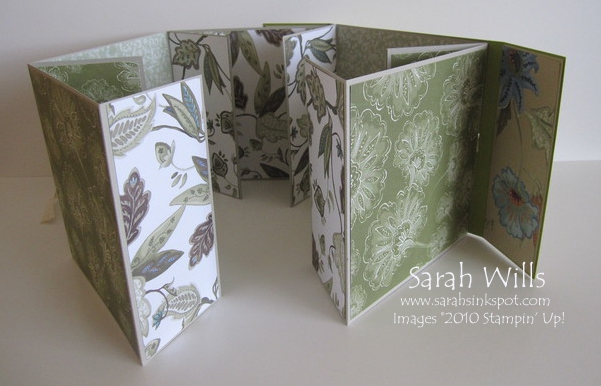 Here is an example of what you see when you start opening the scrapbook…lots of flaps and panels…

In fact a total of 9 full 6″x6″ panels and 16 sides of the flaps – imagine how much you can fit on those…here is another part of mine…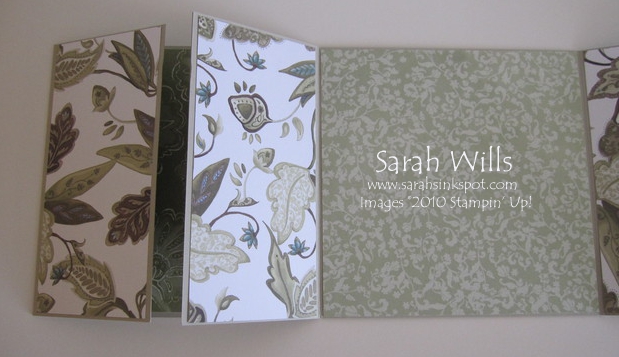 WANT MY FREE TUTORIAL SO THAT YOU CAN MAKE YOUR OWN FLAPPY SCRAPBOOK? Click HERE to find it in my Project Tutorials section where you will find a printable version too!
Have a wonderful weekend…I am hoping for lots more time to play with my new goodies from the new Catalog…I hope you get time to play too!
CLICK HERE TO ORDER YOUR STAMPIN' UP! SUPPLIES ONLINE!