A very warm welcome to Stop no. 11 on the Stampin' Addicts New Catalog Blog Hop – you just arrived from Cindy at Heart's Delight Cards where she showed you beautiful things she made with the versatile set Pennant Parade.
Every stop on this hop is showcasing a brand new stamp set that debuted in this new Catalog and today I am going to show you things that I made using the set Jack Of All Trades…now you might think this set is just for Halloween, but I want to show you that you can use it for more than that…especially if you know a Harry Potter fan!
Please read on to see my projects and for details of my delicious Blog Candy…and to get a better look, you can click on each photo for a closer view…
As soon as I saw Jack Of All Trades I knew I had to have it – my girls are both reading the Harry Potter books with a passion and when I saw that hat image in this set  it called out 'I could be the sorting hat' to me!  If you've read the books or seen the movies you will know what I mean…
So for my first item it got me to thinking…my girls LOVE these books so how about making a cool Bookmark for each?
Now in the movies the walls of Hogwarts are filled with moving portraits in beautiful frames…and when I saw the stamp set Frame It in the new catalog I just knew I had to incorporate some of those images with my Harry Potter theme…so here is my Bookmark that I incorporated into my card…it would make a great little gift for a booklover…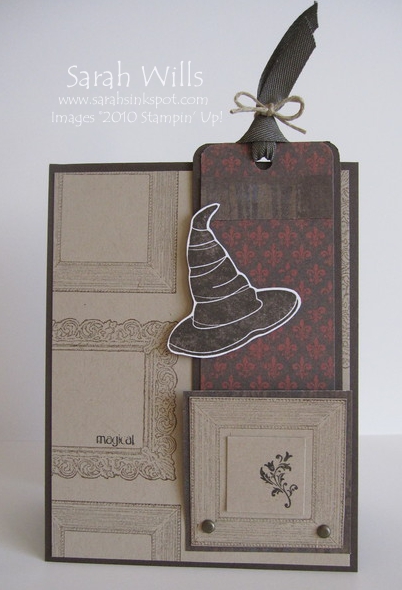 See what I mean about that hat?  COOL for those Harry Potter fans!  Come back here on Monday and you will find the dimensions and the how-to so that you can create your own…
Now I got onto thinking about Halloween and about how I could make a Harry Potter themed box full of treats…now this idea my girls came up with…they thought about making a box containing jelly beans which is a perfect fit for the books…if you've read them, remember Bertie Bott's Every Flavor Beans?!
Sooo here is my box full of Berite Botts' Beans…along with what every good self-respecting Wizard needs…a fabulous Wand…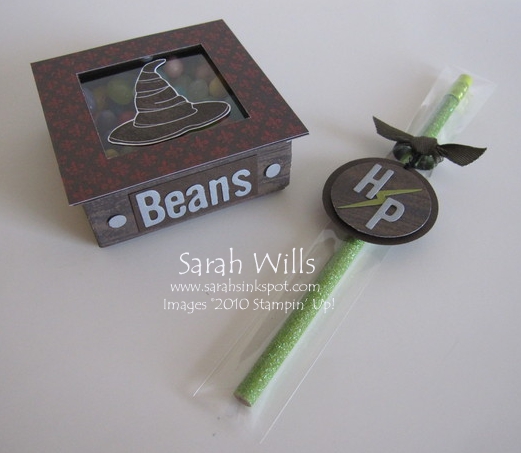 I think these two items make fabulous Halloween treats for Harry fans…what do you think?  It was hard to take a great photo of both items together but on Monday I will show you close-ups of that box…it is BEAUTIFUL with more words on the other sides too…
And when you come back on Monday I will have more photos and a free tutorial for that box so that you can make one too – it's fun!
Back to the Jelly Beans….my girls got to choose what colors to put in the box (um, all of them LOL)…needless to say, we were choosing beans for quite some time at the store and the bag got heavier and heavier!!!  They are also creating their own Harry Potter themed items which I promised to show on my blog next week…I cant wait to see what they come up with…
For my next item we are staying with the Halloween theme…I was looking at the big pumpkin shapes in this set and they are so big and beautiful that I realised they would be perfect for decorating a Candy Apple…and with an apple inside it's a bit more healthy…well kind of…ok then, not really, but I LOVE them…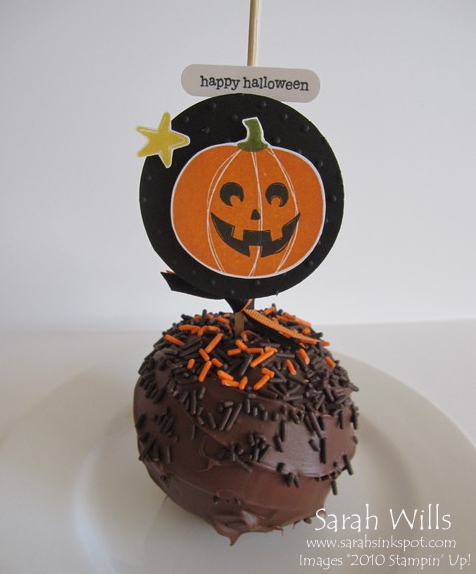 I used the pumpkin and stem stamps and added that face – Jack of All Trades comes complete with two jack-o-lantern face stamps making it quick and easy to stamp these images – and if you go with the clear mount version, it is super fast too because placement of the faces onto the pumpkins is sooo easy…
And now onto my final items…with all this talk of the upcoming holidays – which I cannot wait for because of the very intense hot summer we are having – I started thinking about Thanksgiving and decided to make a card fit for this wonderful holiday…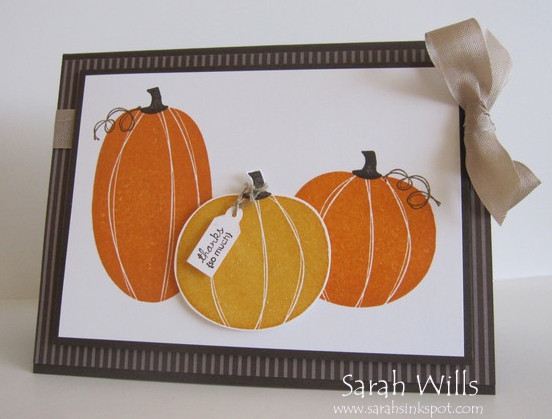 I wasn't sure that I liked where this card was going whilst making it but I love how it turned out!
Again I used those two pumpkin stamps, some gorgeous ribbon and some DSP which I think really sets this card off…it looks so pretty on my shelf that I'm not sure I can ever part with it!
Well, don't forget to come back and visit me on Monday for more details, photos and tutorials about my projects…and of course to find out the winner of my Blog Candy…speaking of which…
Leave me a comment to let me know which item is your favorite and you will be entered into a prize draw – the winner will be chosen by random.org on Monday and one lucky winner will win a Harry Potter Bookmark Card PLUS a roll of Grosgrain Ribbon in the color of their choice!
Thank you for visiting – now you're off to visit Tanya at Tinker in Ink where she will show you some cool things that you can make using the set Dinoroar…enjoy!
Welcome to the Stampin' Addicts New Catalog Blog Hop!!!