Silver and black add a touch of classic elegance to anything and today I decided to combine that color combo with a stamp set from the Summer Mini Catalog…
That stamp set is Proud Peacock that you can find on pg 14 – it is a set of 6 stamps and features birds, a beautiful peacock and flowers, stems and leaves.
Now some of my customers tell me that whilst they want to use their stamps with images that need coloring, they find that watercoloring can be intimidating – and one of my customers really wanted to buy this set but was intimidated by the idea of coloring in that peacock's tail features…
And so today I decided to make a card using this set to show her one of the ways you can use it without having to color in the images…and this is what I did…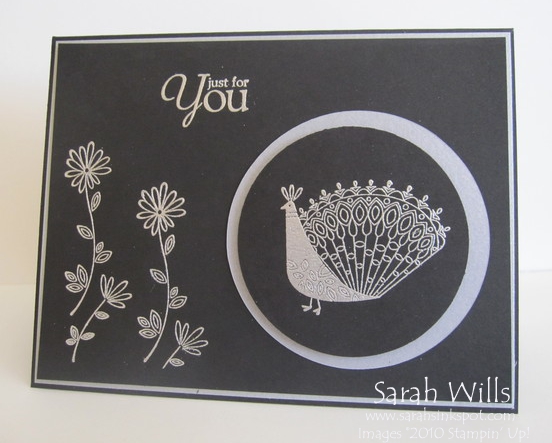 Isn't it cute?  I absolutely love how it turned out and think that Mr Peacock looks very elegant there in his silver & black finery!
And making this card was a great excuse to dig out my Silver Embossing Powder and Heat Tool – embossing powders are such an easy & fun way to give any card a WOW factor – and no coloring of images required!
So onto my card – the base is Basic Black onto which I added a layer of Brushed Silver (pg 181) – and then onto that top layer I did some silver embossing which is the fun bit…
Not used Embossing Powders before? You are in for a real treat!  You need a few basic supplies – a Versamark Ink Pad, a pot of Embossing Powder and a Heat Tool – then you:
take your stamp and ink it up with Versamark Ink (which is clear)
stamp it onto your cardstock
sprinkle on your embossing powder and shake the excess off
use your Heat Tool to transform it into a beautiful shiny glazed image
Something I love about Stampin' Up!'s Silver embossing powder is that it is very fine – meaning you can get beautiful results on an intricate stamp such as this peacock one.
I have a free printable step-by-step guide to Embossing which you can find by clicking HERE
I stamped & embossed my peacock and cut a circle around him using my Circle Scissors Plus…I then mounted him onto a 2 3/4″ Circle using Dimensionals…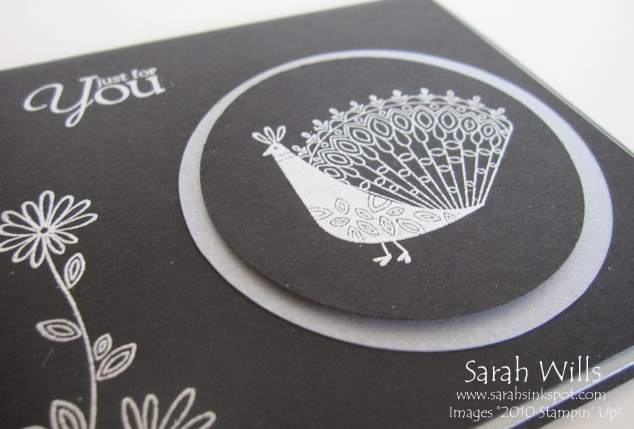 You can click on the photo above to get a closer look…aren't those details just beautiful?
I then decided to add the flowers – this is another stamp in the set Proud Peacock – and stamped it once on the left, embossed it and then added the same image again, only this time slightly lower…
I also added a sentiment from the Hostess set Precious Butterflies (pg 15), added my Peacock and voila…one beautiful but fun card and I am going to be making a bunch more of them too!
Here are the images featured in the set Proud Peacock – click on the picture below to view it in the online store – it comes in both wood & clear mount versions: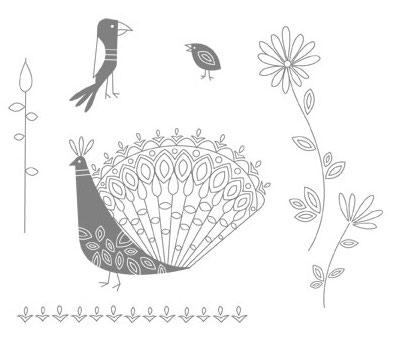 BUT the Summer Mini Catalog ends on August 31st…meaning that THIS SET WILL RETIRE IN LESS THAN 2 WEEKS – if you want it, order it before then to avoid disappointment – after August 31st it will be GONE FOR GOOD!
Here is a list of the basic supplies you need to get you started with Embossing:
100005  Heat Tool – $29.95
102283  Versamark Ink – $7.50
Embossing Powders in a variety of colors – $4.75 each
Add-on's to make it even easier:
103083  Embossing Buddy – $5.95
102197  Powder Pals – $19.95
You can find all of these items on pgs 201-203 of the Catalog and if you click on each item above it will take you to that item in the online store
CLICK HERE TO ORDER YOUR STAMPIN' UP! SUPPLIES ONLINE!
Silver & Black…how classic is that?