Are you intrigued?!  Well for Festive Friday this week I wanted to show you a card that has a background made from something that you can find in your kitchen…
And that something is Aluminum Foil!  And what a stunning background it makes when you texture it using an Embossing Folder – wow!
Please read on to find out how I made it along with my free printable tutorial showing you how to texture foil to make your own backgrounds…and please leave me a comment to give you a chance to win this week's Festive blog candy…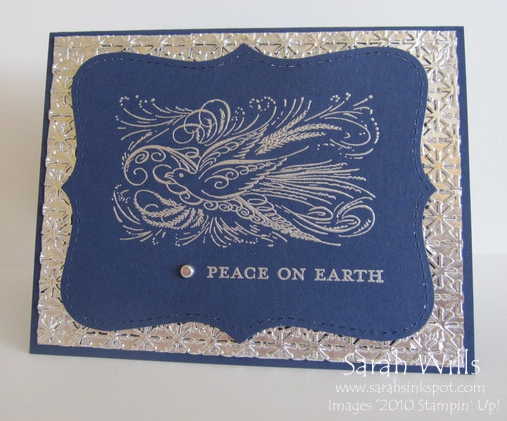 Now the photo does not do this card justice – that foil background is so sparkly and stunning in real life – its so hard to capture on camera!  And what I love is that this card is made using very few consumable products making it an economical way to make a bunch of holiday cards.
My card is simply a base of Night of Navy cardstock, a layer of embossed Aluminum Foil, a top layer cut using the Top Note Die and the images stamped on to that…easy…simple…fun!
That textured Aluminum Foil? You simply cut a piece of Heavy Duty Aluminum Foil to the size you want – and it is important that it is heavy duty as regular foil is too thin and will tear easily – I cut mine to be 4″ x 5 1/4″…and then you pop it into your Embossing Folder and run it through the Big Shot – open the lid carefully and voila – a beautifully textured piece of foil – GORGEOUS!
Be super careful when removing your foil from the folder to avoid tearing it – and then you simply adhere it to your base.
I know you are wondering…see that gorgeous textured design that I made on my foil?  Made using a brand new Embossing Folder that will debut on September 1st in the Holiday Mini Catalog – it is called Snow Burst and I LOVE it!
You know what else you can do with textured foil? You can use your punches & dies to punch shapes out of a textured sheet of foil – check out my shapes below made simply by using that cool Ornament Punch (pg 210) and Top Note Die (pg 222)…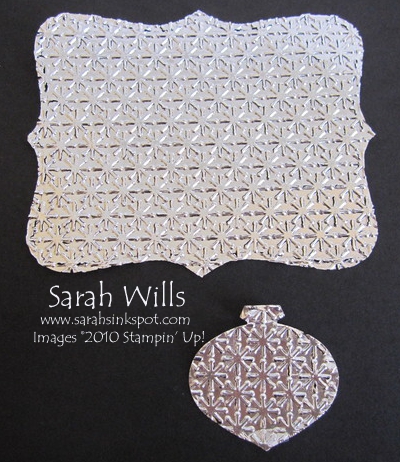 Imagine the beautiful cards you can make using foil in that way?
Now back to my card…
So onto that gorgeous textured layer I added a die cut made using the Big Shot and Top Note Die – I added it using Dimensionals to give some depth to my card.
Those images? They are gorgeous and are from a brand new stamp set that will also debut in the Holiday Mini Catalog – it is called Comfort & Joy which features the most beautiful image of a dove along with two beautiful sentiments…
I stamped those images onto my die cut using Versamark Ink, sprinkled on Silver Embossing Powder and heated it using my Heat Tool – I added a Silver Brad as a finishing touch and there is one beautiful holiday card…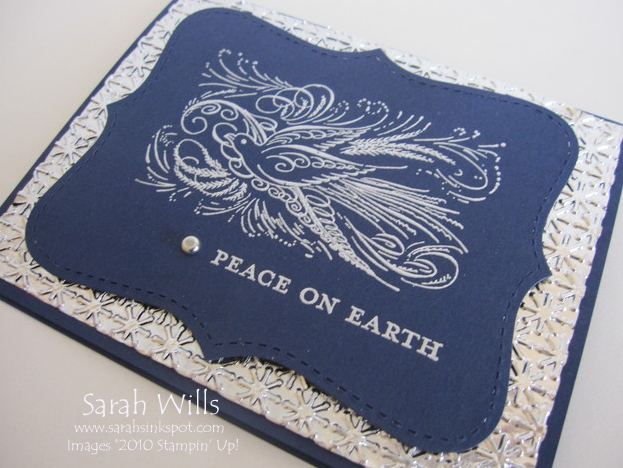 You can click on the photo above for a closer view.
If you have not used embossing powders before, I have a free printable step-by-step guide to Embossing which you can find by clicking HERE
It is so worth investing in a Big Shot, a couple of dies and some embossing folders to get you going – once you have a few of each you can do so much with so little – I use a combination of those items on almost everything I make!
WANT MY FREE TUTORIAL SO THAT YOU CAN TEXTURE SOME ALUMINUM FOIL TOO? Click HERE to find it in my Technique Tutorials section where you will find a printable version too!
Now finally onto my Festive Friday Blog Candy…leave me a comment to let me know what you think of this neat technique and you will be entered into a prize draw…
The winner will be chosen by random.org on Tuesday and one lucky winner will win a sampling of things from the new Holiday Mini Catalog including brand new embellishments and a felt die cut stocking cut using a brand new die from the that Mini Catalog!
CLICK HERE TO ORDER YOUR STAMPIN' UP! SUPPLIES ONLINE!
Festive Friday visits the Kitchen…