A very warm welcome to Stop no. 9 on the Stampin' Addicts Holiday Mini Catalog Blog Hop – you just arrived from Carmen at Stamping Addiction where she showed you some fun out of the box ideas using that brand new Holiday Stocking Bigz Die – isn't she creative?

Every stop on this hop is showcasing a brand new item that is featured in the upcoming Holiday Mini Catalog and today I am going to show you things that I made using the beautiful Christmas Lane Simply Scrappin' Kit…
Please read on to see my projects and for details of my delicious Blog Candy…and to get a better look, you can click on each photo for a closer view…
My first item is a Holiday Gift Album with a twirl…
It was going to simply be an album but…well…I got working on it and it got bigger and bigger and bigger…at which point it changed from just an album into a cool gift album that you can easily display.  And to make it, you use just HALF of the Simply Scrappin' Kit with some leftovers too – a great economical gift!
It has a beautiful Quilted Satin Ribbon on the side (hehehe…another new product!) on the side that you tie in a bow…and when you untie that bow and start to open it out…
You start to see the beautiful inside pages which are decorated with papers and die cuts from the Kit -inside are also lots of little slide up or slide out pages to give you LOTS of room to add photographs, journaling or even a gift card…
Here's a sneak peak of those inside pages…
And here's the twist…you can flip through the book like a normal album but you can also display it – you simply pull the front cover around to meet the back cover and secure with those ribbons to hold it in place – imagine it filled with photos – what a cute holiday display!
Want to see more photographs including the front cover, inside pages and what it looks like when folded all the way out?  Come back Monday when I will have LOTS more info & photos!
I think that Grandparents will flip for this mini album…what a perfect gift filled with photographs from the year…
And when you come back on Monday I will have more photos and a FREE printable tutorial for that Mini Holiday Album with a twirl so that you can make one too – it's fun!
My second item features a Bunch of Holiday Cards…
Well, actually you can only see 3 here…but did you know that you can make 32 HOLIDAY CARDS using just half of this Simply Scrappin' Kit?  Yes REALLY – I did it and it was FUN!!!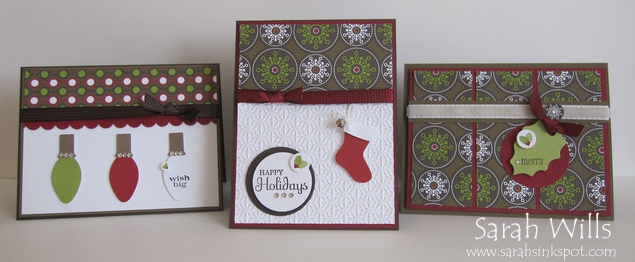 So sorry the photo is small – I couldn't get it any larger and am limited to only having 4 photos on my post – but I will have close up photos on Monday so you can get a better look – for now please click on the photo above…
See those cute die cuts – the stocking, holly leaf and lights? They are some of the fabulous die cut stickers that you get in this kit – included in this kit are sheets of textured cardstocks, Designer Series Papers and sheets of die cut stickers & borders – including some super cute ric rac and scallop borders – they make it so easy and fun to make holiday projects – I just LOVE this kit!
Come back Monday to see all 32 cards that I made using just half of this gorgeous Kit!

And lastly my third item…a cute little Lip Balm Card…
I made this using leftovers from my Holiday Album with a Twist…I LOVE how many die cut stickers you get with this Kit…there are still lots left to use too…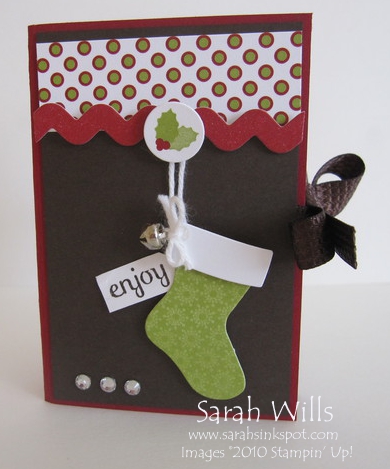 Can you tell which die cut sticker is my favorite LOL?!  Aren't those stockings just the cutest?  I often want to add dimension to stickers to jazz them up a bit and there is a really neat easy trick to do this to avoid other bits of your sticker sticking to the page or card…and I will show you how to do that on Monday!
So inside this beautiful little card is a festive Lip Balm – there is also room in there to add a note or even a gift card to a favorite store or restaurant – this card is again fun to make and whoever receives it will love it!
Want to know how to make my Lip Balm card?  Come back on Monday and I will have the FREE printable tutorial here for you!

Well, don't forget to come back and visit me on Monday for more details, photos and tutorials about my projects…and of course to find out the winner of my Blog Candy…speaking of which…
Leave me a comment to let me know which item is your favorite and you will be entered into a prize draw – the winner will be chosen by random.org on Monday and one lucky winner will win a pot of the new fabulous Jingle Bells and a handmade Holiday card made by yours truely…

Thank you for visiting – now you're off to visit Kim at Stitchin & Stampin on Paper where she will show you some beautiful things that you can make using Frostwood Lodge DSP…enjoy!
Welcome to the Stampin' Addicts Holiday Mini Blog Hop!!!