Today features a cute sparkly card that uses some brand new products featured in the Holiday Mini Catalog…
And these products are all amongst my favorites in that Mini…see that sparkly Silver Glimmer Paper, the cute little silver Jingle Bell and the fabulous Stocking Builder Punch?  They are all in there!
And this card is a great one to make if you are on a budget this Holiday season…read on for details plus info about this week's Festive Blog Candy…
If you are on a budget, right now this is just the type of Holiday card that you can make a bunch of for a low cost – why?
you can get 8 of these card bases out of one sheet of 12×12 cardstock!
there is no Designer Series Paper – the focus of the card is that beautiful stocking
once you purchase the Stocking Builder Punch you have it for ever
with careful punch placement you get LOTS of stocking trimmings out of one sheet of Silver Glimmer Paper
you get 48 Jingle Bells for just $2.95!
the Cherry Cobbler Bakers Twine costs just $2.95 for 25 yards!
you can use any sentiment stamp that you already have in your stamping stash
How's that for a budget priced holiday card idea?!
I love how this card turned out – my card base is simply a piece of Cherry Cobbler cardstock sized 3″ x 6″…
To get 8 card bases out of one sheet of 12×12 cardstock simply slice that cardstock in half at 6″ – then place one of those pieces into your paper trimmer with the longest edge along the top, and cut at every 3″ – repeat for the other pieces and there you have 8 card bases!
I then added a mat of Old Olive & another of Whisper White and  I stamped my sentiment using a stamp from the set Holiday Happiness that you can find on pg 34 of the main Catalog…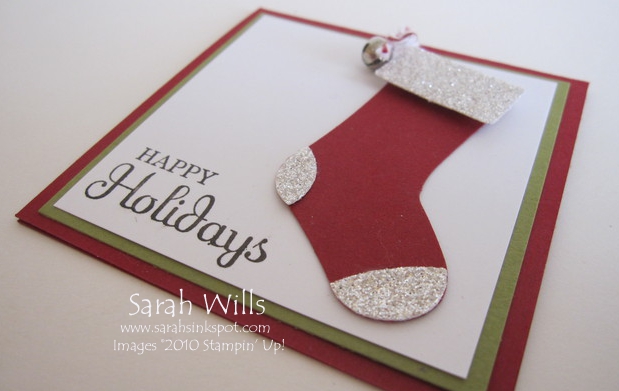 That cute stocking? Punched out of Cherry Cobbler cardstock using that new fabulous Stocking Builder Punch that you can find on pg 34 of the Holiday Mini – and that gorgeous sparkly trim?  Punched out of the GORGEOUS new Silver Glimmer Paper that you can find on pg 41 of that mini…I added the stocking trim using a Dimensional to make it pop off the card…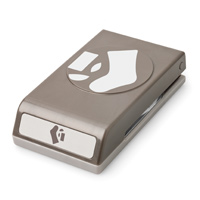 That new Silver Glimmer Paper is just stunning – that paper glitters so beautifully and the best bit is that no glitter falls off of it when you cut it – it's gorgeous and you only need a little piece of it to turn your card into a WOW card.
For finishing touches I added a cute Jingle Bell that you can find on pg 30 of that Mini – and let me tell you they are BARGAIN priced – you get a pot of 48 of them for just $2.95!!!  I threaded it onto a piece of Cherry Cobbler Bakers Twine and tied a bow…
You can get envelopes to fit this size of card – Mini Envelopes – that you can find on pg 182 of the main Catalog.  And you could also use this sized card for a gift tag for your holiday gifts – how cute would that be?
This is a Card Kit that I am including for FREE with my Holiday Mini Catalogs!
If you DO NOT currently have a Demonstrator and would like a copy of this Catalog including this FREE card kit and some FREE samples of papers & ribbons, please email me by clicking HERE and I will get a package out in the mail to you.
If you DO have a Demonstrator, please contact them for your copy of this fabulous Mini Catalog.
Not got a paper copy and want to see it right now?  You can click on the picture of it below to view it online…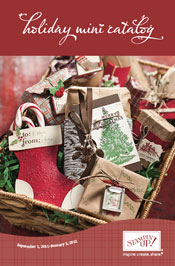 CLICK HERE TO ORDER YOUR NEW HOLIDAY MINI GOODIES ONLINE!
QUICK NOTE FOR THOSE LOOKING FOR MY 32 CARDS USING A SIMPLY SCRAPPIN' KIT…
I have had camera woes this week – my camera is not working properly and thus I have been unable to take the photos I need (fortunately I made & photographed the card featured today last week)…
I am in search of a replacement this weekend and hope to have everything up and sorted by Monday – apologies for the delay and thank you for your patience!
Festive Friday goes Sparkly!