I just mailed out my Monthly Club customers their gifts for orders placed in October and I hope they are going to love them…
The gift for October was a Holiday Card Kit containing all the supplies for them to make 10 Cards complete with Envelopes.  I decided to give them 5 of one design and 5 of a different one for a bit of variety…
And here is the first design that they have in their kit – they will each be able to make 5 of these CUTE cards…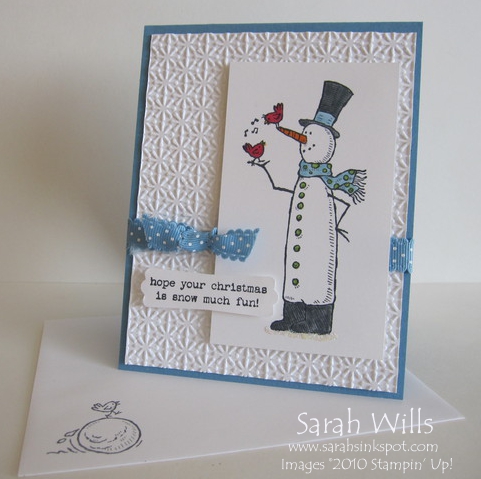 Isn't it adorable?  Whimsical stamps aren't usually my style, but when I saw the snowmen in this stamp set, I had to have it…
The set I used to make this card is called Snow Much Fun – a brand new set for this year – and you can find it on pg 35 of the main Catalog…it features two cute snowmen, a fir tree, a bird riding a snowball, a stocking & 2 sentiments – it is very very cute!
My card base is made using Marina Mist cardstock onto which I layered a piece of Whisper White – check out that snowflake texture on that white cardstock – it was made using the Big Shot & Snow Burst Embossing Folder that you can find on pg 33 of the Holiday Mini Catalog…
I then wrapped around a piece of Marina Mist Scallop Dots Ribbon and tied a knot in front.
My snowman is stamped in Stazon Black Ink and then I colored him in using my Inks and Blender Pen – the colors I used are Basic Black, Marina Mist, Garden Green, Cherry Cobbler and Tangerine Tango – I think he looks bright & fun…click on the photo below for a larger view…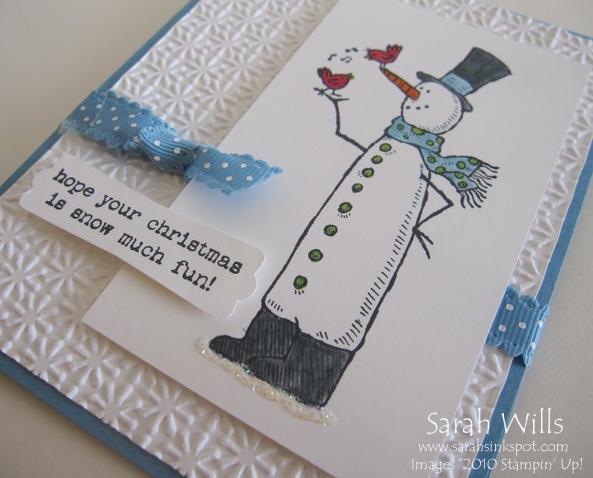 See just under his feet?  I added a little line of glue and sprinkled on some Dazzling Diamonds Glitter to make it look like sparkly snow – if you prefer to use glitter glues, you could get a similar look using the new Dazzling Details Glitter Glue that you can find on pg 41 of the Holiday Mini Catalog.
I then stamped my sentiment and punched it out using the Modern Label Punch (pg 209) and added it to my card using Dimensionals.
For a cute finishing touch I decided to stamp the little bird on a snowball image onto the bottom left corner of each envelope – I love how this little touch really gives your cards a WOW factor…
And I wanted to show you how I am dressing up my own envelopes to mail out my Holiday cards this year – I am stamping the little snowball stamp in the lower left corner and in the top right I am stamping my return address info…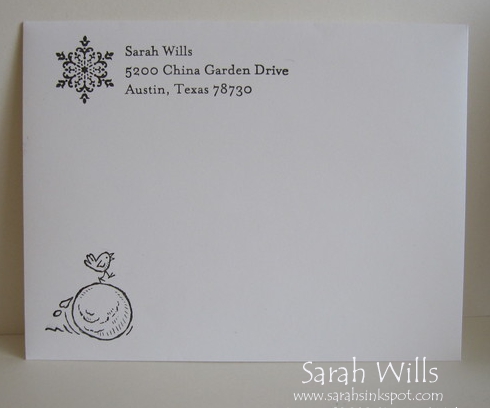 Isn't that one cute look?  There are TWO personalised stamps to choose from and you can find them both on pg 33 of the Holiday Mini Catalog – I got the 3 line Snowy & Bright stamp and I love that I will be able to use it for many many years to come…
So my Monthly Club customers are getting everything they need to make 5 of these cute cards – tomorrow I will be showing you the second Card design that I mailed to them too, so be sure to check back then…
I WILL SOON BE OPENING UP A NEW ROUND OF MY MONTHLY CLUB WHICH WILL RUN FROM JANUARY THROUGH JUNE…
My Monthly Club members commit to place a $50 order with me for the duration of the club and in return they receive a gift and a handmade card from me each month – they also get to use my monthly Coupons on their orders and their orders count towards my Loyalty Rewards program too…
They also receive the new Mini Catalogs along with samples and in addition the next round of Club Members will also receive next year's big Catalog for FREE in June!
WANT TO JOIN THE NEXT ROUND OF MY MONTHLY CLUB? I will be posting details on Monday – be an early bird subscriber and get a bonus gift in December!

Here are the images you get in Snow Much Fun – it is a set of 7 and is also available in both Wood & Clear Mount versions…click on the picture below to view it in the online store…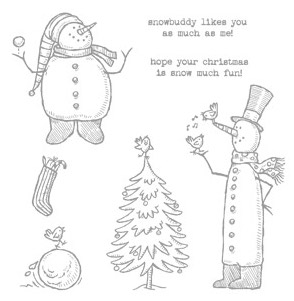 CLICK HERE TO ORDER YOUR STAMPIN' UP! SUPPLIES ONLINE!
Snow Much Fun for my Monthly Club Customers…