Did you know that you can make SUPER CUTE Metal Snowflakes from soda cans with your Big Shot?
This makes my heart happy – playing in my craft room to create holiday decorations whilst recycling soda cans!

They make beautiful hanging ornaments on a tree…pop them onto a window…to dress up your gifts…and they also make lovely additions to banners and wreaths…
Here is one of those snowflakes that I made sitting under my jazzy craft room Christmas tree…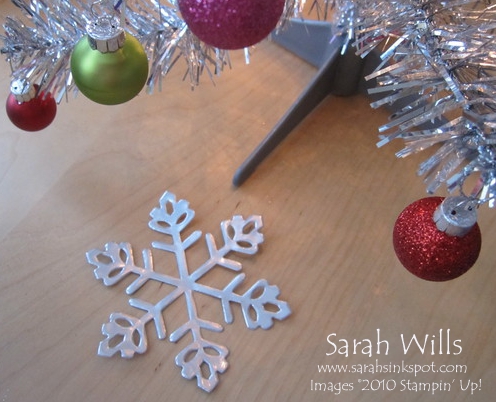 You can showcase the side that has that beautiful shiny silver metal inside the cans…
Here are two of mine below…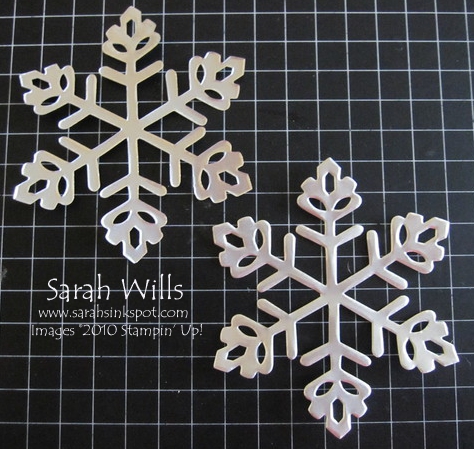 Or you can turn them over and display them with the soda can images on the front…depending on the type of soda can you use, you can get many different colors & designs…the can I used below was a sparkling Cranberry Juice can…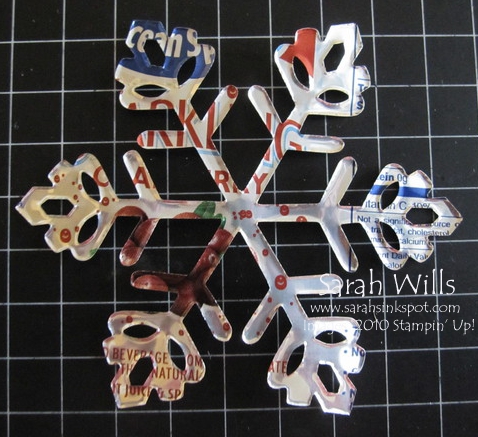 So how do you make them? All you need is your Big Shot, the Snowflakes #2 Originals Die, Craft & Rubber Scissors or tin snips and a soda can of your choice.
Aren't they pretty?  I  am going to make a bunch more to dress up my holiday gifts for a cute embellishment AND I am going to hang them along the top of my craft room window – I hope to get that done tonight and will post a picture tomorrow to show you what they look like!
To make it easy to show you I have put together a free Tutorial – with a printable version too – click HERE to find it!
Where can you find these items to make your own Metal Snowflakes?
Click on each item below to find it in my Online Store

*** NEWSFLASH ***
FOR TODAY & TOMORROW ONLY you can join my Stampin' Up! Team for JUST $125 AND get a FREE PACK OF DESIGNER SERIES PAPER or DIGITAL DOWNLOAD EVERY MONTH NEXT YEAR FOR FREE!!!
Isn't that an amazing deal?  You get:
a Starter Kit for JUST $125 — giving you $50 off the regular price of $175!  The Starter Kits have $445 in products in them – what a deal!

a FREE package of Designer Series Paper OR a FREE digital download every month in 2012 (excluding January)—a total value of up to $120!

AND when you Join my Team you also get my personal Welcome Pack for FREE too which gives you:
a FREE Stamp Set of your choice valued up to $21.95
a Card Kit containing 10 cards with envelopes
a hand covered Personalized Journal using beautiful Designer Series Papers
a hand made welcome card
How do you join?
You purchase a Starter Kit and you have a choice of the Standard Kit or Digital+ Kit – BOTH KITS ARE CUSTOMIZABLE meaning that YOU get to choose what stamps, inks ribbons etc are in your Kit – and both cost just $125 TODAY & TOMORROW ONLY (they contain $445 worth of products & they ship to you for free!)
You can JOIN ONLINE RIGHT NOW and become a Demonstrator INSTANTLY!  To join online click HERE – and then Join Now – fill in the forms and you will be a Demonstrator – easy as that!
Want more information?
Click HERE to find out more about the wonderful benefits of joining
Got Questions?
Click HERE to email me and I will be very happy to help.
Recycling Soda Cans & Making Metal Snowflakes with the Big Shot!