When you join Stampin' Up! now during Sale-a-bration they are giving you the Starter Kit at a fabulous price PLUS your choice of a FREE Pack of Designer Series Paper or Digital Download EVERY MONTH FOR THE REST OF 2012!

And when you Join my Team I will give you some BEAUTIFUL goodies TOO  – YOUR choice of a Welcome Pack PLUS YOUR choice of a FREE Stamp Set too – WHICH WELCOME PACK BELOW WILL YOU CHOOSE?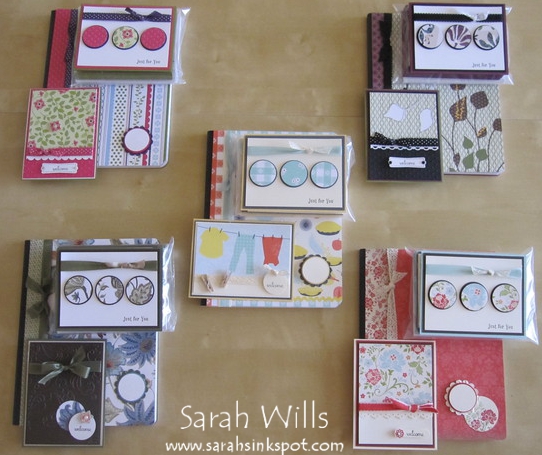 Right now it is an amazing deal – when you join NOW Stampin Up will give you:
the customizable Starter Kit for the BARGAIN price of JUST $125 – that is a $50 OFF the regular price – with FREE shipping!
a FREE pack of Designer Series Paper or Digital Download of your choice EVERY MONTH FOR THE REST OF 2012!!!
BUT think about this – Join NOW in January (JUST 2 DAYS LEFT!) and you are going to get 11 FREE packs of Designer Series Papers or Digital Downloads – join in March and you will only get 9 – because of this, it makes sense to join NOW IN JANUARY rather than at the end of Sale-a-bration, in March!
And on top of that, when you Join Stampin with me right now I will give you:
a FREE Stamp Set of your choice valued up to $29.95 & a FREE themed Welcome Pack containing…
a beautiful covered Monogrammed  Notebook made using patterned papers & ribbons
a hand-made Welcome Card
a Card Kit containing all the supplies that you need to make 10 Cards complete with envelopes
a completed card so you can see in your hands how to assemble your Card Kit cards
I have FIVE different Welcome Packs for you to choose from – whether your style is Floral, Shabby Chic, Modern, Bold or Homely, there is something for everyone…you can view them all inditividually below – and you can click on each photo for a closer view
*** BUT HURRY – FIRST COME, FIRST SERVED – I ONLY HAVE ONE OF EACH PACK AVAILABLE – JOIN MY TEAM FAST TO GET THE ONE YOU WANT!***
HOW DO YOU JOIN STAMPIN' UP! & MY TEAM?
Click HERE to join INSTANTLY online!
Want to know more information?
Scroll down this post past the photos and you will find all the details you need to know there.
SOOO – WHICH ONE WILL YOU CHOOSE?
Will you choose the Elegant Floral Welcome Pack?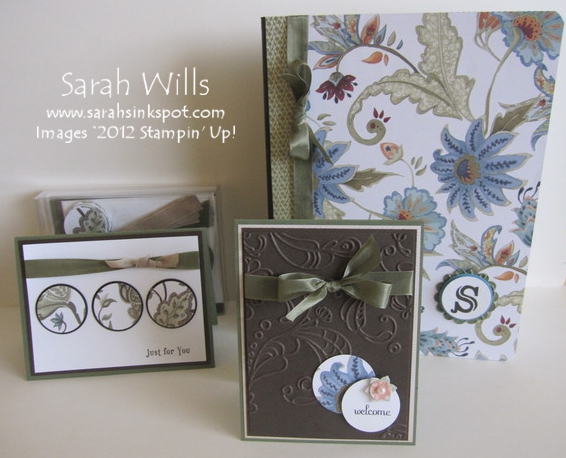 The blank circles on the notebooks are where I monogram them – where YOUR intial could be! (the one above has been monogrammed just for demonstration purposes – it is changeable & still available!)
OR the Shabby Chic one?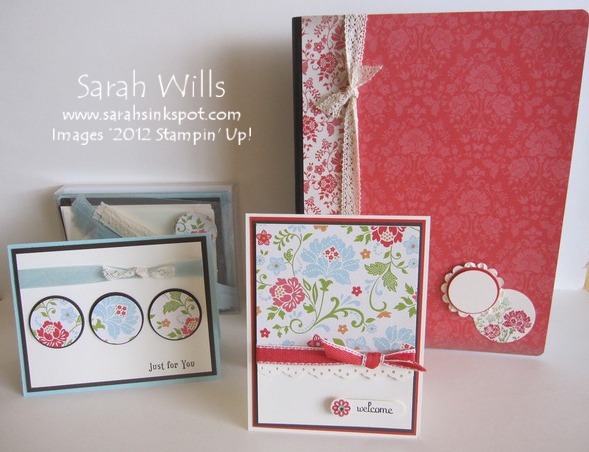 Or perhaps the Modern one?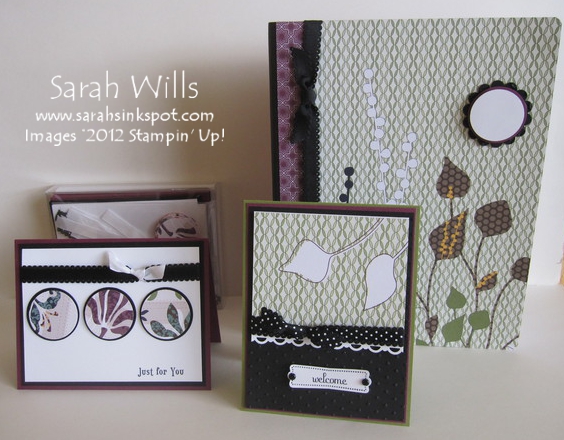 Or maybe the Domestic Goddess one?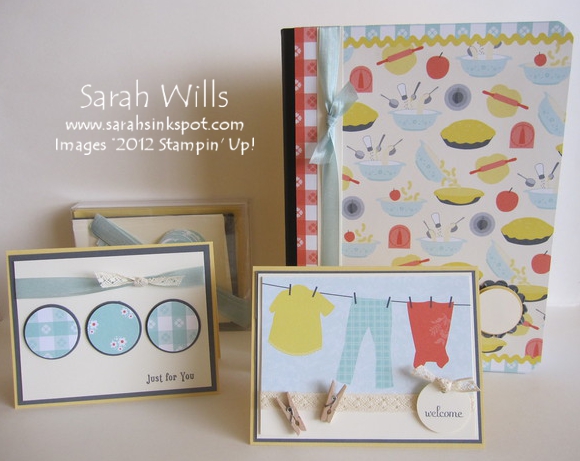 Or the Bright one?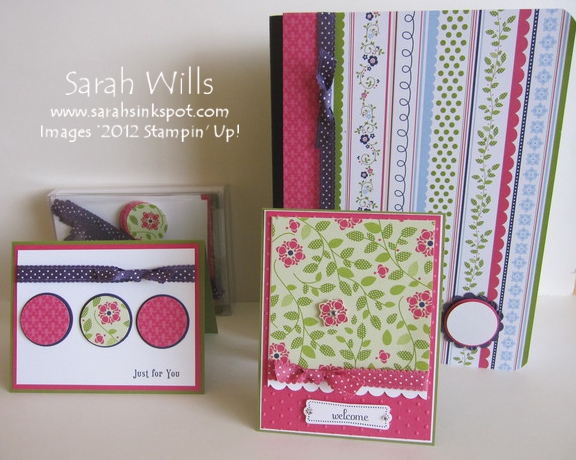 THE CHOICE IS YOURS – BUT HURRY TO GET THE ONE THAT YOU WANT – I ONLY HAVE ONE OF EACH!
GOT QUESTIONS?  Email them to me by clicking HERE!

THE BENEFITS OF JOINING STAMPIN' UP!:
Demonstrators get ALL Hostess & Sale-a-bration Benefits on their own orders, just like you do right now as a customer
Demonstrators also get the chance to earn extra freebies during Sale-a-bration
Once you have joined you get 30% off of your first Demonstrator order of $150+ – and you would get all Hostess & Sale-a-bration benefits on that order including the beautiful Free Tote!

There is NO obligation for you to sell or purchase anything else – you can join simply to get this great deal and you are NOT obligated to purchase anything else ever again – you get to keep your Starter Kit regardless!
STARTER KIT:

you get a BARGAIN priced Starter Kit for just $125 with free shipping
you have a choice of 2 Kits – the Standard and the Digital
you get to customise LOTS of items in your kit – for example in the Standard Kit you can choose your 4 Stamp Sets, Wheel & color of ink cartridge, ink pad colors, marker colors, ribbon color, Punch…
and you can substitute a Textured Impressions Embossing Folder in place of the Always Bird Décor Elements if you wish to do so
to substitute items simply click 'edit' on the starter kit form and put in the number of the item you want
click HERE to find out more about what is included in the kits on the Stampin Up website
IF YOU USED TO BE A DEMONSTRATOR BUT DROPPED, CAN YOU RE-JOIN & TAKE ADVANTAGE OF THIS FABULOUS OFFER?
Absolutely, YES!
COMMONLY ASKED QUESTIONS & THEIR ANSWERS:
Q – how much do I have to buy/sell to remain a demonstrator?
A – you have to buy/sell $300 worth of products each quarter
Q – what are Stampin' Up!'s quarters?
A – they run Jan-Feb, Mar-Jun, July-Sept, Oct-Dec – and the quarter that you sign up in is waived, for example when you sign up in January – NOW – then you do not have to meet your quarterly minimum of $300 until June 30th 2012
Q – do my own orders count towards the $300 minimums?
A – YES – and because of your discount when you spend $300 in merchandise it will actually only cost you $240 per quarter to be a demonstrator – got to love demo math!
Q – do my own orders qualify for hostess benefits?
A – yes – all of your own orders over $150 qualify for hostess benefits AND SALE-A-BRATION FREEBIES TOO!
Q – what is my discount?
A – you get 20% off of all merchandise – AND you get a special extra 10% off one order when you join – meaning you get 30% off of your first order of $150+ placed within the first 45 days of your demonstratorship – and yes, you will get all hostess benefits on that order too!
Q – can I earn more income?
A – yes, if you decide to sell to others then you also receive Volume Rebates based on your monthly sales
Q – what if I decide to not continue as a demonstrator – are there any penalties?
A – NO penalties at all!  If after purchasing your starter kit you do not want to order anything, you do not have to – you keep everything in your kit – and when you do not meet your quarterly minimum you simply 'drop' – simple as that!  You are not obligated to purchase anything.
Q – will I be pressured to sell anything?
A – absolutely not – Stampin' Up! does not put any pressure on any demonstrator to do anything ever – it is a wonderful company to be a part of – you can join simply to get a fabulous discount on your favorite crafting supplies
WANT MORE INFORMATION?
Click HERE to visit my Join my Team page or email me with your questions
CLICK HERE TO JOIN STAMPIN UP & MY TEAM TODAY!
& your Welcome Pack will be in the mail to you tomorrow!

Which one will you choose?