Join Sarah's Ink Spot Stampers today and LOVE what you do!
Not only will you get a fabulous deal on the BRAND NEW CUSTOMIZABLE STARTER KIT that also ships to you for free but you will also get a FREE WELCOME KIT from me too!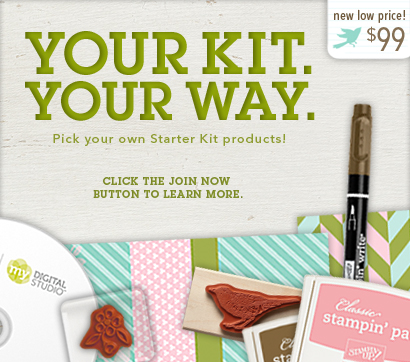 Please read on for all the details including my FAQs about being a Demonstrator…
The Brand New Fully Customizable Starter Kit:

Think of it as a fun shopping spree with the perk of getting extra freebies & becoming a Demonstrator as the icing on the cake!
How much does it cost to join Stampin Up?
What do you get for that $99?
YOU get to choose $125 worth of ANY Stampin Up products for just $99!
Your kit ships for you for FREE!
You also get to choose a free $65 value Business Supply Pack that includes catalogs!
Want to know more?
Click HERE to find my list of Frequently Asked Questions
Bottom line – YOU will get to choose a kit valued at $190 for spending just $190 AND it ships to you for FREE – how cool is that?
COOL PERK ALERT!!!  As of TODAY demonstrators get to view the brand new upcoming 2012-2013 Catalog online – and let me tell you there are some FABULOUS new things coming!!!
PLUS today demonstrators can get our FREE paper copy mailed to us too – if you are a fan this is an awesome opportunity for you – JOIN TODAY AND GET TO SEE IT TODAY!!!

RIGHT NOW STAMPIN UP DEMONSTRATORS GET TO ORDER SELECT SNEAK PEAK ITEMS FROM THE BRAND NEW UPCOMING 2012-2013 CATALOG DEBUTING IN JUNE…
And YES – you can add sneak peak items to your Starter Kit order – this is a SWEET deal for any Stampin Up fan!  And once you are a demonstrators you get to order more if you want to as well!
READY TO JOIN RIGHT NOW? To sign up online click HERE – & then click 'Join Now' to get started – once finished, you are instantly Demonstrator and will be able to place your first order!
And you will also receive…

A Free Welcome Kit from me:

Here is an example of a beautiful Welcome Pack below (patterned papers will vary) – in it you will receive:
a personalized Designer Series Paper covered notebook
a Card Kit containing supplies, instructions & envelopes for you to make 10 cards to get you off to a great start
a beautiful Welcome Card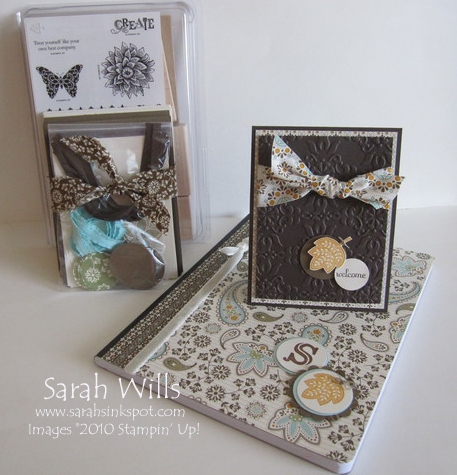 Here are some Commonly asked Questions & their Answers
If you have ANY questions please email me by clicking HERE and I will be very happy to help you:

Q – how much do I have to buy/sell to remain a demonstrator?
A – you have to buy/sell $300 worth of products each quarter
Q – what are Stampin' Up!'s quarters?
A – they run Jan-Feb, Mar-Jun, July-Sept, Oct-Dec – and the quarter that you sign up in is waived, for example if you sign up in January – NOW – then you do not have to meet your quarterly minimum of $300 until June 30th 2012
Q – do my own orders count towards the $300 minimums?
A – yes – and because of your discount when you spend $300 in merchandise it will actually only cost you $240 per quarter to be a demonstrator – got to love demo math!
Q – do my own orders qualify for hostess benefits?
A – yes – all of your own orders over $150 qualify for hostess benefits
Q – how soon can I place my first order?
A – as soon as you become a demonstrator – Stampin Up will email your demonstrator id number and log in information and you are good to go!
Q – what is my discount?
A – your regular discount is 20%
Q – I heard about a special extra 10% discount when I join?
A –  you get a one-time 30% off of your first order of $150+ placed within the first 45 days of your demonstratorship – and yes, you will get all hostess benefits on that order too!
YOU CAN USE THIS 30% DISCOUNT WHEN THE NEW CATALOG GOES LIVE ON JUNE 1st – YOU WILL GET BRAND NEW GOODIES AT 30% OFF – PLUS CHOOSE FROM THE NEW HOSTESS ITEMS TOO!
Q – can I earn more income?
A – yes, if you decide to sell to others then you also receive Volume Rebates based on your monthly sales
Q – will I be pressured to sell anything?
A – absolutely NOT – Stampin' Up! does not put any pressure on any demonstrator to do anything ever – it is a wonderful company to be a part of – you can join simply to get a fabulous discount on your favorite crafting supplies
Q – what if I decide to not continue as a demonstrator – are there any penalties?
A – NO penalties at all!  If after purchasing your starter kit you do not want to order anything, you do not have to – you keep everything in your kit – and when you do not meet your quarterly minimum you simply 'drop' – simple as that!  You are not obligated to purchase anything.
What other benefits are there to becoming a demonstrator?
You get the opportunity to go to Regional Seminars and the exclusive annual Convention along with thousands of other demos – its lots of fun!
Great Rewards is a program where you earn points for your sales and promotions and can use them to choose free product and/or gift cards.
In your first 6 months you have the opportunity to earn free stamp sets through the Stampin' Start program – this is very possible – I did it!
You get to have new items at least a month before customers get the chance to purchase them with new catalog pre-order releases
You get to see the brand new catalogs a full month before customers
You get the opportunity to earn free products and incentive trips based you your performance
JOIN NOW! To sign up online click HERE – & then click 'Join Now' to get started – once finished, you are instantly Demonstrator and will be able to place your first order!
GOT QUESTIONS?  Click HERE to email them to me

Join for JUST $99 with the NEW FULLY CUSTOMIZABLE Starter Kit!