YIPPEE – IT'S TRUE – THE STAMP SET CARRY ON IS AVAILABLE AGAIN!!!
BUT take heed – it might just be for a short time so if you want one, RUN don't walk to get yours!
Lots I want to tell you about but this news trumped what I was going to write about today – I will give more news of my own tomorrow!
So back to Carry On…only 5 days after the new Catalog went live, the Hostess set CARRY ON was withdrawn due to legal issues – you can find it on pg 203 of the main Catalog and the stamps in it look like this: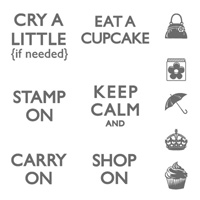 It has some history – the phrase 'Keep Calm and Carry On' was on a war time poster  in England and as soon as I saw that stamp set, of course being English, I had to have it – and I just made it before it was withdrawn from the shelves…
With only a few having been sent to customers, over the last few weeks some of those customers who had Carry On were selling them on ebay – this stamp set was actually selling for up to $195 – can you believe that?!  Go check it out for yourself – people will pay that much money for just one stamp set!!!  At least it might be an investment if it gets withdrawn from availability again as apparently it is popular!!!
But this morning it has been made AVAILABLE AGAIN which is wonderful news – BUT if you want one, SNAP IT UP FAST because Stampin Up have stated that they do not know how long it will be available for!!!
So, how do you get yours?
it is not available for purchase – it is a Hostess set.
Hostess sets are 'perks' for those who place an order of $150+ – you can find details on pg 200 of the catalog
once you have $150+ on your order or in your cart, you get 'hostess dollars' – on a $150 order you will receive $25 'hostess dollars' to spend
you can choose to spend your hostess dollars on ANY item in the catalog BUT YOU ALSO GET AN EXTRA SECTION of items to choose from
those extra items can be found in the Hostess section on pgs 201-205 – below each item you will see a dollar amount for both the clear & wood mount versions
for example, you could choose the clear mount Carry On set and it would cost you $10 hostess dollars – or the wood version would cost you $14 hostess dollars
and you can combine – on a $150 order, you could choose a hostess set for $10 hostess dollars giving you another $15 hostess dollars left to spend – on more hostess items or regular catalog merchandise – your choice!

And YES – you do get hostess benefits when you place your order directly online:

In the online system they are called 'Stampin Rewards'
as soon as your order reaches $150 you will see how many Stampin Rewards you have earned in your basket
click HERE to place your order online!
AND DON'T FORGET – you also get to purchase that beautiful stamp set REASON TO SMILE for just $5 on any order over $50 during July – click HERE to find out more!
The Stamp Set CARRY ON is NOW AVAILABLE – but HURRY!!!