To kick off the start of the brand new Stampin' Up! year I decided to gift every member of my team with a brand new Firm Foam Ink Pad in the color of their choice…
I wanted them each to see and be able to get a hands on feel for what the new firm foam pads are like as I just love them sooo much…
And because it is the start of the new Stampin year I also made them all a calendar easel card for their desks and popped one in each package…here it is…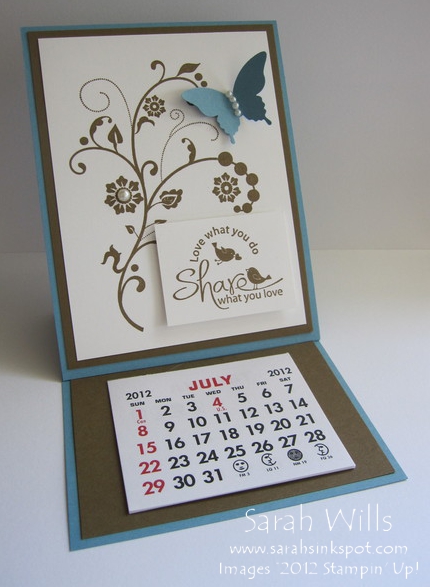 Didn't it turn out CUTE?  This card uses one of my favorite color combinations – Soft Suede and Marina Mist – and was fun to make.
PLUS it showcases those new Firm Foam Ink Pads perfectly – check out that stamped image…
See how smooth and clean it is?  I literally inked my stamp up by tapping it on my ink pad just once – WOW – what a difference from those old pads!!!
That beautiful floral swirly stamp is from the set Flowering Flourishes (pg 121) and that cute butterfly was made using the beautiful new Elegant Butterfly Punch (pg 184) – I simply added some Pearls down the center for a cute look…
And I wanted to add a little special Stampin' Up! phrase to it too – 'Love what you do, Share what you love'…it is so true!!!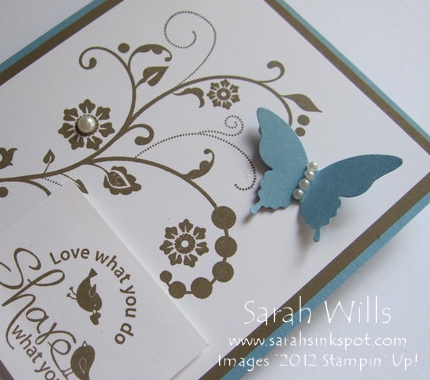 On the bottom part I added a piece of Soft Suede cardstock sized 4″ x 2 5/8″ and a little calendar pad onto it – that Soft Suede layer provides a step that the top part of the card rests on like so…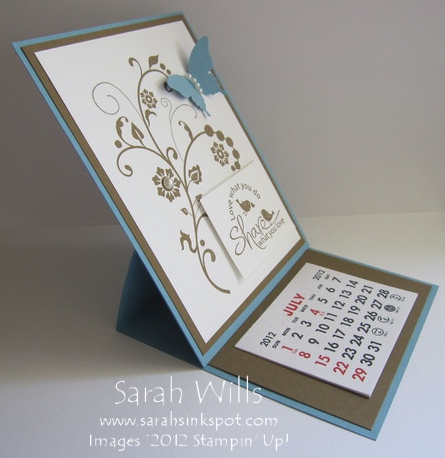 I just love how it turned out…
Want to be part of my team & love what you do plus receive cute little gifties from me like this?  Well there's more right now…when you Join my Team during July I am going to GIVE you a set of 10 Ink Pads in the color family of your choice!!!
Click HERE to find out more!!!
Want to make your own Easel Card? This is what you do…
For the Base:
I simply cut a piece of Marina Mist to be 4 1/4″ x 8 1/2″ and used my Simply Scored Scoring Tool to make score lines at 4 1/2″ and 6 3/8″…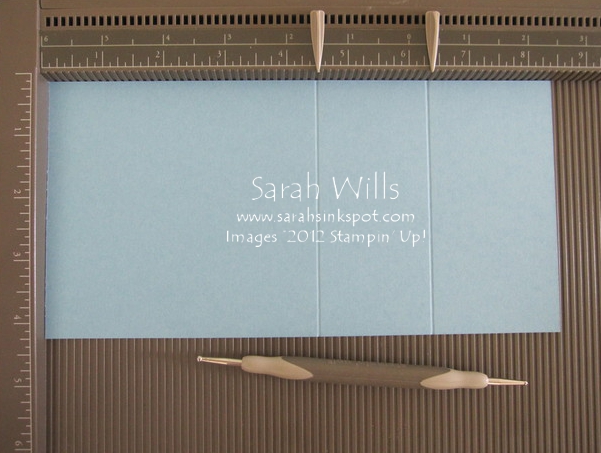 I then folded along those lines and put to one side.
The Card:
I cut another piece of Marina Mist to be 4 1/4″ x 5 1/2″ – I then used adhesive tape to attach this to my base – see that segment at the far right side on my picture above?  Adhere your card front to that panel so that only a piece of it is attached…
Decorate your card as wished, add to your desk and enjoy!
Here are the images in the stamp set Flowering Flourishes – it features 3 absolutely beautiful images and is available in both wood mount & clear mount versions – click here to view it in the online store: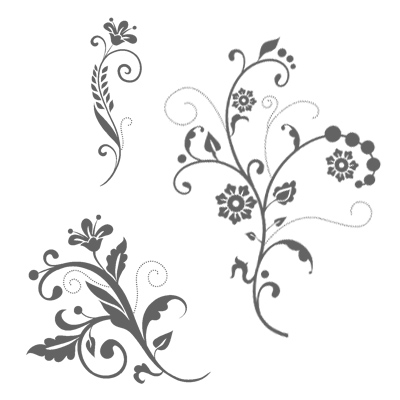 Butterfly Easel Calendar Card…