It's Monday and that means Holiday Card Challenge time!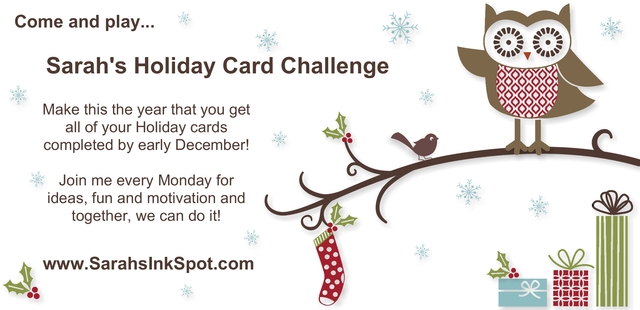 If you are new to this, let me explain…every Monday I am posting a card that is quick & easy to make that incorporates a particular Stampin' Up! product – the idea being that every week I am making cards so that I will have all my Holiday cards made by early December – and in turn, I can show you an idea that you can use to help you too…
And if you want to play along with my challenge you will have all of yours done too – with a bonus – every week when you make your card using the product(s) that I showcase, email a photo of it to me and you could win a prize too!
Sarah's Holiday Card Challenge Details:
Every week on Monday I will showcase one Stampin' Up! product that helps you to make cards quickly & easily and cost effectively too
Make a card using that type of product, email a photograph of it to me at sarah@sarahsinkspot.com along with your mailing address and I am going to mail you a free treat for taking part, so be sure to include your mailing address!
At the end of the week, on Sunday evening, my girls will choose their favorite card from those I have received
I will then post their favorite card to my blog every Monday at the end of my Challenge post – and guess what?  That favorite card earns it's creator a prize!
So be sure to come back every Monday to see my new weekly Holiday Card AND to see if you are the previous week's winner!
The winner of last week's Holiday Card Challenge is at the end of this post so please read on to find out who it was!
Sooo…what am I challenging you to use this week?
Stampin' Up!'s beautiful Designer Series Papers that you can use to make fabulous backgrounds!
My card this week is very clean & simple – and it literally took me minutes to make – in fact I made 3 of them in just 20 minutes – so you could make a bunch in no time at all!  Here it is…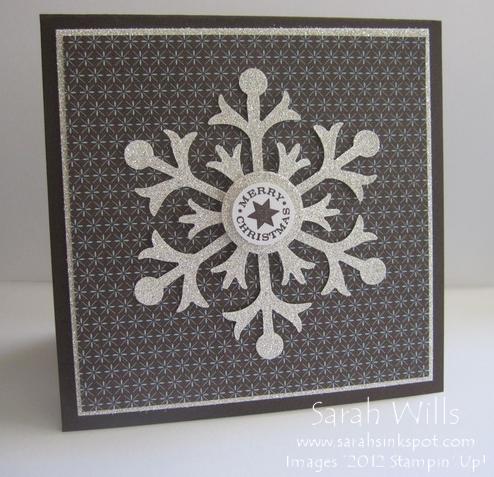 My card front size is 5″ x 5″ and the base is Early Espresso – to make a card this size simply cut a piece of cardstock to be sized 10″ x 5″ and score half way down…
I then adhered a piece of the fabulously sparkly Silver Glimmer Paper (pg 160) to that base and then my background patterned paper – this is a piece of paper from Festival of Prints DSP Paper Stack that you can find on pg 20 of the Holiday Mini Catalog.
SARAH'S TIP – if you are looking for an easy way to make Holiday cards at amazing value for money for patterned papers, then this is it – the Festival of Prints DSP Paper Stack costs JUST $6.95 and for that you get 48 SHEETS – yes, FORTY-EIGHT – 4 1/2″ x 6 1/2″ sheets of beautiful patterned papers that make your Holiday card making FAST & EASY!
Click HERE to see this fabulous stack of beautiful papers in the online store!

I decided to continue with a glittery theme and decided that the show piece on my card should be a big beautiful sparkly snowflake – and I found the perfect thing to make this…
The Snowflakes…on pg 14 of the Holiday Catalog you will find the Snow Flurry Bigz Die which features 3 gorgeous snowflake shapes that you can layer or use individually – I used this to cut out two beautiful snowflake shapes from Silver Glimmer Paper and WOW – what a beautiful feature on my card – and that glitter paper die cuts like a dream!!!

If you haven't tried using Glimmer Papers, you really should – they are glittered sheets and come in Red, Silver and Gold – and the best bit about them is that when you cut into them with a trimmer or die, NO glitter falls off – it all stays on the paper and you have no mess to deal with!

The sentiment…I wanted to add one and found just what I needed in the set Delightful Decorations (pg 10) – I stamped it and punched it out using my 3/4″ Circle Punch and mounted it onto 1″ Circle again made using Silver Glimmer Paper…
Speaking of which, check out that beautiful glittery Silver Glimmer Paper in the close up photo below – click on the photo for a larger version and to see that crisp glittery snowflake close up…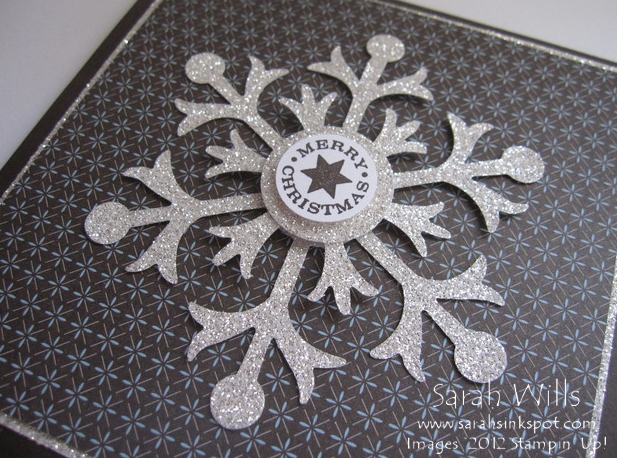 That's my card for this week – I hope that I have inspired you to make your own card/s using some beautiful patterned papers to use as the background…
Don't forget to take part in my Holiday Card Challenge:

Email the Holiday card that you make this week using a Stampin' Up! patterned paper to me at sarah@sarahsinkspot.com and you will get a little gift in the mail from me – be sure to include your mailing address so that I can mail it to you!
your card can be made using ANY Stampin Up Designer Series Papers that you have – absolutely any!
BONUS – but when you use paper from the Festival of Prints DSP Stack that I used above AND a snowflake made using the Snow Flurry Die on your card this week I will mail two goodies to you!
Be sure to come back on Monday to see if your card was picked by my girls as the favorite of the week!
SARAH'S CARD COUNT: I made TWO of these cards this week giving me a grand total of 5 Holiday Cards made – how many did you make?
Who made the winning card from last week?
WOW you love a challenge and your response was fantastic!  My girls chose their favorite card from last week's challenge which was to use a Stampin' Up! Embossing Folder  and this is the beauty that caught their eye – funnily enough made using that same Snow Flurry Die that I used in my card today – I think the sparkles caught their eye!
Isn't it gorgeous?  Check out those three snowflakes – each was made using a different colored Glimmer Paper – Red & Silver that you can find in the main Catalog and the beautiful new golden Champagne Glimmer Paper that is featured in the Holiday Catalog on pg 18…
This card was made by the very talented Kirsten Bodily who incorporated the Stripes Embossing Folder – she has a winner's treat coming out to her in the mail, so Kirsten – a BIG congratulations and enjoy your prize!
YOU could be this week's winner so be sure to email a photo of your card to me!
Where can you find the items that I used on my Snowflake card? Click on the blue words below to see them in the online store…
SARAH'S BONUS – when you order any of these products from me using the links below, I will mail you a coupon for $10 off of your next purchase with me!
Holiday Catalog:
127813   Snow Flurry Bigz Die – pg 14
126904  Festival of Prints Designer Series Paper Stack – pg 20

Annual Catalog:
119686  Early Espresso Cardstock – pg 156
124005  Silver Glimmer Paper – pg 160
127787  Delightful Decorations Stamp Set – pg 10
119873  3/4″ Circle Punch – pg 184
119868  1″ Circle Punch – pg 184
Here are the other colors of Glimmer Papers:
121790  Red Glimmer Paper – pg 160 Annual Catalog
127885  Champagne Glimmer Paper – pg 18 Holiday Catalog
Week 2 of my Holiday Card Challenge…