Did you know that there are only 5 days left of the Back to Spool promotion?
And so today I wanted to tempt you – ahem – show you a fun way in which you can use these ribbons a bit differently…I dug out my Gumball Green ribbon and got to work making a beautiful holiday tree made of ribbons…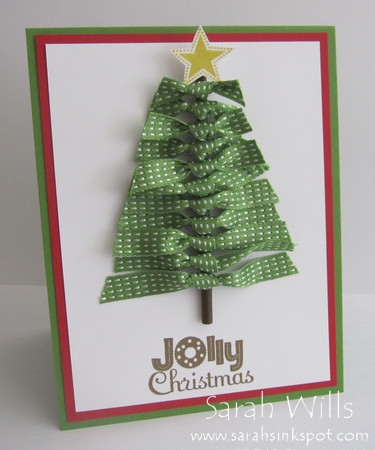 And you know what?  You could easily alter this card for Thanksgiving just by changing the sentiment and using Summer Starfruit ribbon…maybe add a couple of stamped leaves on it too…CUTE!!!
And then it got me to thinking…you don't have to stop at just cards…you could even create place card holders using trees like this for your Holiday table – I am going to be doing that myself!
Back to my card details…the card base is Gumball Green cardstock onto which I added a layer of Real Red (sized 4″ x 5 1/4″)…
Next I added a layer of Whisper White (sized 3 3/4″ x 5″) and stamped my sentiment onto the bottom – I used a stamp from the set No Peeking that you can find on pg 23 of the main Catalog and stamped it using Soft Suede ink – and the base is done – easy peasey!
The Ribbon Tree trunk…I wanted a 'trunk' and found the perfect thing to use – a 4″ lollipop stick!  I found them at my local Walmart at around $2 a pack and I know that large craft stores also carry them – but I wanted my stick to be brown…
My acrylic paints are all packed away in a pod that I can't get to until we move into our house and so I looked around to see what I could use, and realised I have ink pads therefore a way to color them!
And so I simply took the lollipop stick and rolled it around my ink pad and it colored beautifully and quickly – and it dried super fast too!  I decided to cut 1/2′ off of the top to make room for my star and used wire cutters to do this.
Creating the Ribbon Tree…this was very fun and you just need a few basic supplies – scrap paper, Ribbon, sharp Scissors and Mini Glue Dots…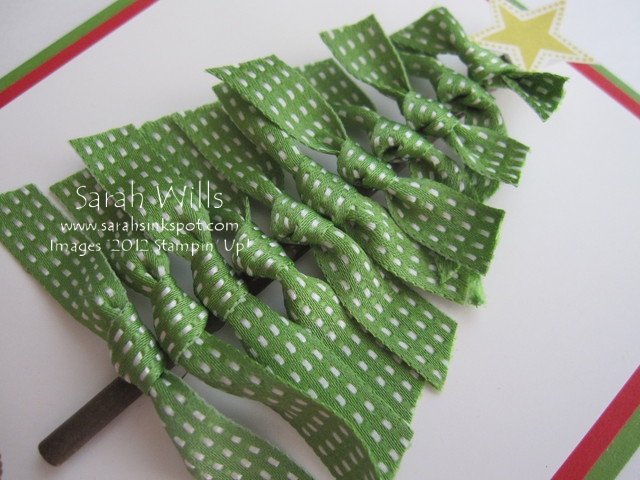 Take your tree trunk and stick it to a piece of scrap paper using a little adhesive so that it doesn't move around.
Next you are going to cut your Ribbon of choice into lengths – I used Gumball Green Stitched Satin (which I got for FREE!!!) and  cut mine at:
1 x 5 1/4″
1 x 4 1/2
1 x 4″
1 x 3 3/4″
7 x 3″ – it gets tough to tie knots if you go shorter than this!
Tie a knot into the center of each and attach each to the tree trunk using a Mini Glue Dot – when you have used all your ribbon, take a very sharp pair of fabric scissors and carefully cut a diagonal tree shape from the bottom to the top – and repeat on the other side.
To make this easier, I used a triangle template behind my tree – you can find out full details in my tutorial, the link of which is below…
WANT TO PRINT OUT THESE RIBBON TREE INSTRUCTIONS TO KEEP FOR REFERENCE?  You are in luck!  I just made a quick free printable tutorial for you – find it by clicking HERE!
Then add your tree to your card base again using Mini Glue Dots.  I decided to add a star to the top of my tree and found the perfect sized on in the cute set Jolly Bingo Bits (pg 22 of the Main Catalog) – the yellow color I used to stamp it is Summer Starfruit…LOVE how these colors work together…
And there you have one CUTE holiday card that uses your gorgeous free ribbons to WOW your friends & family…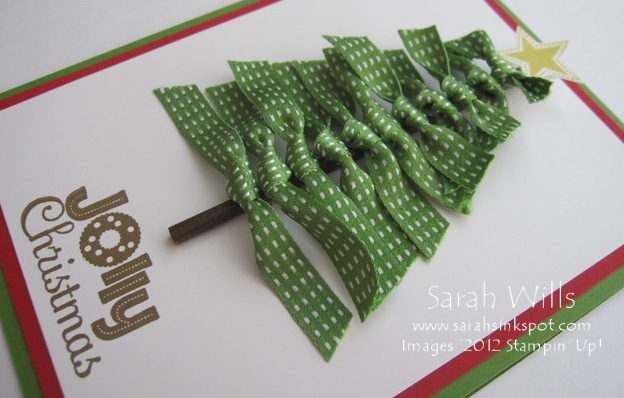 Now this has really given me lots of ideas for how to use this Ribbon in fun & different ways…come back tomorrow when I will be showing you another cute Ribbon project!
FOR NEW-TO-ME CUSTOMERS – PLACE YOUR FIRST ORDER WITH ME USING THE LINK BELOW AND GET A COUPON FOR FREE SHIPPING ON YOUR NEXT ORDER!
CLICK HERE TO ORDER YOUR STAMPIN UP SUPPLIES ONLINE!
Christmas Tree made of Stitched Satin Ribbons…