Can you believe that it's Monday again already?!  That means it's Holiday Card Challenge time!!!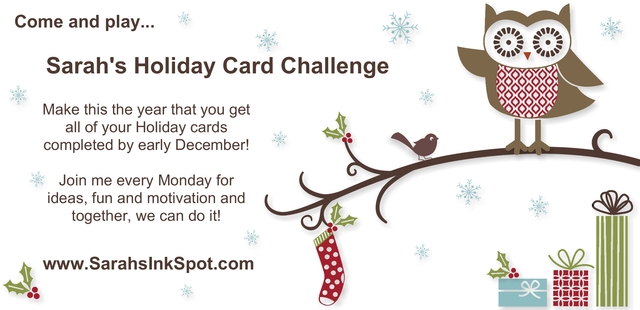 The winner of last week's Holiday Card Challenge is at the end of this post so please read on to find out who it was!
AND we also have a winner for Friday's Blog Candy drawing so please check to see if it is you!!!

Sooo…what am I challenging you to use this week?
Stampin' Up!'s Dies – you use em with a Big Shot Die Cutting Machine and they come in many shapes & forms – some are for simply cutting shapes, others are for making perfectly sized nesting layers and some co-ordinate beautifully with stamp sets to cut out images perfectly – LOVE em all!!!
My card this week is clean & simple and features two different types of those Dies…the idea for this card came from a Founders Circle swap designed by the fabulous Angie Juda – I just loved her card and decided to case it but change a few things – I used a different red color & sentiment & I also missed out a few embellies to make it even more clean & simple…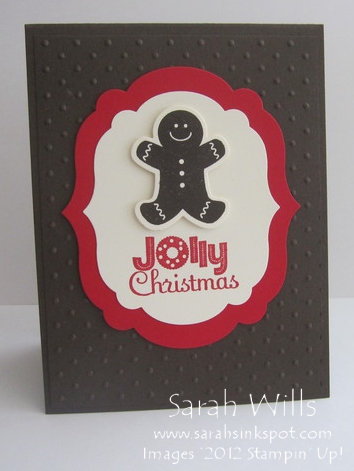 So what Dies did I use on my card?
All of these dies made my card SO MUCH FUN and so easy to make!
So onto my card details…I used Early Espresso for my card base and then I cut a layer to be sized 4″ x 5 1/4″ and embossed it using my Big Shot & Perfect Polka Dots Embossing Folder…
The mats…I used two Dies from Labels Collection Framelits to cut my mats – the bottom one out of Real Red cardstock and the top one using Very Vanilla.
You get 6 nesting Dies in this package of dies making them fabulous value for money – y0u can use them to make mats, fold them in half to make treat toppers and even use them to make windows…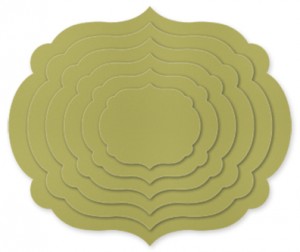 The sentiment…is a stamp from the set No Peeking (pg 23 of the main Catalog) and I stamped it directly onto the mat using Real Red ink…
The Gingerbread Man…is a stamp from the set Scentsational Season (pg 16 of the Holiday Mini Catalog) that I stamped using Early Espresso ink – I then cut it out using a die from Holiday Collection Framelits and added it to my layer using Dimensionals to make him pop out a little…
To dress it up a bit you could add some Pearl or Rhinestone buttons to the front of the gingerbread man – some ribbon tied in a knot or bow would look cute too – for me, I just love the simple look!
I hope this has inspired you to dig out some dies – I am sooo looking forward to seeing cards that  you email to me this week…
SARAH'S CARD COUNT: I made FOUR of these cards this week giving me a grand total of 14 Holiday Cards made already, and it's not even the end of September – WOO HOO – I am delighted with my progress!  How many did you make?
SCENTSATIONAL SEASON BUNDLE!!!  Did you know you get a 15% discount when you purchase the Scentsational Season stamp set AND Holiday Collection Framelits TOGETHER in a bundle? Here are the images in both…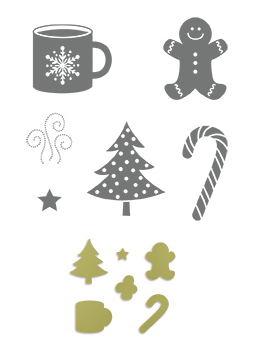 The stamp sets are available in wood or clear mount versions and here are those Bundle item codes – click on the blue words to view them in the online store…

Don't forget to take part in my Holiday Card Challenge – you could be the next Winner of the Week!
Email the Holiday card that you make this week using ANY Stampin' Up! Dies to me at sarah@sarahsinkspot.com and you will get a little gift in the mail from me – be sure to include your mailing address so that I can mail it to you!
your card can be made using ANY Stampin Up Dies that you have – absolutely any!

EVERYONE

who makes & emails their card to me will receive a goodie in the mail!

BONUS – when you use two different Dies on your card this week I will mail two goodies to you!
Be sure to come back on Monday to see if your card was picked by my girls as the favorite of the week!
WINNERS CIRCLE – announcing the winning Card from last week AND my Blog Candy from Friday…

Who made the winning card from last week? This was a cute way to use ribbon that I had not thought of – and of course it features gifts which the kids LOVED!!!
The winning entry this week was made by Christene and here it is…isn't it cute?  I love that tree and love the thread tied around those presents…CUTE! 
A big CONGRATULATIONS Christene – your prize is on it's way to you – enjoy!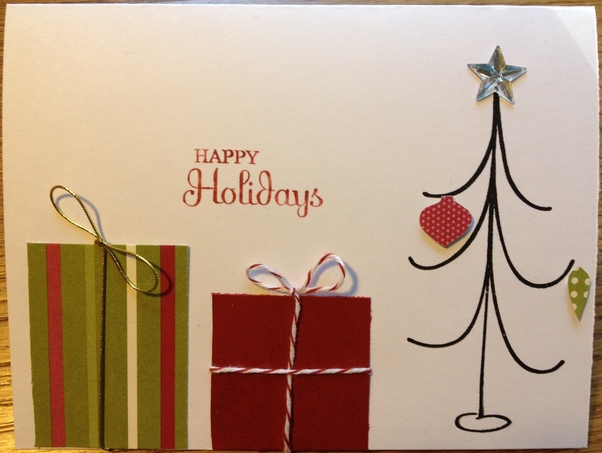 Who won the Blog Candy from Friday for a FREE Stamp Set?
The winning comment has been drawn using random.org – and the winner is…
Comment no. 20 by Kim Cady on September 23, 2012 at 8:59 am who said:
"This stamp set would be great for Thanksgiving, Christmas, masculine, camping, fall and nature. Very versatile stamp set. Thanks for sharing and the chance to win."
A BIG CONGRATULATIONS Kim!
Email me by clicking HERE and I will send you a list of stamp sets that you get to choose from!
That's it for today…come back tomorrow for more highlights from Founders Circle!
FOR NEW-TO-ME CUSTOMERS – PLACE YOUR FIRST ORDER WITH ME USING THE LINK BELOW AND GET A COUPON FOR FREE SHIPPING ON YOUR NEXT ORDER!
CLICK HERE TO ORDER YOUR STAMPIN UP SUPPLIES ONLINE!
Week 5 of my Holiday Card Challenge…