It's Monday again and can you believe it's Halloween this week?  WOW where does the time go?!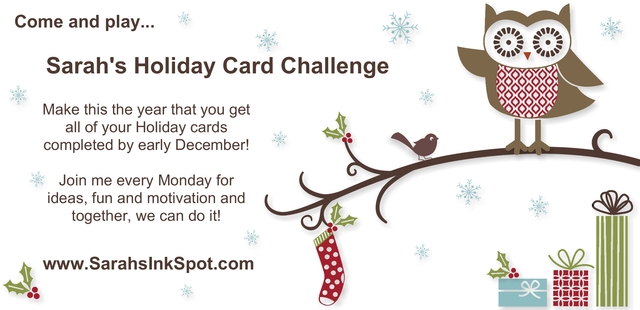 To find out details of what my Holiday Card Challenge is about please look to the end of this post – EVERY participant who takes part & emails a card to me gets a freebie in the mail and you never know, you might be the weekly winner and get a fab prize – so it's worth joining us!
AND the winner of last week's Holiday Card Challenge is at the end of this post so please read on to find out who it was!
Sooo…what am I challenging you to use this week?  This week is a little tougher…I am challenging you to stamp directly onto patterned paper!

It gives a neat and different look to your cards and is super easy to do – here is my card for this week's challenge…
Isn't that cool? I decided that I wanted a newsprint-type of look on my card and so I took a sheet of paper from one of my favorite packs – First Edition Specialty DSP (pg 162) and cut it to size…
SARAH'S TIP: First Edition Specialty DSP is a FABULOUS bargain – this pack has DOUBLE the amount of paper that you usually get – in here, you get a full 24 sheets of 12×12 patterned papers for just $12.95!!!  Find it in the online store by clicking HERE
I also love it because all sheets are of a similar theme – and so if you incorporate this paper into your Holiday cards, you could use any piece of it to create a similar look and you will have plenty in just one pack of paper!
OK back to my card and that gorgeous Tree stamp…it is stamped using Always Artichoke Ink and is from the stamp set Christmas Lodge (pg 13) and you know what?  Now you no longer have to purchase the whole set to get it!!!
That's right stampers…this Tree stamp can now be purchased as a single stamp, on it's own – it's a big stamp and perfect for year round use – order it using the code 132230 – click HERE to find it in the online store!
The Sentiment…is stamped using Early Espresso ink and is from the set Snow Swirled (pg 18) – I punched it out using my Decorative Label Punch and added it to my card using Dimensionals…
That Silver Frame…is GORGEOUS and you can find it in Flourish Designer Frames on pg 8 of the Holiday Catalog – it is a perfect for placing over that punched shape and you can secure it in place using brads or ribbon like I did…
Ribbon…I used Very Vanilla Seam Binding and threaded it through my frame – I added a little knot on one side for a finishing touch and just love how it turned out…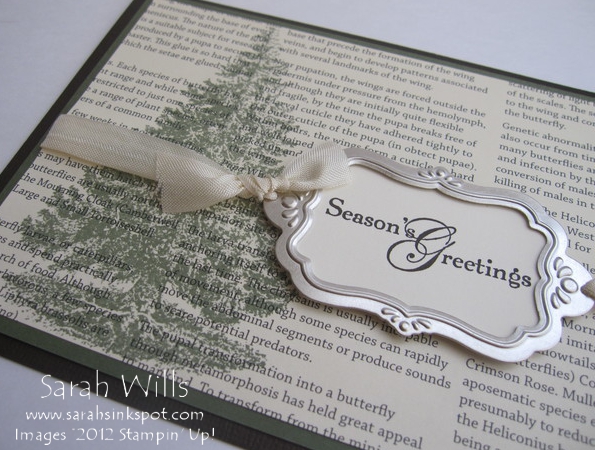 Now over to you…have you stamped onto patterned paper before? If not, I think you get the best results when you use a patterned paper with consistent patterning and a strong ink color stamped onto it…
Have a play and I'd love to see what you come up with so don't forget to email them to me…we love to see your creations and you will get goodies in the mail from me PLUS you could be the next Winner of the Week!
Email the Holiday card that you make this week stamping onto patterned paper to me at sarah@sarahsinkspot.com and you will get a little gift in the mail from me – be sure to include your mailing address!
EVERYONE who makes & emails their card featuring this to me will receive a goodie in the mail!

BONUS – when you use the a tree stamp ike I did on your card this week I will mail two goodies to you!
Be sure to come back on Monday to see if your card was picked by my girls as the favorite of the week!
WANT MORE INFO ABOUT MY HOLIDAY CARD CHALLENGE?  Find out all about it by clicking HERE
Onto WINNERS CIRCLE…I had lots of comments that red & green was way tougher than anyone thought it would be – which is funny as they are colors that we think of at Christmastime…
But the girls picked out a winning card and it was made by the talented Cari Polodna – A BIG CONGRATS Cari!!!  Your prize is on it's way to you…
Unfortunately my computer has been playing up and I have not been able to post a picture of Cari's card…I will play with it again later and see if I can get it to work…but Cari used red & green patterned paper from Be of Good Cheer DSP and a beautiful red ornament from the Ornament Keepsakes stamp set and was beauitful…
SINGLE STAMPS – there are LOTS available for you to choose from, including THREE NEVER BEFORE SEEN, BRAND NEW STAMPS!  Click HERE to see them all!

FOR NEW CUSTOMERS – PLACE YOUR FIRST ORDER WITH ME USING THE LINK BELOW AND GET A COUPON FOR FREE SHIPPING ON YOUR NEXT ORDER!

CLICK HERE TO ORDER YOUR STAMPIN UP SUPPLIES ONLINE TODAY!
Week 10 of my Holiday Card Challenge…