WOW – you love buying those stamps individually…and you know what? Because of this success Stampin' Up! have just announced TEN MORE STAMPS that you can buy individually – out of their sets!!!
How cool is that? Now that is people power for ya!!!
You will see that there are some Holiday stamps available AND THREE NEVER BEFORE SEEN IMAGES – even more fantabulous!!!

So where can you see the images of the newly available stamps? Here they are…scroll down for a list of them along with their ordering codes…
How do you order these fabulous stamps? CLICK HERE to get yours!

Click on each picture below to view the full size flyer that will open in a new browser window: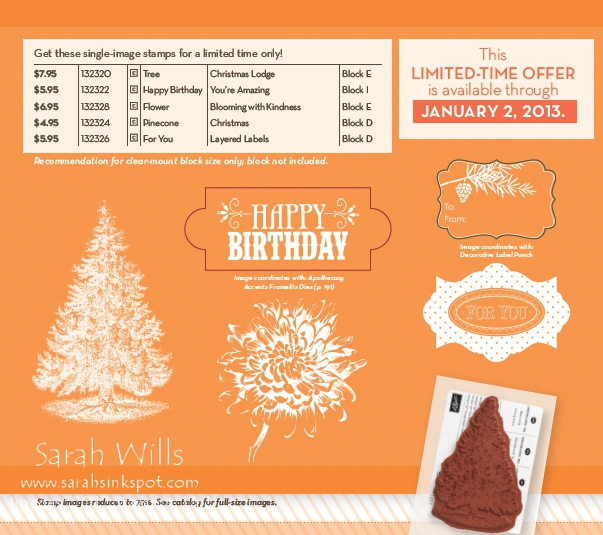 CHECK OUT THE THREE BRAND NEW LIMITED TIME AVAILABLE ONLY IMAGES BELOW…LOVE 'EM!!!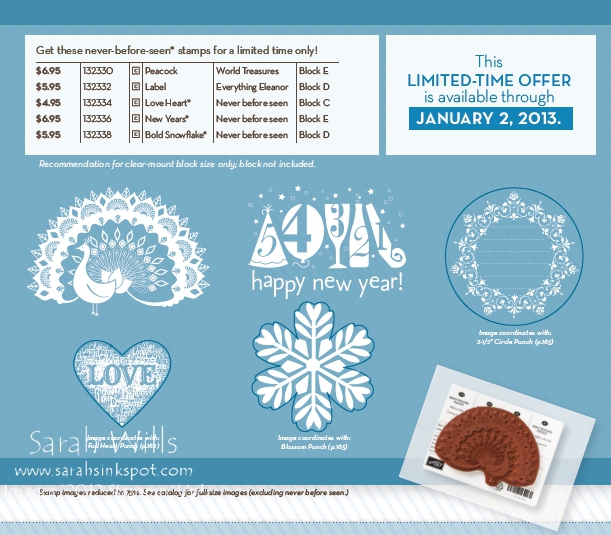 LOVE that new Snowflake…and that Heart…and that Happy New Year…uh oh…now I need them all LOL!!!
How do you order these fabulous stamps? Here are their ordering codes, prices and the sets that they are from:
Never Before Seen stamps:
132334 Love Heart – $4.95
132336 New Years – $6.95
132338 Bold Snowflake – $5.95
Stamps from Existing sets:
132320 Tree from Christmas Lodge – $7.95
132322 Happy Birthday from You're Amazing – $5.95
132328 Flower from Blooming with Kindness – $6.95
132324 Pinecone from Tags til Christmas – $4.95
132326 For You from Layered Labels – $5.95
132330 Peacock from World Treasures – $6.95
132332 Label from Everything Eleanor – $5.95
WE HAVE MORE INDIVIDUAL STAMPS AVAILABLE TOO – click here to find them!
Please remember that single stamps are available in clear mount only AND they are only available until January 2nd like this!
CLICK HERE TO GET YOUR INDIVIDUAL STAMPS!
TEN MORE SINGLE STAMPS ARE NOW AVAILABLE!!!