It's Monday and time to play my Holiday Card Challenge!!!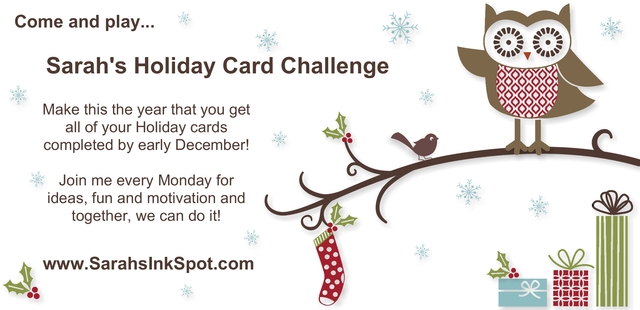 The winner of last week's Holiday Card Challenge is at the end of this post so please read on to find out who it was!
Sooo…what am I challenging you to use this week? Paper Piercing!
Yup, that's right – making holes in your paper using a piercing tool! And with the introduction of some new products in the Catalog this year – namely the new Paper-Piercing Tool, Piercing Mat & plastic Templates, Stampin' Up! have made it a breeze to get very neat & professional holes onto your cards…find em on pg 181 and throughout the Holiday Catalog…

Here is my card featuring those paper pierced holes…and check out that beautiful 3-d ornament that I made using items from this month's Free Christmas Gift special offer…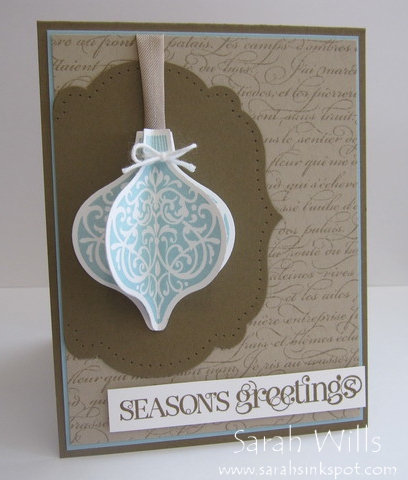 Like it?  I just LOVE how this card turned out – one of my favorite parts is that stamped background which was SO EASY to do!
The card base is Soft Suede onto which I added a layer of Baja Breeze…
The Stamped Background…so pretty and so easy to do – I simply took a piece of Crumb Cake cardstock and stamped it using the beautiful background stamp En Francais (pg 129) and Crumb Cake Ink – super fast and super easy!  Onto this I added…
The Die Cut Mat…another quick & easy accent made using a piece of Soft Suede cardstock and a die from Labels Collection Framelits (pg 191) – check out that Paper Piercing around the edge of the mat – how did I get it so uniform & perfect?
Easy peasy! It took me less than a minute using one of the three plastic templates from the Festive Paper Piercing Pack that you can get for FREE during October with Stampin' Up!'s 'Free Christmas Gift with your purchase' offer!
This pack contains three plastic paper piercing templates that co-ordinate perfectly with the following:
one sheet for the Ornament Keepsakes Bundle (pg 3 Holiday Mini Catalog)


one sheet for Labels Collection Framelits

one sheet for Window Frames Collection Framelits (pg 30 Holiday Mini Catalog)
Click HERE to find out how you can get your Festive Paper Piercing Pack for FREE as part of the Free Christmas Gift special offer!

It really is fast & easy to do using these tools…simply take your Paper Piercing Mat and put your piece of cardstock/die that you wish to pierce onto it – put the template on top and if you are piercing a die cut shape like I am below, line up the template over your shape using the handy lines printed onto it…
I use small pieces of masking tape to hold my plastic template in position – I have found that holding it with my hands isn't enough as there is small movement but when you use tape, it stays firmly in place…then take your Piercing Tool and push it through each of the holes in the template until you have gone all the way around your shape…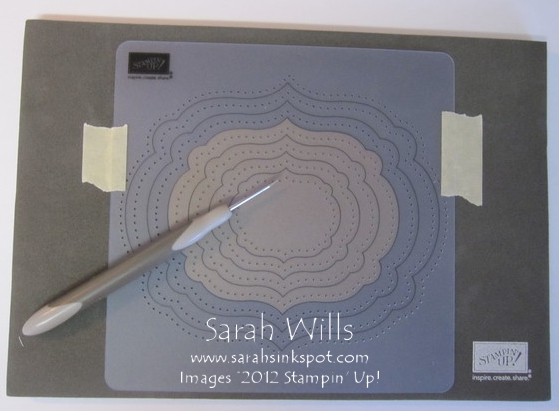 Remove the tape & template and voila – one perfectly paper pierced shape!  And let me tell you – that paper piercing tool is a dream to use – it is perfectly weighted and has a very small tip making piercing a breeze…well worth it's $3.95 price tag!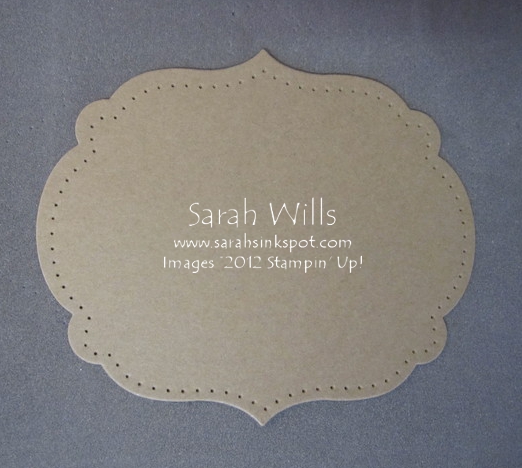 You can find these Paper Piercing tools on pg 181 0f the Catalog – they are SO WORTH the investment – AND THIS WEEK ONLY YOU CAN GET THEM BOTH FOR FREE WITH MY OWN EXTRA SPECIAL OFFER – find details at the end of this post!

Onto the Ornament…I stamped three ornaments using Baja Breeze ink and adhered them together to make a beautiful ornament for my card front…I added a White Bakers Twine bow and a piece of Crumb Cake Seam binding for some cute finishing touches…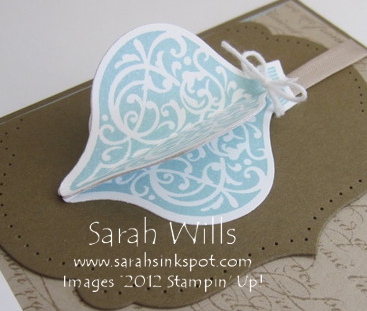 To make it easy for you to create your own ornaments – both for card fronts and for you to hang on your tree, around your house and use to decorate your holiday packages – I have made a quick FREE printable tutorial for you – click HERE to get yours!
The Sentiment…stamped using a stamp from Curly Cute using Soft Suede ink onto Whisper White cardstock – I simply trimmed it to size and added it to my card using Dimensionals…
And there is one beautiful & stylish card…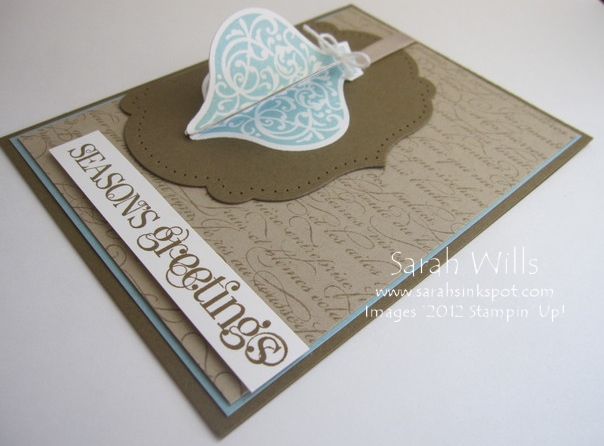 SARAH'S CARD COUNT: I made just one of these cards this week (but plan to make a couple more!) giving me a grand total of 15 Holiday Cards made…how many have you made?
WINNERS CIRCLE – announcing the winning Card from last week's Challenge…

Who made the winning card from last week? This was a great way to use die cut layers – the winner used my favorite nesting dies which I used on my card today – the amazingly versatile Labels Collection Framelits…
Check out how they work SO well together on this fabulous card made by our repeat winner, Christene…and the patterned paper layer was a hit along with how that image & sentiment really stands out…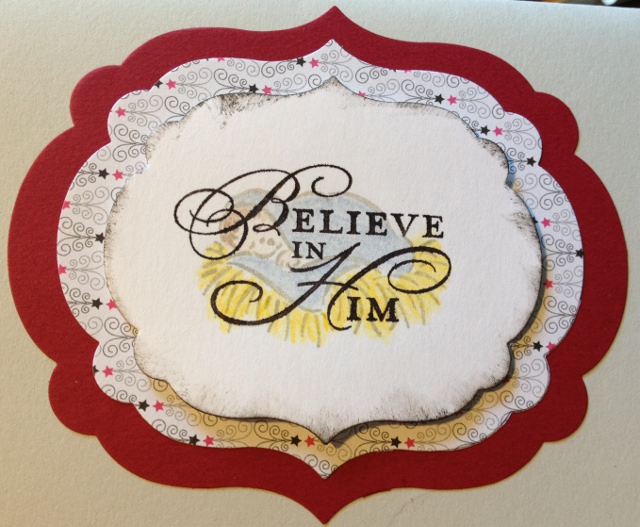 a BIG congrats Christene!  Your prize is on it's way in the mail to you…
Have fun making your cards this week – and don't forget to email them to me…I'd love to see your creations and you will get goodies in the mail from me PLUS you could be the next Winner of the Week!
Email the Holiday card that you make this week using Paper Piercing to me at sarah@sarahsinkspot.com and you will get a little gift in the mail from me – be sure to include your mailing address so that I can mail it to you!
EVERYONE who makes & emails their card to me will receive a goodie in the mail!

BONUS – when you use Paper Piercing AND a stamp from Ornament Keepsakes on your card this week I will mail two goodies to you!
Be sure to come back on Monday to see if your card was picked by my girls as the favorite of the week!
Sooo those Paper Piercing Tools…here is where you'll find them – click on the blue words below to view them in the online store…

126189  Paper Piercing Tool $3.95  pg 181
126199  Stampin' Pierce Mat $4.95  pg 181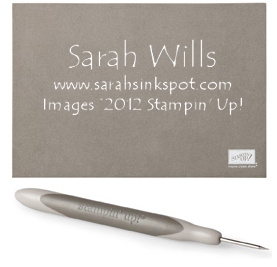 WANT BOTH OF THESE FAB TOOLS FOR FREE???
YOU GOT IT WITH SARAH'S EXTRA FREEBIE OFFER FOR THIS WEEK ONLY!!!
Purchase ONE of the Christmas Gift Packs from me THIS WEEK as detailed here and I WILL GIVE YOU these two Paper Piercing tools FOR FREE!
Find out more about Stampin' Up!'s 'Free Christmas Gift with your purchase' offer by clicking HERE

How cool is that?
With these two FREE  tools, you will be ready to go with your Christmas Gift Pack!!!  And I promise you will LOVE Stampin' Up!'s Piercing Tool & Mat – the tool is ergonomically designed with a fine tip making it a dream to use with the plastic templates…
BUT HURRY! – THIS EXTRA FREEBIE OFFER IS FOR THIS WEEK ONLY – my OFFER FOR THESE TWO EXTRA FREE TOOLS ENDS at Midnight CT on Sunday October 7th 2012 and you MUST place your order using the link below!
Got questions? Click HERE to email them to me!

CLICK HERE TO ORDER YOUR STAMPIN' UP! SUPPLIES ONLINE & GET YOUR FREE GIFT!
Week 6 of my Holiday Card Challenge…